Don your most badass tank top and get ready to flex the biceps you don't have. Then flex the stomach muscles you definitely don't have to prepare for Top Chef alum Kevin Gillespie's Gunshow. The Glenwood meat-a-torium dishes out a weekly rotating menu of locally sourced pork, lamb, and fish offerings served up dim sum-style in an open kitchen where you can watch the crimson-bearded chef flex his culinary muscle. The space is completely open and laid-back, with dark wood-burned tables, steel chairs with leather padding, and bandanas used for napkins. There's even a walk-in freezer in the dining room designed to make you feel like you're in Kevin's actual kitchen. Which you kinda are. Here's where it gets interesting: chefs push around carts of dim sum-esque plates, and guests have full reign to pick and choose. For example, this locally sourced trout with shaved asparagus & brown butter could be in your stomach. As could this slow-smoked heritage pork with German potato salad. As could pork skin risotto, the Closed on Sunday chicken sandwich, and spring veggies doused in edible Georgia pollen. All of it, really. This bowl of hearty braised short rib sits atop a mound of lemon spaetzle and 'shrooms quite handsomely. And don't worry, nobody's been playing with your food. This is just dessert: a re-imagined strawberry cheesecake deconstructed on the plate for you to reassemble… in your stomach.
Recommended Video
Go Camping in the Comfort of Your Own Home With S'mores Dip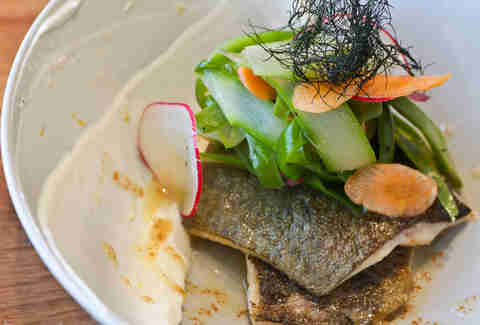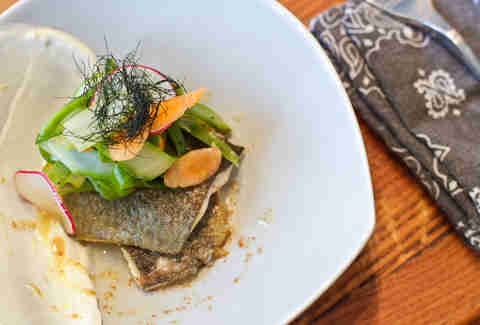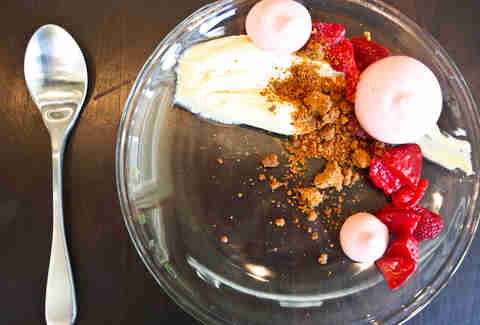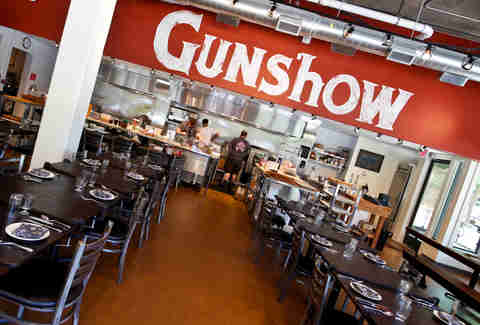 Previous Venue
Next Venue
Venue Description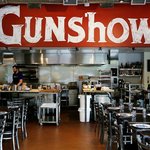 1. Gunshow
924 Garrett St SE, Atlanta, GA 30316
Top Chef alum Kevin Gillespie's Gunshow is a Brazilian churrascaria-meets-dim sum eatery in Glenwood with rock music and ticketed reservations. Diners sit at communal metal tables while chefs roll trolleys around the dining room featuring small plates from the open kitchen. Cocktail service follows suit with a roaming bar cart and tableside preparations (get the Toasted Old Fashioned). The menu rotates weekly but always features bold dishes like faux beef bone marrow, Buffalo chicken livers, French-style mussels with beef fat fries, and Vietnamese-style popcorn shrimp. An evening at Gunshow is like a night at dinner theater: take your seat, pick your poison, and enjoy the culinary show.