Now that Outkast is coming home to perform at next weekend's #ATLast festival, you're either anticipating how awesome it'll be to watch Centennial Park turn into Stankonia (in more ways than one), or you're just pissed at the scalpers. But whether you've got tickets or not, you can at least eat like you're on a diet of '90s Southern rap nostalgia, thanks to our list of the best places to find the foods Big and Dre have famously shouted out in various songs...
Apple pie, from "Gasoline Dreams"
"Don't everybody like the taste of apple pie?!"
Pie Shop (address and info)
Buckhead
It's hard not to imagine any ATLien not snapping for a slice of gooey, crusty goodness (or because, you know, The American Dream is sometimes sour and sucky). Luckily, Pie Shop's spiced, butter-crusted apple pie is "on the less sweet side, letting the fruit take center stage", which makes sense, because juicy apples on stage with no pole is definitely flaky.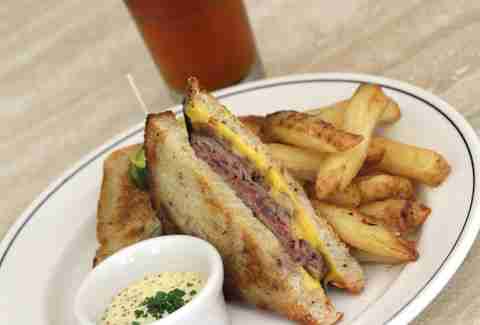 Patty melts, from "Benz or Beemer"
"From alligator belts to patty melts, I be that smoothest [n-word]..."
Zesto (address and info)
Multiple locations
This 65-year-old diner with six "metro Atlanta" locations (wait, Tyrone is considered Atlanta?!?), is basically Dairy Queen for weirdos, but it's also where you can snag this pre-concert snack, served on rye with one-third pound of beef, grilled onions, and two cheese slices.
The Cajun crab house, from "85" by YoungBloodZ ft. Big Boi
"Ride out, to the Cajun crab house, to the Jamaican cat house, to the college frat house, and just mad-house that rat house!!"
Spondivits (address and info)
Southwest Atlanta
Cajun began on Old Nat'l, then closed and reopened near Camp Creek a few years ago, and then closed again. No sweat though, you can still get crustaceans by the bucket at SWATS spot Spondivits. (Also, if you say "Old National Highway" instead of "Old Nat-El", please stand in the middle of Old Nat'l until you're hit by a Cadillac).
Cereal, from "Ain't No Thang"
"I'm ready to wet 'em up like cereal."
Highland Bakery (address and info)
Old Fourth Ward
If Daddy Fat Sax has never sampled the Old Fourth Ward location's breakfast scene, somebody tell him about this joint. The menu includes a house-made granola served with milk, fresh berries, yogurt, dried fruit, nuts, grains, and rolled oats. Oh, and if Big Boi keeps refilling his bowl, you'll know he rolled something else that morning.
Yams with extra syrup, from "SpottieOttieDopaliscious"
"Her neck was smellin' sweeter than a plate of yams with extra syrup..."
Paschal's (address and info)
Castleberry Hill
Castleberry Hill's historic hotel restaurant is happy to serve you with a plate of thick, brown, sugary goodness. That is, if you're on top of your game and man enough to handle real life sitchiations.
Fish and grits, from "ATLiens"
"And if you like fish and grits, and all that pimp s***, everybody let me hear you say, 'Oh Yayerr!'"
Six Feet Under (address and info)
Multiple locations
You can easily have the blackened catfish with a side of cheesy grits at SFU, but if you try busting out cheesy versions of Big Boi choruses to your waitress, it might come with a side of STFU, too.
Hoe cakes, from "Southernplayalisticadillacmuzik"
"Like collard greens and hoe cakes I got soul, that's something that you ain't got!"
Restaurant Eugene (address and info)
Buckhead
It's true, most restaurants really ain't got this Southern staple, and that's not playalistic at all. But whenever fancy Chef/Owner Linton Hopkins wants to get back to his native ATL roots, he offers these dense, crispy cornmeal flapjacks on his always-changing menu.
A 20 piece Mojo's, from "Wailin'"
"Never eatin' chicken thighs, only a 20 piece Mojo's."
Mojo's Motown Eatery (address and info)
Multiple locations
Sure, the most reliable location is now in Riverdale, but how the can you be a 'Kast fan that's scared of the Southside? Especially when 20 lemon-pepper wings are under $14.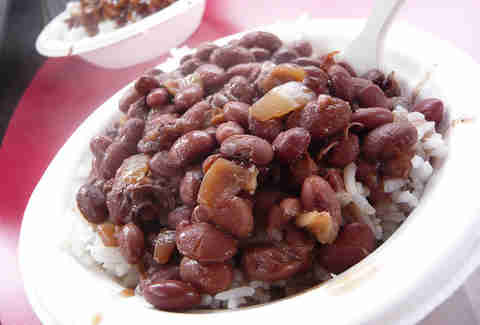 Beans and rice, from "Mamacita"
"You say 'tank you, bein' nice; you try to change the subject -- want some beans and rice?'"
The Earl (address and info)
East Atlanta Village
It's always loud as all hell inside the EAV music venue and eatery, so definitely thank your server just for hearing you say you want the Cajun side, and note that the menu reads, "yup, they have meat in 'em", which admitting about your beans is quite... frank.
Red velvet, from "Red Velvet"
"Them dirty boys turn your pound cake to red velvet."
CamiCakes Cupcakes (address and info)
Multiple locations
Cami's moist cupcakes have tons of super-rich cream cheese frosting, and at $3 or more per unit, they'd damn-well better. Then again, maybe the price is right since eating more than a handful of this toasted, pecan-studded treat will add pounds to your very own cake.
Chitlins, from "Player's Ball"
"The house is smelling sick of chitlins..."
Busy Bee Cafe (address and info)
West End
If cleaned/cooked pig intestines are your thing, take yourself on a "Funky Ride" to this MLK soul food institution and have "an all natural product hand-picked without bleach or hog maws". And remember, you gave up the right to ask if bleach is normal in chitlins just by eating chitlins.
Greens, from "Player's Ball"
"I got the remedy, some greens and that ham -- not! Don't need no ham... hocks!!"
Mary Mac's Tea Room (address and info)
Midtown
Ham's nowhere on Mary Mac's menu, so you're keeping it really real with a muffin of "cracklin'" cornbread and a soupy bowl of collard greens called Pot Likker. You're sure to be full of both by the time "Kryptonite" plays.
Kangaroos, from "Skew It On the Bar-B"
"'Kast keep it jumpin' like kangaroos! But skew it on the barbie..."
The Colonnade (address and info)
Morningside
Prove just how 3000 you really are and head to ATL's second-oldest resto and ask if Chef Raekwon -- just kidding (!), it's Chef Ryan Cobb -- will go new-school fool and make his famous seared kango tenderloin, which is marinated overnight in EVOO, basil, oregano, and tarragon.
Sign up here for our daily Atlanta email and be the first to get all the food/drink/fun the ATL has to offer.