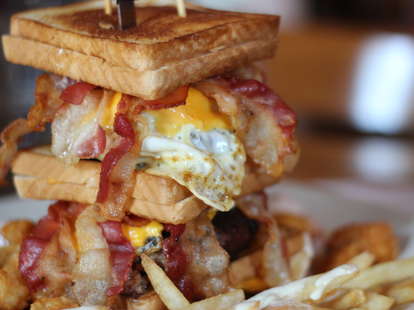 If you've checked our list of Atlanta's best fried foods, or best brunches, or best chicken & waffles, or if you're, say, the 350lb former Falcon Grady Jackson, then you probably eat a ton.
Unfortunately for you, that's no guarantee that you can take down the massive eats on our list of the ATL's nine most epic menu items. But hey, if you do, you might just win a t-shirt.
Pho King Challenge
So Ba (address and info)
East Atlanta
How to eat it: a straw might help
96oz of liquid, 20oz of meat, and three pho bowls worth of the good noodles, sprouts, and jalapeños you love. It's basically a pho gallon challenge. You get one hour, and once you start, you can't get up. The good news is that it's only $25, and you get a T-shirt. Oh, and if you happen to be buds with Adam Richman, they'll give you a $500 bounty if you can get that man to attempt it.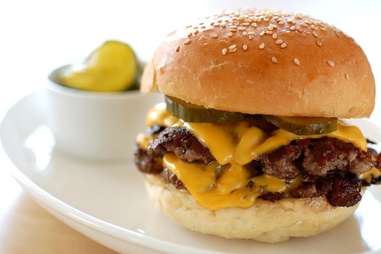 The Wimpy Plate
Bocado (address and info)
Westside
How to eat it: with a ton of napkins
Three of Bocado's famous double stacks join forces on one plate to form a six-headed beef Hydra. It's off-menu, so you have a chance to impress/horrify your dining partners when you ask for this gluttonous experience. It's like you know the beef, cheese, and pickle password.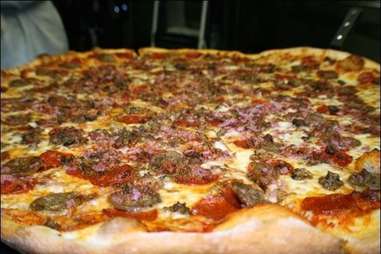 The Carnivore Challenge
Big Pie in the Sky Pizzeria (address and info)
Roswell
How to eat it: use the buddy system
With the most square feet of any item here, this 30in, 11lbs behemoth is so imposing, you'll need two people to fight it. Performing this feat will win you and a buddy $250 cash, as long as you follow the rules: one hour, no leaving the table, and, for everyone's sake, no "disposing" of pizza mid-challenge, please. You'll be made to clean it up yourself. Seriously.
Big Dog Challenge
Loribell's Frozen Custard Creations (address and info)
Kennesaw
How to eat it: press your tongue to the top of your mouth between bites to stave off brain freeze
This dog bowl (hence the name) full of custard awaits the brave. Oh, and if you consume all 30oz of creaminess with just a spoon in five minutes, they'll give you an "I am custard" T-shirt for your trouble/pleasure.
T-Rex Challenge
The Square Pub (address and info)
Decatur
How to eat it: with handfuls of tots between burger bites so you keep your sanity
Decatur isn't know for it's excess, so this 1.5lb triple-decker burger is extra special, and not only because of all the cheese, bacon, fried eggs, fried onion straws, and other sundry condiments. Eat it in under 30 minutes, and it's free... as long as you all finish of the of chili cheese tots too.
Big As Yo Face Burrito Challenge
Chuy's (address and info)
Dunwoody
How to eat it: with a big glass of water
Join the likes of Joey Chestnut and cram something as big as your face in to your... um, face. The reward for downing two of these giant tortilla-based cylinders? Another free burrito. Seriously, the prize is basically mocking you. And it will haunt you from your fridge for days as you digest the first two.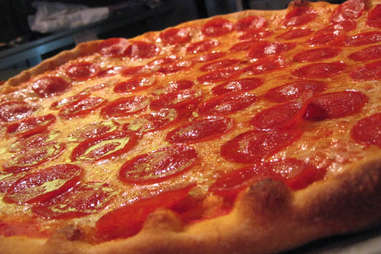 Big Slice Challenge
Vinny's N.Y. Pizza & Grill (address and info)
Duluth
How to eat it: use a knife to cut out smaller (yet still huge, obviously) hunks
You'll have to kick out your date because there will be almost no table space left after this thing lands. The topping-laced triangle comes in the shape of a regular slice, although that's just Vinny's showing off, and you up if you try to eat something that takes an entire baking sheet to cook.
The Triple Coronary Bypass (aka The Super Stack Burger)
The Vortex Bar and Grill (address and info)
Little Five Points
How to eat it: from top-to-bottom with a pitcher of beer
Let's look at this leaning tower of meat and cheese from the top: a grilled cheese sandwich, bacon, cheese, fried egg, beef patty, a grilled cheese sandwich, bacon, cheese, fried egg, beef patty. And repeat. Also, it's balanced in a giant bowl of french fries and tots covered in Vortex's cheesy, gooey sauce.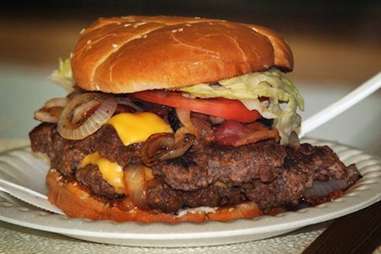 Double Ghetto Burger
Ann's Snack Shack (address and info)
Kirkwood
How to eat it: use the plastic fork and knife like a spatula
Miss Ann's signature sandwich is enough of a Leviathan by itself, but there are a few options that'll take it to the next level, and that includes getting your double cheese burger with the chili, deep-fried bacon, grilled onions, lettuce, tomato, ketchup, mustard, and mayo. If you can convince them to slap another patty on there, go for that, too. Also, you're our hero.
Sign up here for our daily Atlanta email and be the first to get all the food/drink/fun the ATL has to offer.