Buckhead Life Restaurant Group
Two important facts you probably weren't aware of: 1) The female black widow spider mates with up to 25 partners a day, and 2) December 21st is the longest night of the year (we're talking 15hrs of straight darkness), a perfect chance to celebrate what should be the "Best Night of Your Life" assuming you spend it hitting the city's best Thrillist-approved cocktail bars, nightclubs, and dives 'til the sun pops back up.
Check out our picks for Atlanta's best party dinner spots below, and make sure to fully map out a perfect evening with our itinerary builder.
The Lawrence
Midtown
The gang behind Sound Table and Top Flr are also behind this minimalist, subway-tiled, primer-painted supper-house-meets-train-station where they're slinging deliciousness like wild blue mussels, pan roasted duck, lamb sammies, and real-deal cocktails made with infused spirits like the gin, Earl Grey, honey, heavy cream & egg white "Carton's Fizz".
Bistro Niko
Buckhead
Grand ceilings, art from Paris, and a patio that overlooks Peachtree make this modern French-taurant a sweet place to... um, eat French food, presumably, specifically Kobe beef cheeks bourguignon slow braised in burgundy wine w/ parsley & buttered noodles, steak frites, and other staples.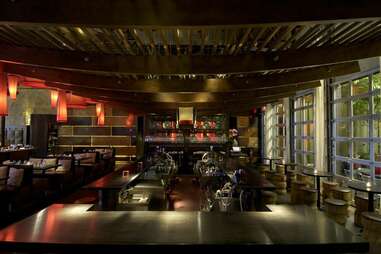 Two Urban Licks
Inman Park
Ignore the slightly sketchy street it's on and focus on Chef Todd Stein's "fiery American" small plates like Salmon Chips, lamb lollipops, or bronzed sea scallops, or on the 26ft-tall wine wall fitting 72 stainless steel barrels from which the waiters'll pour your vino directly.
Rosebud
Morningside
Posted up in the old Food 101 space, the hardwood-floored, banquet-area'd Rosebud (named for one of Jerry Garcia's custom guitars), is serving sweet "comfortable food" like a vanilla-and-sage-grilled Riverview Farms pork loin medallion w/ smoked bacon-creamed cabbage, peach BBQ jus, and grilled cobia w/ "corn off the cob", which will totally blow your mind, man.
The Sound Table
Edgewood
Sitting in what used to be dinner club Over Da Edge, ST's a bi-level brick-walled restaurant/music lounge from the team behind Top Fir, serving far-more-delicious-than-it-sounds "street-to-table" fare in an upstairs dining area with natural wood tables and square & circular cardboard lamps, and a DJ'd downstairs lounge and bar, where the overall concept is "putting sound on the menu" -- so, Quiche-a?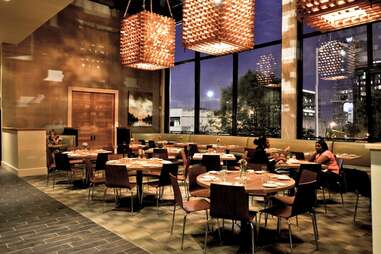 White Oak Kitchen and Cocktails
Downtown
This "simple, yet complex" joint from the owner of down-the-block Max Lager boasts epic views of downtown and is serving seriously Southern cocktails made with 80+ kinds of bourbon, and cooked-right feasts from inland areas, presumably because any other approach would just be outlandish.

Noche Tequila and Tapas
Multiple Locations
A playfully red-hued Mex-taurant where the smooth move is getting a shot (or three) and a taco, but since it's impossible to choose between things like the lobster w/ peppers & oaxaca cheese, or the marinated steak w/ pepper jack & pico de gallo, you better get three of those too.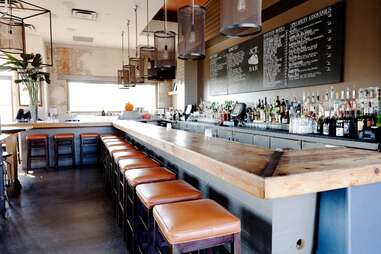 JCT Kitchen
West Midtown
So here's the plan: start w/ a plate of Washington oysters, then move on to their signature fried chicken w/ tiny biscuits, house pickles "of the moment" & hot sauce, with dessert like an espresso chocolate chip cookie shake, which, if you're smart, you'll combine with one of the brown liquors they've got on their list of after dinner drinks.