If Atlanta's really good at one thing, it's probably strip clubs. No wait, it's BBQ... or maybe traffic. Okay, we're good at a lot of things, but number one might just be making you fat, as evidenced by these 11 totally not good for you, but totally great menu items for you to gorge on...
Memphis Burger
Memphis Barbecue Co. (address and info)
Dunwoody
This 6oz burger is topped w/ 6oz of pulled pork, American cheese, slaw, and original BBQ sauce. It's named after the largest city in the Deep South, but it's clearly designed to give you the South's largest mid-section.
Hot chicken sandwich
Southbound (address and info)
Chamblee
Be warned: too many of these sandwiches (made with deep fried poultry, house-made Schezuan mayo, fried green tomato, chèvre, pineapple habanero jam, and a brioche bun) will have you looking the opposite of hot... provided your definition of "hot" conforms to society's narrow, and often harmful, body image standards, which our totally doesn't. We like you with a few extra pounds.
Nutella Pizza
Don Antonio by Starita (address and info)
Buckhead
Don Antonio's hand-crafted dough is not limited to rich sauces, cheeses, and meats. No, this "pie" has Nutella filling all the puffy crevices and is topped with bourbon-sautéed Georgia peaches and raspberries.
 
House-made Chorizo
Thirteen Pies (address and info)
Buckhead
Spanish sausage with queso fresco, serrano & cilantro pesto, all made in-house in what is seemingly an effort to make you as big as one.
Camp Fire Treat
Pig and Pearl (address and info)
Atlantic Station
This is the Southern version of a French classic that you didn't know you were waiting for. The smoked chocolate crème (toasted marshmallow optional) is stabbed with salty pretzels, and yes, they are for dipping, so get to doing that.
Pork belly torta
Mavericks Cantina (address and info)
Johns Creek
A classic Mexican sandwich with chipotle mayo, avocados, tomatoes, a fried egg, pickled red onions, sweet potato fries, and the part of the pig most likely give you a belly.
Tavern Taters
World of Beer (address and info) 
Midtown
Tater tots topped with house-made beer cheese, jalapeños, crispy bacon, scallions & sour cream, which goes great with an IPA and should probably be ordered by the pair.
Beef Tenderloin Tips
Gypsy Kitchen (address and info)
Buckhead
Pepper-potato hash of varying types, blue fondue cheese for dipping, and a whole pile of steak.
Tailgate Pops Box
King of Pops (address and info)
Poncey-Highland
Whether you're pro-Georgia or pro-Tech, the King doesn't take sides. UGA is represented with a new chocolate-covered strawberry, while Tech gets a pineapple-blueberry, which is close enough, right? However you fall in the rivalry, the winner is delicious.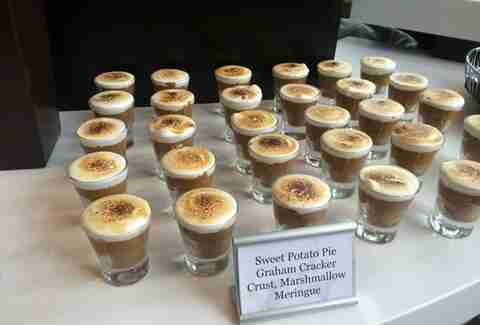 Sweet Potato Pie
Savor Bar & Kitchen (address and info)
Sandy Springs
These little goblets of Atlanta fall flava' start with a Southern sweet potato pie filling, boast a little graham cracker crust, and come with a toasted marshmallow meringue on top.
Ice cream waffle sandwich
Dolphin's Water Ice Factory (address and info)
Kirkwood
What's better than chicken & waffles? Probably, nothing... but this combination of fresh Belgian waffles sandwiched around an impressive slab of ice cream that's been rolled in chocolate chips comes so close that you'll have to try it a few times to be sure.
 
Sign up here for our daily Atlanta email and be the first to get all the food/drink/fun the ATL has to offer.