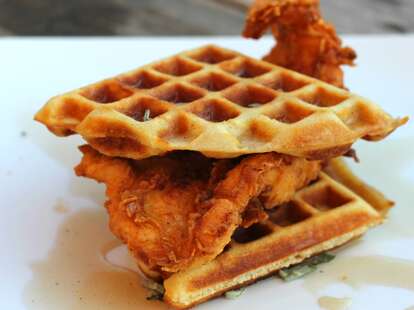 Sebastian Davis
Sebastian Davis
There're a slew of fantastic food combinations -- bacon & chocolate, Kool-Aid & hush puppies -- that sound kind of strange when you first hear about 'em, including everyone's favorite such dish: fried chicken & waffles. It's the best combination of lunch and breakfast since... well, brunch, and no city does this soul food-staple better than ours. Want proof? Here're Atlanta's nine best ways to eat chicken & waffles...
Infusion Bistro
Lindbergh
If their incredibly savory chicken isn't enough to keep you coming back every day, one of their eight, yes eight (!), C-n-W options (Hello, Georgia peach pie and red velvet!) definitely will.
Nana G's Chik-n-Waffles
Mobile
Unequivocally proving fried foods make you live forever, this red/white/blue meal rig was started by the family of a breakfast-cookin' ATL centenarian and combines spicy tenders with Belgian-style waffles... though the Belgians probably don't put bacon in theirs like Nana G does. Silly Belgians.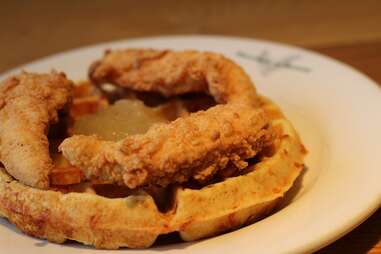 Bantam & Biddy
Midtown
Thick, fluffy waffles, some solid tenders, and a smothering of their house vanilla bean apple sauce give this a warm, homey feel. But not, like, your home, since your mom doesn't make some of Atlanta's best chicken & waffles.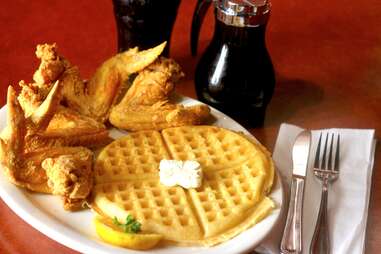 Gladys Knight's Chicken & Waffles
Downtown
If Gladys Knight were your woman, you'd be lucky (obviously... and probably in your '70s), 'cause then her son'd have to hook you up when you order the "Midnight Train" -- a plate of giant wings & giant waffles -- at one of the three local spots bearing his mom's name.
South City Kitchen
Midtown
A brunch (and occasionally lunch) special that -- along with everything else on SCK's "everything's better with butter" menu -- provides the perfect Southern hangover cure. To be fair, there is some Vermont maple syrup involved, but that's just to make your yankee cousins feel better.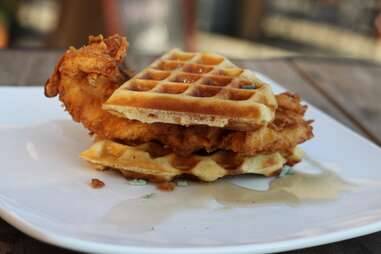 The Midway Pub
East Atlanta Village
Served sandwich-style (so you can ditch the fork), this fancy-looking, rosemary syrup-drizzled option is actually the best way to eat chicken & waffles without people thinking you're funny-looking.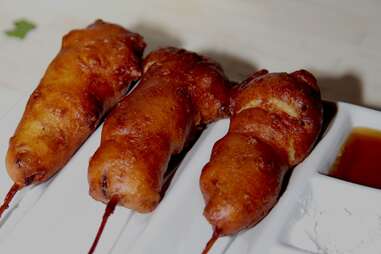 10th & Piedmont
Midtown
The most creative of your local options, this scrumptious skewer is part-carney food, and part-Paula Deen fantasy that starts with a moist tender, dips it in waffle batter, and then straight-up deep-fries that sucker, the way that nature intended all things to be served.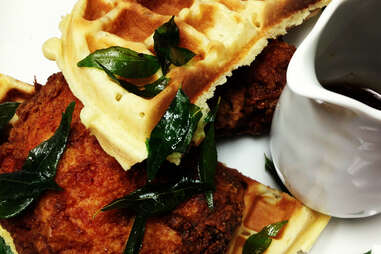 Cardamom Hill
Home Park
The hottest (literally) chicken & waffles option in Atlanta comes from an... um, Indian restaurant? Yep. This Kerala-style fried chicken brings some serious heat, thanks to chili and other powerful spices you don't usually find on a low country waffle.
Poor Calvin's
Downtown
Thanks to bone-in chicken (for extra juiciness), thick waffles, crème fraîche, mascarpone cheese, and fruit compote, Chef Calvin actually makes the richest option on our list. Then makes the poor decision to pair it with a... ugh... salad.