Barça owner Mounir Barhoumi claims that fine dining is dying (whoa, don't tell Ruby Tuesday!) and that what people want right now is more food for less scratch, and so transformed his Mediterranean upscaler La Fourchette into a lower-key joint offering affordable Spanish tapas and enough sangria to make you not mind the soccer they'll be playing on TVs throughout.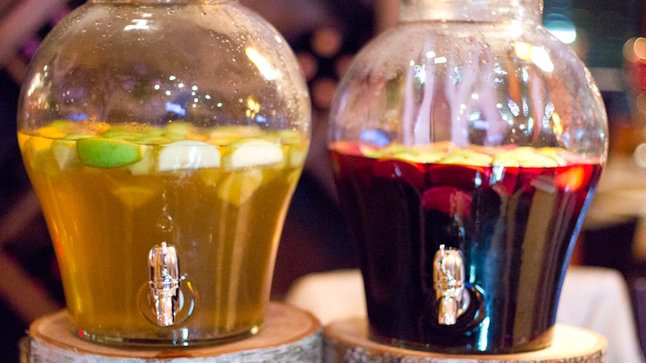 White sangria here. Don't let the smooth taste fool ya -- it's heavy with white wine, vodka, banana liqueur, rum, and Monica-less brandy you should Never Say Never to.
It also comes in red.
After you've finished your toast with that, get some alongside Spanish chorizo w/ red wine.
Here's the chicken saltimbocca wrapped in prosciutto and laid out on a bed of potato mash.
And back by popular demand is a fave from the La Fourchette days that may have inspired a revolt if it didn't make the new menu: Eggplant Involtini w/ fresh mozz, tomato sauce, and garlic, ensuring what people want these days is to not make out with you.