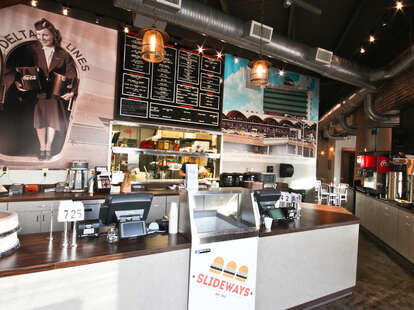 Slideways is both a great way to get into home plate, and a restaurant with enough mini-burgers to ensure you're too heavy to make it around all those bases that come before it.
The retro patty parlor is decked out with exposed brick and throwback photos from Hapeville's heyday, including a shot of Atlanta Hartsfield from 1977 and a Delta stewardess (they went by that back then -- it's ok!) welcoming you to fly the friendly skies
Slideways is only open for breakfast and lunch, but do those right and you won't need dinner, thanks to a build-your-own option that will allow you to construct, say, a turkey sausage, pimento cheese, and avocado slider on a biscuit
How do you eat chicken and waffles on the go? You make 'em as a portable slider, that's how. Prepare to get sticky with this all-day breakfast number that sandwiches buttermilk fried chicken between two mini waffles drenched in cracked-pepper honey (or, for traditionalists, maple syrup)
Lunch specialties include the South Minneapolis-born Juicy Lucy, which oozes cheese from beef, or if you're super healthy, oozes cheese from turkey
And finally, a genius combination of beef, chili, bacon, pimento cheese, fried egg, and an onion ring called the Yolo -- eat a couple and find out if that's true!