If the sweetest thing about that trip you took to Italy in college was hooking up with that hot, if slightly too hairy, Euro chick, then... uh, your trip was wayyy better than ours. But, if it was all the delicious artisanal gelato you ate, then it's finally your turn to get lucky: Giovanni Di Palma (the pizza maestro behind the ATL pie house Antico and Gio's Chicken Amalfitano) is adding Caffe Gio, a traditional Neapolitan gelateria/caffé to his list of Home Park haunts, and's giving you something to do this Summer besides the usual outdoor drinking, and rueing all the European hook-up opportunities you missed.
Recommended Video
Chow Down on This Quadruple Stack Burger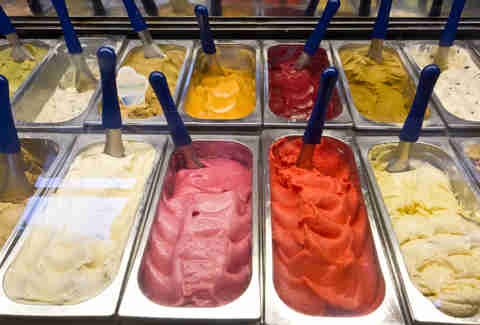 They've spared no expense in importing 15+ hand-crafted gelato and sorbetto flavors directly from Bologna, Italy... and that ain't no bologna. Options range from vaniglia (vanilla) and cioccolato (chocolate), to arancia rossa (blood orange), biscotti e crema (cream biscotti), and cinnamon honey. And yes, the entire menu is in Italian... except for "cinnamon honey", apparently.
Their list of custom incarnations features the Neapolitan, which stacks scoops of the traditional flavors (strawberry, chocolate, vanilla) on a cone imported from Rome, then adds edible pastry straws and a rich chocolate truffle on top.
There's also a red, white & green number that turns strawberry/vanilla/pistachio gelato into a tribute to the... waitforit... Mexican flag. Just kidding, it's the Italian flag, even though no one can tell the difference.
The gelati shop is part of Giovanni's Piazza San Gennaro project and is just steps away from Antico and Gio's...
But you won't be able to walk anywhere when, on top of all that gelato, you down sweet lunch offerings like a fried Bell & Evans chicken breast under a bed of fresh greens & Parm, which is technically a salad.
Get your lady friend this beatiful orange sorbetto served in a frozen orange, and you might just get what you already got on your college trip to Italy... or tell everyone you did, at least.