For the Hsu Siblings, Lunar New Year Means Lion Dances, Long Noodles, and Even KFC
The owners of Lazy Betty and Sweet Auburn BBQ look back on Lunar New Year family traditions.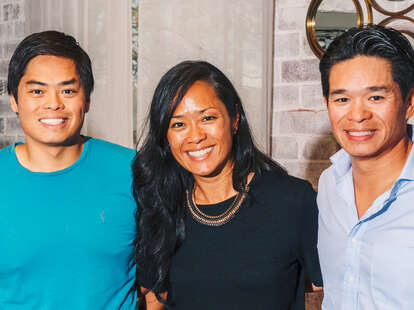 Ron, Anita, and Howard Hsu at Lazy Betty

| Photography by Cole Saladino for Thrillist
Ron, Anita, and Howard Hsu at Lazy Betty

| Photography by Cole Saladino for Thrillist
Decades before Howard and Anita Hsu owned Sweet Auburn Barbecue and their brother, Ron, was the chef-owner of Lazy Betty, they were just three kids growing up in their parents' Henry County Chinese restaurants. Little did they know, they'd one day be running some of the most critically acclaimed restaurants in the country.
But as the children of Malaysian immigrants, there was one holiday celebration even more epic for the Hsu siblings than Christmas: Lunar New Year.
Anita's earliest Lunar New Year memory is of lion dances at her parents' restaurant, Hunan Village. "It usually consisted of my cousins and uncles performing in it," she remembers. "Even some of the non-family members of the staff would be drummers." Hunan Village was the only Chinese restaurant in Griffin at the time, so it was the place to be when the annual holiday rolled around.
Lunar New Year begins with the first new moon of the lunisolar calendar—this year it's on February 12—and ends 15 days later with the arrival of the first full moon. It's the biggest holiday in China, Korea, Tibet, and Vietnam, and sometimes referred to as Chinese New Year, Spring Festival, Tet (Vietnam), or Losar (in Tibet). It's such a big deal that businesses in China typically shut down for the first week so families can partake in festivities like street parades, family gatherings, and fireworks.
The revelry is more subdued in the U.S., but still proved to be memorable for the Hsu family and their guests. Betty, their mother and family matriarch, along with their father, George, took hosting duties seriously. Betty and George immigrated to the United States in the 1970s, and Betty helped her seven siblings immigrate in the 1980s. This made for a full spread on the banquet table.
"A lot of them that came, worked in the restaurant, or had restaurant experience," says Howard, the oldest. "So during Chinese New Year, it was a lot of fun because everybody would prepare their specialty dish. You had a lot of good food and a lot of different dishes that everybody was really proud of."
As time went on, the celebrations grew to include their teenage friends. "All of our friends, at one point, had worked with us at our parents' Chinese restaurants," Anita says. "And they all really loved the lion dance, and they loved coming to these parties. So having your friends validate it made it cool, too."
As for traditional foods, the Hsus remember eating thin, crispy pan-fried egg noodles smothered in a meat and vegetable sauce. There was sweet and sour fried pork chop. Long noodles, known as longevity noodles, would be served as a symbol of long life. There would also be a steamed whole fish which represented abundance. "One of the things that stood out to me with the fish, was that we would get reprimanded if we tried to flip the fish over when the meat was gone on one side," says Anita. Flipping the fish is forbidden because, if you turn it over, you risk losing your fortune.
There were also other traditions. "As a child, your aunts and uncles, and the elderly members of the family, would give you red envelopes, hóngbāo. Usually there's anywhere from a $20 bill in there to $100 bill," says Howard. "I remember one time I might have gotten a couple of hundred dollars, and that was super exciting." Additionally, there would always be a game or two of mahjong played at their house or the restaurant.
The feast grew to include American food, too. One aunt married a man who owned a KFC franchise and added his own flair by bringing buckets of fried chicken, which soon became part of the annual tradition.
Naturally, the celebrations waned as kids grew up and families dispersed throughout the country (including Ron, who lived in New York until three years ago). Instead of mahjong and a banquet, the siblings would go to their parents' house where Betty and George would cook for them, or they'd go to a local Chinese restaurant.
It's been nearly two years since they lost Betty, who succumbed to her battle with breast cancer in 2019. Between her passing and a global pandemic, the traditions haven't been firmly re-established, but the siblings know they will be.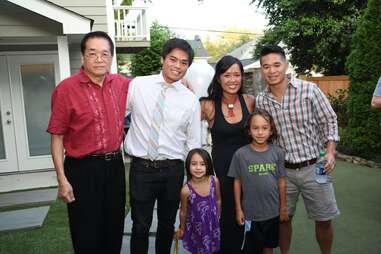 Usually the Hsu siblings throw a party at Sweet Auburn BBQ, with a lion dance, just like when they were kids. This year, the siblings and their father George will host a Zoom cooking class on February 23 from 6-7 pm. Participants can learn how to cook Chinese pan-fried noodles with chicken and sweet and sour pork chops with pineapple, purchase an ingredient kit, or just follow along at home.
Beyond that, the Hsu family might go as a group to Bobo Garden, or maybe they will all cook together. One thing is certain—there will be good food and plenty of red envelopes. Although, as Ron points out with a laugh: "I loved getting them as a child. But being on the opposite end of that is not as fun."
Lia Picard is an Atlanta-based journalist writing about food, travel, and a variety of other topics. Her work appears in
The New York Times
,
The Washington Post
,
Wine Enthusiast
, and
CNN Travel
.