In honor of football, drinking, America, and YOU, we proclaim the Monday after the Super Bowl shall henceforth be known as National Hangover Day. It's a day for hangovers to be celebrated, embraced, and combated in the most enjoyable of ways -- namely, eating delicious food, and possibly drinking more. The ultimate goal? Getting the entire country a day off work, a beautiful dream you can help make happen by signing this petition to our sports-loving President right here and tweeting it.
The immediate goal though? Fixing that hangover with IV fluids, chicken & waffles, and 32oz Bloody Marys...
IV Treatment at Hydro-Clinic Atlanta
Buckhead
You can wait hours for your custom Gatorade and Aleve cocktail to take effect, or let these professionals do the same thing the one's in the emergency room at Grady did last time you went out drinking: shoot you full of vitamins and IV fluids.
Hangover Muff at Bone Lick BBQ
Blandtown
They call this English muffin-based sandwich the "porkgasm", presumably because it sounds like what you were in no condition to give anyone last night in addition to cheese and a fried egg, it's topped with four types of pig.
Comfy Chicken Biscuit at Home Grown
East Atlanta
Besides growing all your sides in their backyard, this Memorial Drive institution serves what is widely considered Atlanta's best biscuit -- and it only gets better when you top it with insanely crispy and juicy fried chicken, and then drown it in gravy.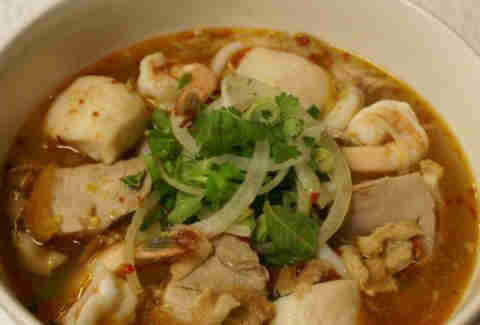 Bun Mam at Quan Ba 9
Buford Hwy
The healing powers of pho have long been known to... um, more people than the noodle soup's correct pronunciation is, so Quan Ba 9 is breaking out other healthful (and easier to order) Vietnamese soups like Bun Mam, which starts with fish broth noodle soup, then adds shrimp, squid, pork, eggplant, and then some more fish.
Chicken & Waffles at Gladys Knight & Ron Winans' Chicken & Waffles
Downtown
"The Empress of Soul" is also the queen of this delicious carb/grease combo, not least because they're available all day, so you don't have to worry about peeling yourself out of bed by noon just to get some.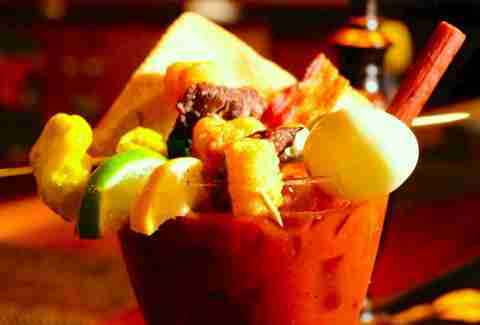 32oz Bloody Mary at The Nook
Piedmont Park
If you're going to have some of the hair of the dog, it might as well be a big dog, like this double­-pint tomato cocktail with steak, tater tots, a hard­-boiled egg, and a meat straw, so you don't even have to order any food to go with it.
Pozole at Nuevo Laredo
West Atlanta
A pork and hominy stew served with shredded green cabbage, onions, radishes, and jalapeños is a heaping bowl of Mexican rehydration, and is helpfully available on the day you're statistically most like to be hungover: Saturday.

Secret Menu at Waffle House
Multiple Locations
Whether it's a blurry 3am the night of, or a groggy 3pm the next day, Atlanta's own neon yellow destination is there for you. Pro­tip: ask the cook for some off-menu action like The "Double D's" (two hash browns covered by two sunny side­ up eggs), which, apologies to the lovely ladies you may have seen last night, are probably the most satisfying kind.