Hey Atlanta: This is the most interesting way to Dos
Quick, file a time off request form with Carol in HR for Friday, May 2nd right now! Why? Because this year Cinco de Mayo falls on Monday, an unforgivable party foul that, with an assist from Dos Equis, we've fixed by starting the nacho-demolishing fete early. Welcome to Dos de Mayo. And welcome to the best day of Mexican-themed bacchanalia of your life, Atlanta.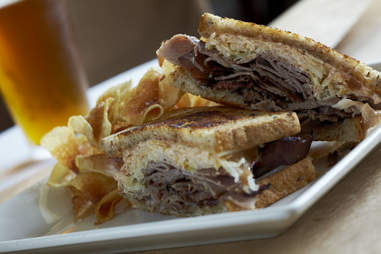 Food 101
4969 Roswell Rd
Science: breakfast is the most important meal of the day. Not science but still true: Food 101's chilaquiles con chorizo, fried eggs, and queso is the best way to kick your epic Dos de Mayo journey into gear.
The Corner Taqueria
2860 Atlanta Rd
Pop into The Corner Taqueria for decor that includes Mexican blankets, sombreros and, naturally, cow skulls. Then indulge in micheladas, Mexican beers, 40+ tequilas, and, oh yes, breakfast tacos. Scrambled eggs, chorizo, diced potatoes and jack cheese make for a perfect and appropriate second breakfast (hell yeah Hobbit references!).
Teela Taqueria
227 Sandy Springs Pl
It's time to transition to lunch, which of course means more tacos. Swing by Teela's for chicken in house-made mole, crispy tilapia, fried chicken, or brisket varieties. Then circle the bar for the fresh mojitos.
Mezcalito
304 Oakland Ave
Shots of Mezcaliot's "devil water", tequila infused with 10 kinds of peppers? Trust us, it's the perfect pick-me-up after inhaling the tortilla lasagna gut bomb you better be ordering for, uh… slunch?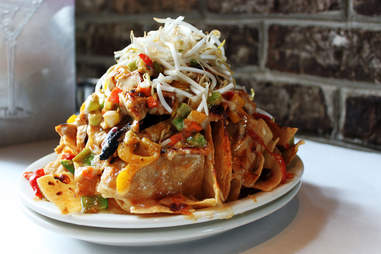 Courtesy of Tavern at Phipps
The Tavern At Phipps
3500 Peachtree Rd
Now that you're sufficiently fortified with tacos and tequila, it's time to strut your stuff. Head to the Tavern At Phipps for the outdoor patio, pretty people, and the Southwestern nachos ("Tavern Chips" to the fancy man) with poblano peppers, firecracker shrimp, and sweet corn.
Courtesy of King & Duke
King + Duke
3060 Peachtree Rd
One can't celebrate Dos de Mayo without acknowledging that it's an all-American holiday. Enter the King & Duke's truly all-American King steak, a one-kilo bone-in rib eye steak served with roasted marrow bones.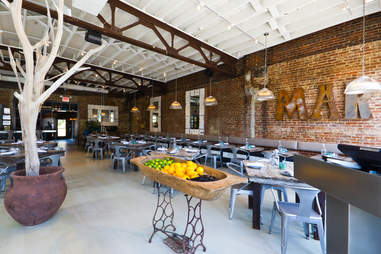 MAR
314 East Howard Ave
Just because Atlanta is "landlocked" and doesn't have access to "the ocean" doesn't mean you can't enjoy the evening in a relaxed beach setting. Hit MAR for Mexican seaside-inspired décor and eats, like the cold bar's righteous red snapper and tuna ceviches.
AFTP
1850 Howell Mill Rd
All beloved holidays involve dessert (take a cue, Lent!), so cruise into the Atlanta Food Truck Park and Market for Jake's Ice Cream's "Hot Sexy Mexican" chocolate offering, which is as amazingly not offensive as it is delicious.
Red Pepper Taqueria
3133 Piedmont Rd
Don't worry, this post-midnight pit stop doesn't have to be tacos <em>again</em>. Prepare to sip house-blended tequila cocktails like the Desert Storm (made with cactus-infused tequila) while inhaling Red Pepper's unique charbroiled oysters from their surprisingly splendid oyster bar.
Johnny's Hideaway
3771 Roswell Rd
Sure, a "Sinatra" room isn't the most Mexican way to end the night. But there's no better way to cap off a glorious Dos de Mayo than by hitting up one of our favorite Bad Decision Bars in the whole ATL. If you make it out alive, give yourself a hand: Dos de Mayo is officially conquered… and you might want to see a gastroenterologist.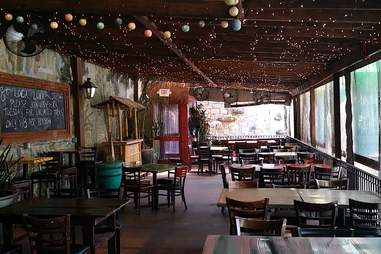 COURTESY OF LOCA LUNA
BONUS!
Loca Luna
550 Amsterdam Ave NE
What, thought we weren't going to include one of Atlanta's hottest spots for salsa, samba, and other dances that don't begin with "sa"? Scarf down some bacon wrapped jumbo shrimp tapas, and then hit the killer dance floor. The combination of "killer dance floor" and "bacon wrapped" is why we're throwing our Dos de Mayo party there -- RSVP right here, and burn it up all night.