S'mores waffles and maple syrup breakfast 'tails now in Inman Park
What do you need after a night spent hitting every sweet bar along MARTA's Red Line? A... um, car? Yes! But you also probably need breakfast, and, lucky for you, Inman Park's Folk Art has some absolutely badass AM eats, plus some tasty lunch options and a full bar, which you should feel free to avail yourself of since you're obviously not going to be driving anywhere.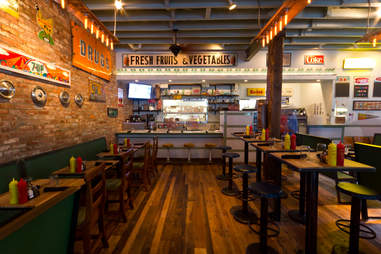 Opened by the dude behind Wisteria (which is just a couple doors down), FA feels like eating at a rummage sale with its distressed wooden floors/tables/etc. and walls adorned with signs made with vintage metal... so Whitesnake? Slayer?
Extensive breakfast offerings range from the jumbo bacon/sausage/egg/cheese biscuit, to a peanut butter & banana waffle, or this campfire-inspired chocolate s'mores waffle topped w/ crushed-up graham crackers & marshmallow Fluff.
Need some hair of the dog? Try the What's Up Doc w/ vodka, apple cider, fresh ginger, and... waitforit!... carrot juice; or this Vermont Maple Sour, which combines what you'd typically slather on pancakes with bourbon, OJ & fresh lemon.
Heftier morning-starters mean Southern Comfort shrimp & grits w/ a fried egg on top...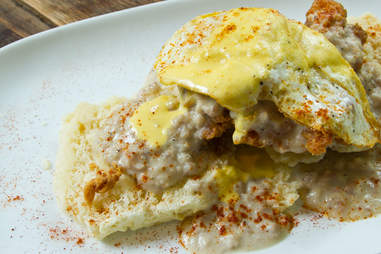 ... and some fat (and Phat!) Southern fried chicken & biscuits w/ fried eggs smothered in savory sausage gravy.
If you can't get out of bed in time for breakfast, don't worry! The lunch menu's got giant burgers w/ truffle mushrooms & baby Swiss, roasted duck pastrami sandwiches, and these fried pickle-brined snacks made from a body part you wouldn't have to use as much if you had a car: legs! These are from a frog, though, so don't worry.