How to completely dominate The Al's new brunch menu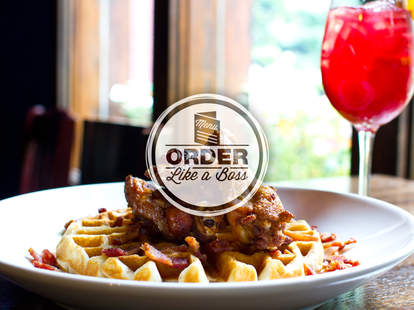 If there's one thing ATLiens love doing on the weekend it's... convincing themselves Matty Ice is as good as, say, Joe Flacco. But if there's a second thing we love, it's hitting a good brunch spot to replenish the energy spent doing the first thing (it's hard work!). Now handling the brunch part is Inman Park comfort-foodery The Albert, which just unleashed a weekend-only AM-eats menu so good that we decided to show you how to do what we all really hope Matty will do to the NFC this year: dominate it.
1. Order their Blueberry Shandy or In The Shade brunch 'tails
The carbs in a Bloody Mary will take up too much space in your stomach (trust us, you're gonna need it all), so ride on the lighter side with a Shandy combining Stoli Blueberry, lemonade & Sam Adams Octoberfest, or a fancied-up French 75 w/ Nolet gin, prosecco & vanilla syrup.


2. Order the Bourbon Bacon Waffles and Wings
These smoked wings-topped waffles have bacon on top and inside of them. Plus, if for some reason you skipped step one, it's cool -- the caramel syrup is infused with bourbon.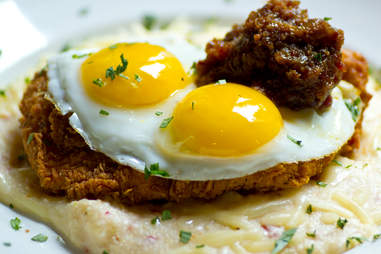 3. Dive into this Country-Fried Pork Bowl
Screw shrimp & grits, The Albert's doing a decidedly not-shrimpy country-fried pork cutlet & cheesy grits w/ a sunny-side-up egg. PRO TIP: that mound of bacon jam isn't just for show -- get some of that meaty/savory/sweet goodness in every bite!
4. You require the BBQ Benedict
A Southern take on the classic w/ slow-cooked pulled pork & egg on cornbread, drenched in a BBQ Hollandaise sauce.
5. Stacks on stacks on stacks of Crunchy Cakes
By now, your cholesterol is a little... OK, it's like, infinity higher than it should be, but everything's gonna be fine 'cause these flap jacks are made with The Al's house granola.
6. End with the Brunch Burger
Almost time for what puts the "unch" in brunch? Try a breakfast burger layered w/ enough beef, fried egg, bacon & Hollandaise to put you where, unfortunately, the Dirty Birds hopes for the season to rest: on "Ice".