Kevin Gillespie's entry in the Search for the Most America-est Hot Dog needs your vote!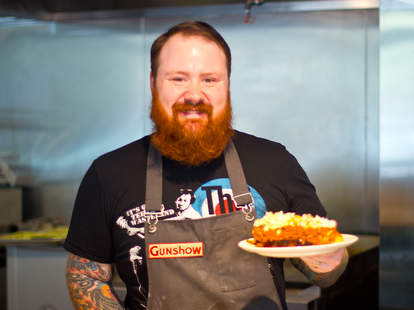 State fairs. Drive-ins. Hot dogs. Nothing, except maybe the fried snickers on sale at the first, or the girls in roller-skates at the second, can rival those three things for sheer American-ness. So, in honor of the country's birthday, crimson-bearded Top Chef alum Kevin Gillespie of Gunshow decided to turn 'em all into an amazing piece of edible Americana so good, it'll definitely get you hot, dog. Is it a corn dog? Is it a chili dog? Who knows?! We do know it's repping the ATL via a locally sourced peaches & cream slaw, which is just one of the many delicious reasons that you should vote for it in our Search for the Most America-est Hot Dog. But only after you scroll down and see all the other reasons...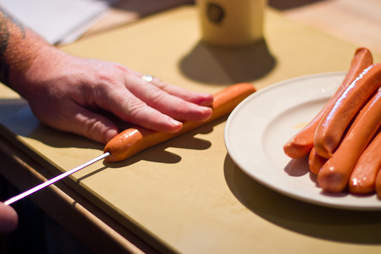 We start things off by skewering these Boar's Head pork and beef frankfurters, because who knows what's in the wieners you've been eating.
The beef/pork link gets the state fair treatment and is dipped in cornbread batter that will...
... become the golden-fried deliciousness you see before you. But the party doesn't stop here.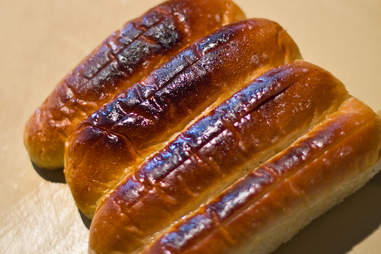 Rather than eating this bad boy on a stick, it's going between these buns that've been broiled and covered in duck fat. Yes. Duck fat.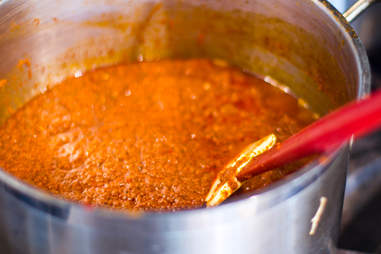 All the while, Kevin's special, proprietary, spicy chili sauce (take that, Sonic!) has been simmering and just waiting for it's time to shine... in your mouth.
John Keats would be totally impressed by Kevin's ability to do two contradictory things (heating things up with a blend of hot mustard & onion, and cooling it down with a blend of locally sourced Georgia peaches & cream slaw) at the same time and not be destroyed.
Gillespie is ready to smother the competition, much like he's doing to this dog via some mustard.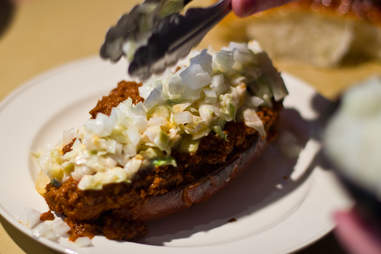 Just like Voltron whenever the Drule Empire is acting up, it's time for the State Fair vs. Drive-In Dog to be assembled.