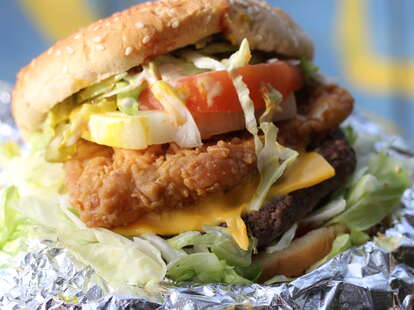 Sebastian Davis/Thrillist
Sebastian Davis/Thrillist
Ever notice how the same few burgers -- the Holeman & Finch Burger, the Bocado Burger Stack, the Ghetto Burger, etc. -- make everyone's "best burgers" lists, even though there're, like, eleventy-million different meat discs in the ATL? There must be some under-the-radar burgers that've slipped through the cracks then, right? Right?! Right. Here're seven great options you won't find on Atlanta Magazine's, Eater's, or even our "best of" lists, but that you'd be lucky to find on your plate:
Bibimbap Burger
Milano Bakery & Cafe (address and info)
Buford Highway
Leave it to the melting pot of Buford Highway to deconstruct a classic Korean dish, make it into a burger, and serve it in a joint named after an Italian city. Layers of shredded veggies gently support a juicy beef patty, which is then smothered in chili sauce and draped with a fried egg. You just won most exotic lunch, monsieur. Errr... signor? Nevermind.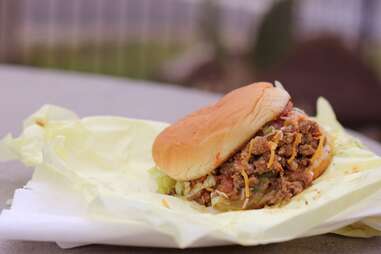 Taco Burger
Taco Pete (address and info)
East Point
This little East Point stand slings meat in tortilla form all day, but the pro-move is this beef & bun option that boasts a spicy sauce, a sprinkling of cheddar, and assorted greenery, though, at just $2.75, it hardly costs you any of the latter.
Kimcheese Burger
Ssam Burger (address and info)
Westside
Just like kissing that girl with braces at the Sadie Hawkins dance freshman year, this beef-/kimchi-based number confuses your tongue, thanks to a Sriracha sauce that brings serious heat, and a sweet bun that balances it out.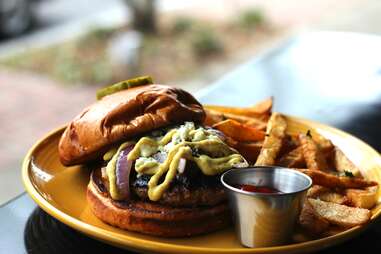 The Spur
The Elder Tree Public House (address and info)
East Atlanta
This Scottish burger-remix starts with lamb on a brioche bun, then adds meaty grilled portobellos, onions, bleu cheese, and a mustard that's made with what you'll be if you eat too many: stout.
Fat Elvis Burger
Vortex (address and info)
Little Five Points
Known widely for its burgers, The Vortex's most indulgent is a too-often-overlooked number made just the way Mr. Presley would have wanted: fried bananas, peanut butter (!), bacon (!!), and some primo beef make this The King of burgers.
Joy's House Burger
Burger Joy (address and info)
Grant Park
This gas station/ Chinese delivery place lives up to its name by joyously combining a half-pound of meat, fried chicken, and a ton of veggies, and then bringing it to your house 'til 3am.
BBQ Burger
Fox Bros. Bar-B-Q (address and info)
Candler Park
It starts with buttery, chopped brisket that's topped with pimento cheese, then comes the bacon, jalapeno mayo, and, finally, a few veggies that -- just like any "best burgers" list without this sucker -- are presumably just for show.
Sign up here for our daily Atlanta email and be the first to get all the food/drink/fun the ATL has to offer.