Ludacris Brings His Long-Awaited Chicken and Beer to Atlanta's Airport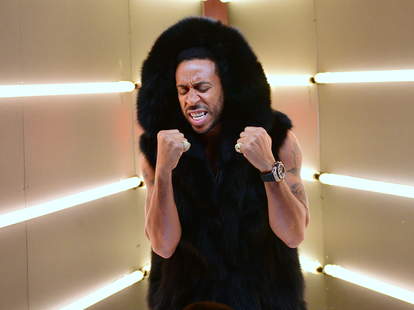 Prince Williams/WireImage/Getty Images
The man known as Ludacris to the world (but whom real ATliens will forever call "Chris Lova Lova") has put his money where his mouf is by finally opening his long-announced Chicken & Beer restaurant in Hartsfield-Jackson Atlanta International Airport in Concourse D near gate D5. The concept is named after Luda's multi-platinum third album, which featured tantalizing tracks like "Splash Waterfalls."
Whatever the sound selection brings, the menu is Southern to the core, with main plates like a two-piece fried chicken dish that's complemented with a molasses biscuit and two sides (corn edamame succotash, rosemary garlic tater tots, and more). There are apps like crawfish and corn fritters, smoked bacon shrimp and cheddar grits, and Cajun boiled peanut hummus. And how could we forget bovine-based meals like stout-braised beef cheeks (one wonders if they can clap), and pan-fried steak -- which at $25 is the menu's most expensive item.
Ludacris hasn't shared details on the specific beer situation yet (feel free to try grabbing a gate pass and waiting in that long-ass security line if you want the scoop), but hopefully the Banneker High School graduate will keep things local -- our airport is still the world's busiest, and since many folks are familiar with the Fast & Furious star, he could potentially have a great impact on visitors coming back for more than the first time. You can check out some pics of the place on Luda's Instagram. ATL, Stand Up!
Sign up here for our daily Atlanta email and be the first to get all the food/drink/fun the ATL has to offer.
Mike Jordan, Thrillist ATL's founding editor, interned alongside Chris Lova Lova and Poon Daddy at Hot 97.5 in 1997, back when the station was off Old Nat'l. He's not anywhere near as rich as Luda today, but at least his Twitter account, @michaelbjordan, is verified.