Sure, it's got something called The Tiger Encounter, a rickety tilt-a-whirl assembled by a man affectionately called "Four-Finger Freddie", and it's OTP, but the worst things for you at the North Georgia State Fair are dipped in other things, dumped in hot oil, and then covered in still more things. Yup... it's the food, the five most outrageously awesome examples of which we've gathered below for your unfortunately not-literal consumption.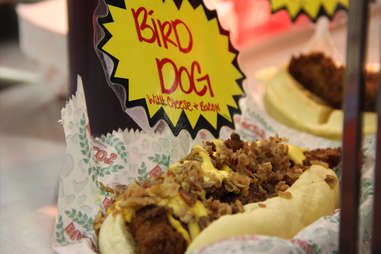 5. The Bird Dog
Chicken fingers are good. Nacho cheese sauce is good. Bacon is good. The next logical step is to take all of them, cram them in a hot dog bun, and slam it down your gullet. You're a logical person, right?
4. Funnel Cakes, Remixed
Fried dough takes many forms, but nothing's as good as the glorious 12in of bubbly crunch that is the classic funnel cake... except a red velvet funnel cake, or one covered in Bavarian cream, or any of the other exotic flavors on offer at the NGSF.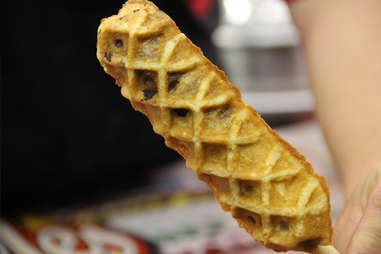 3. The Waffle Dog
This hot dog is skewered, dipped in golden waffle batter, fried in a special press, and then presented for you to ogle for the brief moment before you drown it in syrup and stuff it in your mouth.
2. Fried Kool-Aid
The best thing you can do with all that high school science you took is... ugh... get into college. The next best thing is to do whatever it is you have to do to make delicious Kool-Aid hush puppies.
1. The Big Papa
Winner of the 2013 Crazy Carnival Food Contest, The Big Papa is a double bacon cheeseburger, smothered in pulled pork, topped with hand-cut fries, then covered with ranch dressing, jalapeno-barbecue sauce, and served on a toasted onion bun. Eat it all in under five minutes, and get a free "I Ate The Big Papa" T-shirt, which, on second thought, is actually the worst thing for you at the fair.