A visual guide to who'll be attending this year's culinary extravaganza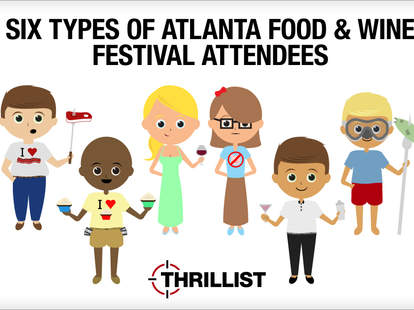 The Atlanta Food & Wine Festival is back for it's third year, and we're back to help you navigate your way through the four-day smorgasbord of chef demos, curated dinners, and early-morning booze how-tos. Identify what type of foodie you are on the totes cute manly & badass infographics below, and they'll clue you in on what events you can't miss
We've also got two free tickets to give away for the Friday Tasting Tents, where you'll sample themed food trails on everything from craft beer and bourbon to decadent sweets and seafood. Just tweet us which type of foodie you are and what you hope to devour at AFWF13
You, Meat-Adoring Elitist Who Thinks Everything Is Better With Bacon… Because It Is, will feel right at home at
Butcher Renaissance -- A chef's demo and tasting seminar where participants will get to know the cuts, flavors, and techniques behind truly fine meat and learn why butcher shops in restaurants are becoming a thing.
The Brothers Grill -- During this demonstration, chefs Kevin Rathbun of KR Steakbar and Kent Rathbun of Abacus in Dallas will school participants on the tips, tricks, and flavors that inspire grilling fairy tales.
Makin' Bacon -- Chefs Ford Fry and Joe Schafer of King + Duke will teach participants how to create cured or smoked homemade bacon that will have you craving more.

You, Deep Sea Devotee Who Thinks The Filet-o-Fish Is An Abomination, will get your sea legs at
Shucked Over -- Chef Adam Evan's of The Optimist will show ya all the tricks to roasting oysters in your own backyard. Tip 1: acquire property with a backyard.
Shades of Shrimp -- Learn about wild caught shrimp, and why they're the most popular seafood in America.
Fish School -- During this cooking demo, you'll dive deep (pun intended) into the fishy blue as they navigate everything from making eco-friendly choices to understanding "fish fraud".

Know a Kale-Loving Vegan Who's Annoyed You Didn't Recycle Your Paper Plate? Sorry. But feel free to drop them off at
Liberate Your Lettuce -- Romaine, Bibb, and radicchio. Yumm! Learn different "cooking" methods like pickling, searing, and stir-frying.
Urban Foraging -- Become part botanist, part culinary artist as you're introduced to a list of marvelous free ingredients just waiting to be used amidst the concrete jungle where nature invariably finds a way to poke through.
Technique Lab: Veg-nificent -- During this technique lab, you'll acquire the veggie prep skills outside to transform Spring and Summer bounties into a delicious feast.

Everyone knows a Sugar Savant Who Thinks You're The Weird One For Not Eating Dessert First, so ensure they get their fix at
Beer & Doughnuts -- A tasting seminar where beer mustaches and sticky fingers meet as participants follow a beer sommelier and pastry chef through decadent pairings of beer and doughnuts.
More than a Happy Finish -- Chocolate is much more than just a happy ending, so learn how it can accentuate the flavors of poultry, meat, and wild game.
Technique Lab: Marshmallows, Macaroons & Doughnuts -- Learn the tricks and techniques behind these decadent Southern sweets. Eat many in the process.

Know a Craft Cocktail And Beer Connoisseur Who's Miffed You're Drinking Mainstream Hooch? Learn from him. Specifically, at
The Bourbon Show -- During this beverage seminar Tasting Tents pre-gamer, celebrated experts will mix bourbon cocktails aplenty with a variety of brands that won't break the bank.
Exotic Evolution -- Explore the innovative and exotic side of the Southern craft beer industry like aging in bourbon barrels and utilizing a broader variety of ingredients to create interesting and delicious flavors.
History of the Southern Cocktail -- During this tasting seminar, participants will listen to Neil Bodenheimer (Cure, New Orleans), Greg Best (Holeman and Finch, Atlanta), and Paul Calvert (Paper Plane, Atlanta) wax poetic on the history of mixing Southern cocktails, while you sip on some of their favorite concoctions.

And finally, for the Oenophile Who's Pleased You Didn't Toss That Moldy Cheese
Tarheels, Bulldogs, and Wine -- Explore a selection of intriguing vinos from North Carolina and Georgia while learning about the use of various grape types that are holding much promise for all Southern states.
Wine as a Grocery Not a Luxury -- Don't put the Pinot on a pedestal. Learn about accessible, everyday wines that won't put a hole in your bank account.
Volcanic Vines -- Did you know that flavorful grapes from active volcanoes outlast the flames to produce robust and perfectly-balanced wines? No? Then you should check this out fo sho.