This burger behemoth will quell your late-night hunger pains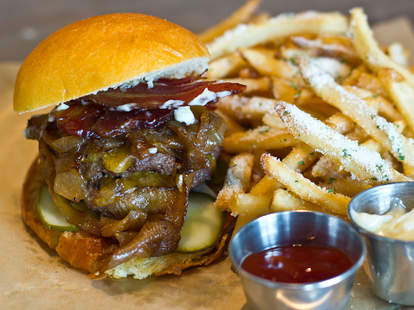 As if you needed another reason to hang out in Midtown all day, the dudes behind Italian pasta house Campagnolo are giving you another one: a 10th St suds sanctuary called Henry's where, from lunch until late-night, they're slinging enough two-handed burgers, patty melts, etc. that you'll think the place was named after a certain rather portly king, instead of a... um, dog?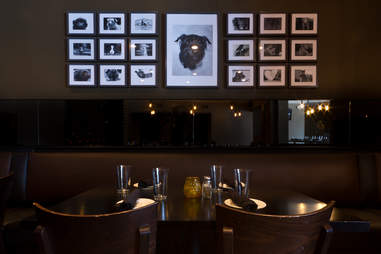 A painting of the owner's titular terrier is surrounded by photos of other friend's/patron's pooches... maybe even yours, if you bring a black and white photo.
The wood-heavy gastro is so moodily lit that Hank would totally move in here if Charlie Runkle wouldn't be too lonely all the way out in Malibu without him.
The bar will screen everything from local sports to the season finale of Downton Abbey, though if you show up when they're showing the latter, you should immediately down...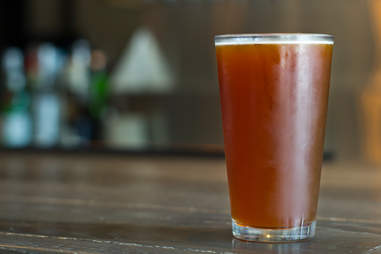 ... a few of the 50+ brews, from craft suds heavyweights, like Wild Heaven, Abita, and SweetWater, to imports like Delirium Tremens and Chimay Red.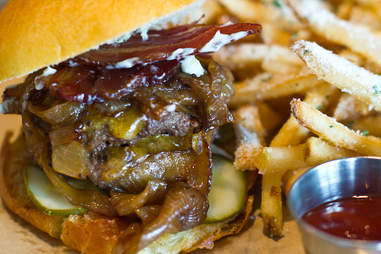 After wetting your whistle, you're ready for something that definitely won't blow: a behemoth double-patty diner-style burger w/ cheddar, grilled onions, a slab cut of bacon & their signature Parm fries.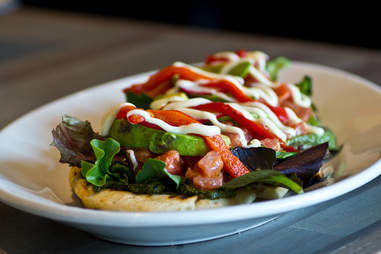 Bar fare ranges from by-the-pound hot wings to mini pulled pork baked potato skins, but if you're looking to go fancy, this ahi tuna pizza covered in Sriracha, sesame dressing, avocado, and pesto has you... uh, covered.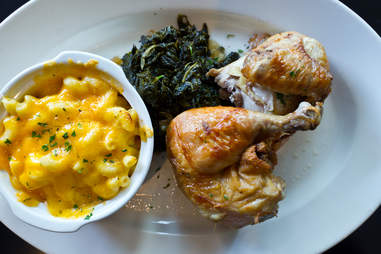 Still hungry? Larger portions come in the form of a T-bone steak in red wine shallot jus and grilled salmon in lemon caper sauce, as well as this roasted half chicken with mac n' cheese and braised kale.
And, as if that's not enough, you can take down this ice cream pie named after either that big park in Hampstead, which Henry should have done some jogging in, or the candy bar that inspired it: Heath.