Boasting a sweet patio, and a lavishly decked interior, Morningside's Couscous is a Mediterranean hideaway on Atlanta's Beltline with a menu stocked with so many badass eats options (roast steak, brined pork confit, and... duh, couscous), you'll be forced to loosen your belt(line) after gorging on 'em all. Don't worry -- you'll have money left over for bigger pants 'cause we're showing you how to feast on three gut-busting courses (plus a drink!) for less than $50.
Get Things Started: Begin your feast with this traditional Kefteji ($9) mashup of butternut squash, potatoes, tomatoes, onion and harissa with a fried egg on top. PRO TIP: Use the pita bread like chips on a glorious plate of international nachos to get a little bit of filling and egg in every bite.
Equally Filling Alternative: A potato, egg, Parmesan, and tuna-stuffed hot pocket called Brika ($8).
Running Tally: $9
Small Plate, Big Flavor: These Grilled Chamoula Shrimp Skewers ($9) are plated perfectly and served with a local Georgia peach salsa.
Spicy Alternative: The Fried Beer-Batter Cauliflower ($7) w/ roasted red pepper coulis & caper remoulade are veggies you'll actually like.
Running Tally: $18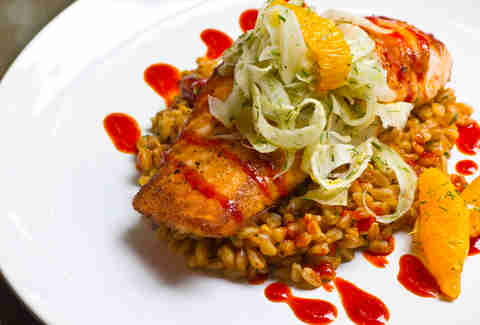 Waist-Watching Entree: The Grilled Atlantic Salmon ($16) resting on a foundation of Farro risotto, fennel orange salad & harissa syrup will rest nicely on the foundation of pita and shrimp already in your stomach.
Gut-Busting Alternative: Meaty Bistro Steak Frites ($17) with mixed greens and peppercorn sauce.
Running Tally: $34
Wash It All Down: With a Pomegranate Splash ($8) 'tail w/ vodka, pom, lemon juice & limoncello.
Man Glass Alternative: The El Jem Lemonade ($8) that infuses bourbon with orange liqueur, sour mix & lemon-lime soda.
Grand Total: $42. Oh, and unless you want the waiter to belt you one, your tip better be at least eight bucks.