Ron "The Angry Chef" Eyester's domination of Morningside with a line-out-the-door brunchery called Rosebud and a sweet watering hole, The Family Dog, next door raises obvious questions like: What in the heck's he got to be angry about? And: When's he gonna open a new place already? No one knows the answer to the first question, but the answer to the second is: right now, and it's a specialty pizza/pasta joint called Timone's.
The space is named after Ron's mother, and reps his childhood in NYC via subway tile walls, black and white photos of rude cabbies, and tables emblazoned with maps of the five boroughs.
There's also sweet wall art, including an NY-inspired Last Supper, and murals showing you how to make spaghetti and lasagna.
The NY-influenced menu boasts things like this spicy house-made Italian sausage number w/ shaved potato, fennel, sage & mozz...
... and a fancified white pizza w/ garlic, Calabrese chilis & clams, a few of which you should have no trouble dropping on such a creative pie.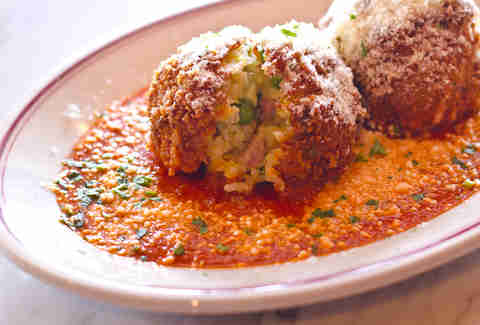 Eyester's got some balls... trying to sell you anything but pizza after you've seen the shots above, but these balls stuffed w/ rice, sweet peas & prosciutto before being deep-fried just might get it done.
Sandwiches include a fried chicken parm, made w/ local cutlets from Springer Mountain, also a new reality show where Jerry won't let you see your paternity test until you complete an obstacle course.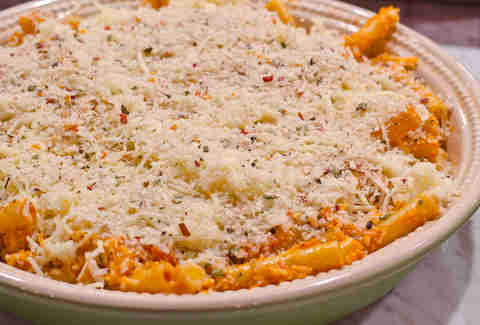 Need more fatness? How 'bout this enormous dish of baked ziti.
By now you've probably got a third question: Is there anything to wash down all this Italian goodness with? Try some suds from their sweet list of local brews, or a house-made soda like this blackberry concoction made using local, seasonal fruit... just don't ask about cocktails or they'll get... waitforit... angry.