The Year In Fat: The ATL's best fatty foods from 2013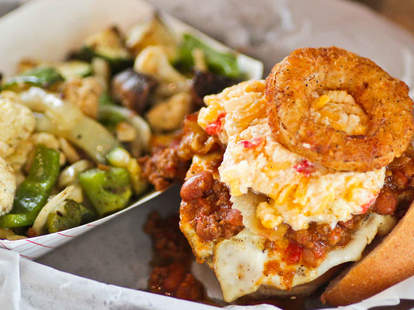 2013 will be remembered as the year Atlanta finally got it together, joined a gym, got into phenomenal shape, and spent the rest of its days eating nothing but salads. At least, we assume there's some girl somewhere named "Atlanta" who managed to pull all that off. The city, meanwhile, remains as fat as ever. Our proof is in this compilation of Atlanta's 10 most gloriously unhealthy dishes from the past year...
S'mores Waffle 
Folk Art, Inman Park
Approximate Calorie Count: 682
Inman Park's Folk Art has some tasty lunch options, and a full bar, but you're going there for their absolutely badass AM eats, including this campfire-inspired chocolate s'mores waffle topped w/ crushed-up graham crackers & marshmallow Fluff.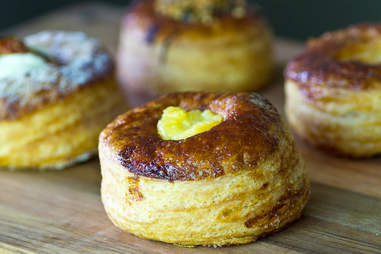 The Doughssant
Star Provisions, Grant Park
Approximate Calorie Count: 710
Since the fateful day in May when NY's Dominique Ansel Bakery introduced the Cronut -- the wholly delicious result of an un-holy union between a croissant and a donut -- knock-off versions of this wonderfully fattening confection have spread across the country, including the ATL, which, thanks to SP, saw the arrival of delicious donut hybrids filled w/ Bavarian creme, topped w/ chocolate hazelnut, and -- our favorite -- stuffed w/ lemon curd.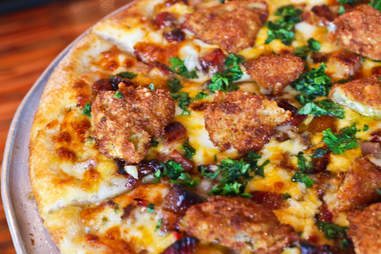 Southern Pie 
Slice & Pint, Emory Village
Approximate Calorie Count: 751
The greatest combinations of all time -- pizza & beer, peanut butter & jelly, the three numbers ending in 69 that opened your locker in 7th grade -- are hard to improve upon, which is why it's taken this long for someone like the mad scientists at Slice & Pint to think of a way to make the first of those examples better. To wit: they're making their own beer, and outlandishly good pies like this one with Spotted Trotter sorghum-infused pork belly, fried green tomatoes & Pimento cheese just like the owner's grandma used to make... seriously, it's from her recipe.
Bourbon Milkshake
Bone Lick BBQ, Blandtown
Approximate Calorie Count: 810
Sure, they use their sizable kitchen and monstrous smoker to turn out Mexican-style chipotle rib tips, chopped brisket sandwiches, etc., but it's the bar that created this glorious combination of dessert/drinks by blending bourbon, chocolate, peanut butter & ice cream.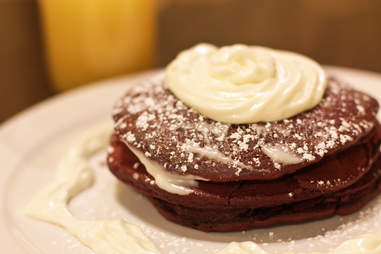 Red Velvet Pancakes 
The Olde Kitchen, Castleberry Hill
Approximate Calorie Count: 844
The Olde Kitchen in Castleberry Hill knows two things: 1) words are way cooler and more rustic when you put an "e" at the end of them, and 2) the best way to fill your greedy belly with all-day breakfasts like these cream cheese frosting- and powdered sugar-topped numbers.
Donut Chicken Sandwich
People's Food Truck, Mobile
Approximate Calorie Count: 920
If you've ever wondered what the best thing you can do to help local families in need is... it's eat a piece of fried chicken sandwiched between two grilled donuts! Seriously. This food truck raises money for charity by selling these delicious monstrosities, which they're calling "The Sublime", though you'll probably end up like the lead singer of Sublime if you eat too many of them.
The PB&J Burger
Stillhouse, Buckhead
Approximate Calorie Count: 944
This Prohibition era-inspired barstaurant laces you with smoked/infused moonshine 'tails, and a slew of handcrafted burgers, the latter of which are so next-level, it's safe to assume the chefs have gotten into the former. Said burgers are all served "upside-down" 'cause the chef's hitting the moonshine, remember?! meaning the sauce-/cheese-laden top is flipped up, letting you see all the melted blue cheese and pecans on top of this double beef number w/ GA peanut hummus, fig jam & sliced peaches.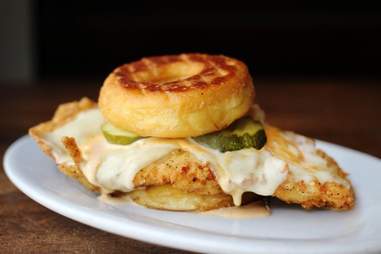 The Sublime Chick Sandwich
Cypress Street Pint & Plate, Midtown
Approximate Calorie Count: 1040
Shhhh, it's a secret! As in, you won't see this sandwich on the menu, not even if you put it under a black light. Pound and fry a chicken breast, smother it in cheese, pickles, and their Sriracha-ranch sauce, stuff it between Atlanta's best donut from Sublime, and then... well, then you hurry up and eat it already!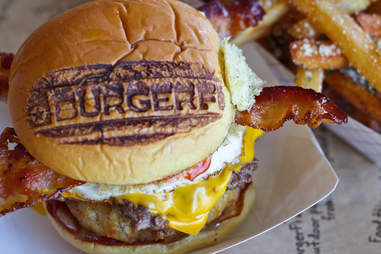 B.A.D. (Breakfast All Day) Burger
BurgerFi, Emory Point
Approximate Calorie Count: 1281
Emory Point's home for burgers, dogs, and frozen custard lets you build your own burger stack from a bevy of toppings like neon relish, garlic aioli, and jalepenos. But why do that when you can get specialty ones like the B.A.D. (Breakfast All Day): double cheese patties, maple syrup-drizzled bacon, hash browns, grilled onions, and a fried egg.
Baked Ziti
Timone's, Morningside
Approximate Calorie Count: 1400
The success of Ron "The Angry Chef" Eyester raises obvious questions like: what in the heck's he got to be angry about? And: when's he gonna open a new place already? No one knows the answer to the first question, but he answered the 2nd in July with a specialty pizza/pasta joint called Timone's, where he's slinging things like clam-topped pizza and this enormous dish of baked ziti.