Unless you want to be the wrong kind of screwed on Valentine's Day, you'd better take your special someone out for dinner... preferably at one of the places on our list of the A's most romantic restaurants, which should help you avoid making a bad decision on the big day:
Old Fourth Ward
This warm and cozy camp site on the BeltLine has plenty to offer in the way of getting you intimate with your date, from gooey bar snacks to sexy craft cocktails and even a picnic basket stuffed with meats, cheeses, and a rotating selection of seasonal items.
 
Downtown
A spectacular rotating rooftop view through the floor-to-ceiling windows is more than enough to sweep your date off of his or her feet. If you're a little naughtier, that elevator goes straight up 72 floors -- no stopping. That gives the friskier of you plenty of time to get creative.
Buckhead
Ask for a look into the insane vino cellar in this converted Buckhead house if you need help picking a bottle to go with the octopus, pork belly, and short ribs, etc., but save room for dessert because the menu is legendary in Atlanta and filled with things that will melt in your mouth, which'll hopefully make other things melt too.
 
Midtown
Crafted by Chef Jamie Adams -- who spends a lot of time in Italia learning how to make the best pasta, seafood, and a ridiculous coniglio that will set a new standard for how amazing meat can be -- the ambiance of the shining white-tiled decor and charcuterie station will set fire in your heart, and that of your fellow meat-lover.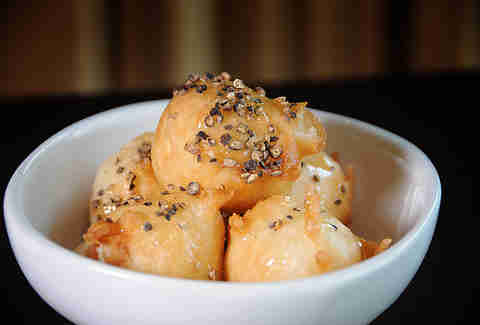 Midtown
It's not cheating if you're eating the fried goat cheese with honey and black pepper together with your honey. The meats and cheeses warm your cockles, while the gin, elderflower, peach, and mint cocktail warm you all over.
 
Westside
The crown jewel of Atlanta's deep Westside dining options, Bacchanalia will make you fall in love with food. Anyone else in close proximity will get the benefit of those good vibes. The lamb, duck, and Kobe ribeye are going to cost, so make sure your lucky date is worth it, or at least cool with going Dutch.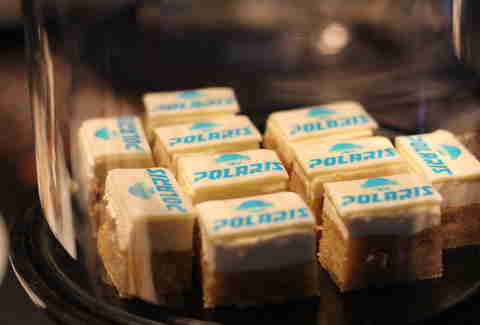 Downtown
The city's newly reopened blue spaceship enchants you with its '60s-vibe and delicious retro cocktails. As you slowly pan around the city, take the time to appreciate Stone Mountain, the beautiful skyline, and the bacon popcorn.
Downtown
The spectacular view from top of the Downtown Hilton has been the spot for Atlanta canoodlers for almost 40 years. Chef Stephanie Alderete handles all the crispy pork belly, duck confit, and scallops, while Daniel Rudiger manages the more than 900 wines. All you have to do is manage your romantic impulses. No making out at the table, please.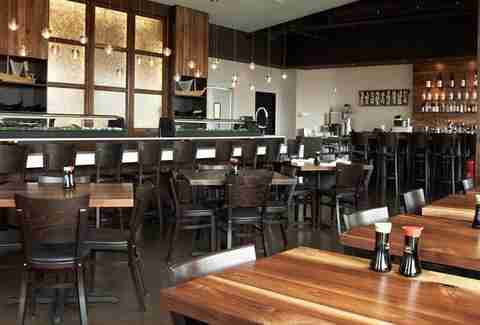 Old Fourth Ward
It gets dark and sexy off Edgewood as the expert bartender slings perfect sake (and loads of other craft swill-based) cocktails, and the kitchen turns out seriously sweet sushi, steamed duck buns, and even shoyu tamago (soy sauce eggs), all of which are very sharable with your significant other. If you're really smooth, you'll pull off the Lady and the Tramp noodle trick with a bowl of the ramen.
Sign up here for our daily Atlanta email and be the first to get all the food/drink/fun the ATL has to offer.