5 new Atlanta Summer menu items you should try right now
Atlanta The are some things you can count on in Atlanta: the Braves starting off in first place, MARTA running behind, and restaurants serving up new Summer eats. Lucky for you, we put on our best stretchy pants, and scoured the city for five new menu items you should try immediately.
Don Antonio by Starita
Buckhead
The new ATL pizza powerhouse is coming out swinging with Angioletti: fried dough strips that're drizzled with warm Nutella and taste like classy, Italian funnel cake. Continue Reading
Cibo e Beve
Sandy Springs
Their honey compressed watermelon is a science experiment for your mouth. How they manage it isn't as important as the fact that they're topping it with meat and cheese to make it a part of your balanced Italian diet.
Cook Hall
Buckhead
The new lunch box menu at Cook Hall promises hand-crafted dishes in fast-food time, but changes constantly, so you might be chowing down on pulled pork sliders, shrimp and slaw tacos, or a black truffle grilled cheese you'll never get on a dollar menu.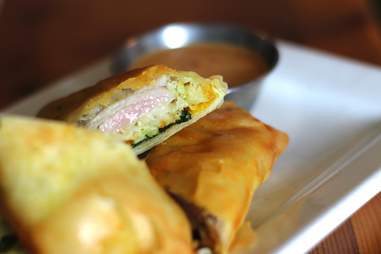 Sebastian Davis
The Big Ketch
Buckhead
If you miss the beach already, Buckhead has the cure: their crispy ahi tuna rolls will give you all the protein you need to get totally ripped for the beach, brah... or at least they would, if they weren't also deliciously deep-fried.
Hard Rock Cafe
Downtown
You might be tempted to dismiss it 'cause it's a "chain", but Atlanta's Hard Rock is slinging some serious meat on their revamped menu: The Big Texan is an enormous 10oz pile of pork w/ two sauces, fried jalapeños, fried onions & a mound of cheddar that you should start messing with right now.