Atlanta You've had plenty of time to try everything on our list of Atlanta's best BBQ, so by now you could probably use some... well, napkins for one, but probably also some new smoked eats. Well, you're in luck, 'cause these five dishes are falling off the bone for you right now:
Recommended Video
UFC's Conor McGregor's Guide to Celebrating St. Patrick's Day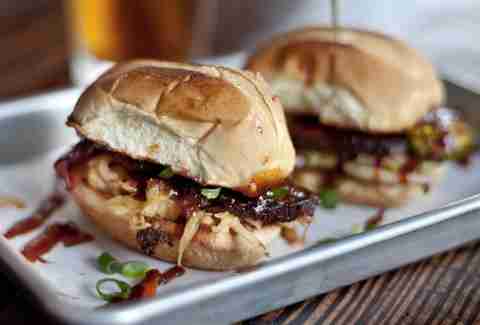 Super Buns at Sweet Auburn BBQ
No, it's not an '80s workout video, Super Buns is the BBQ sandwich that's about to be your new best friend. The smoked pork belly is smothered in a BBQ hoisin sauce, Asian slaw, and topped with house-made pickles to add some crunch. The fresh yeast rolls soak up all that sauce, keeping your fingers clean, so as not to smudge your beer glass. Continue Reading
Pulled Pork Rillettes at The Pig & Pearl
Presenting your first and best experience with (intentionally) cold BBQ. The pulled pork is combined with cocktail onions and other secret ingredients into a French-style meat jelly that you will want to steal and keep in your fridge for all occasions. You should probably settle for spreading it on top of P&P's warm, salted pretzel buns, though.


Smoked Salmon Club at Smokebelly BBQ
Don't let your love of pork, beef, chicken, and other land animals reduce your appreciation of other slow-cooked options like this pristine pink salmon slab, which is layered with bacon (also smoked), lettuce, tomato, and a house BBQ ranch sauce.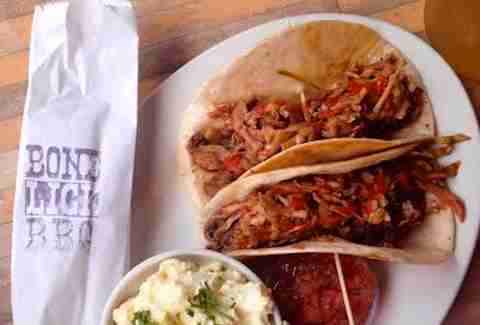 Korean BBQ Pork Tacos at Bone Lick BBQ
This lunch-only item takes Bone Lick's award-winning pulled pork, adds Korean spices and sauces, and puts it in a tortilla that can barely contain the meat, giving you a Southern-Asian-Mexican crossover, which given how bad the Hawks are, is probably the best crossover in the city.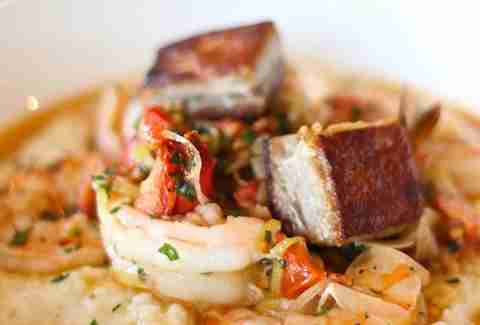 Shrimp & Grits at Southbound
This new Chamblee spot is making heads turn with their craft-Southern dishes, including these impossibly creamy grits topped w/ slow-smoked (and then fried to a solid crisp) pork belly and shrimp, slow-roasted overnight tomatoes, leeks, white wine, fennel, and herbs.