It's winter in Atlanta, which means your friends will be clogging your Facebook feed with pictures of their dash thermometers dropping all the way down to, like... GASP... 50 degrees, and that you'll need a really good excuse to get out of your house: how 'bout a downtown restaurant getting a million dollar makeover? A 19th-century cocktailery? Or the chance to take your own dash board thermometer shot! any of these other places you should hit while it's (kinda) cold outside? Check 'em out below...
Name: Better Half
Open Now
Why You Should Care: If you've hosted anything from a potluck to a "Friendsgiving" dinner, you've probably wondered what it'd be like to turn a supper club into a full-fledged badass brick-and-mortar. But the crew from PushStart Kitchen actually raised a bunch of money on Kickstarter, assembled a menu that includes silk handkerchief pasta w/ wild mushroom confit, tomato marmalade & porcini cream, rock hind w/ fried potato, etc., and opened Better Half a couple of days ago.
Name: Establishment
Open Now
Why You Should Care: This craft drinkery is staking serious claim to 1845 via things like barrel-aged whiskeys (don't worry they're not quite that old), deconstructed versions of vintage cocktails, and old-timey switchblade bottle openers. Don't believe us? Count the stars on their American flag, and think about how great things would be without places like... ugh, Texas.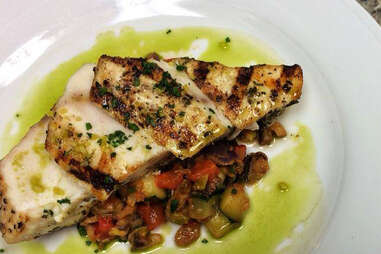 Name: Osteria Mattone
Open Now
Why You Should Care: Brothers Ryan and Dan Pernice are upping Atlanta's authentic Italian cred with their second offering in downtown Roswell. Besides touring Italy to source recipes, they're drawing on Dan's sommelier skills to make you forget about ever opening a jar of Ragu and/or a box of wine again.
Name: Bob
Open Now
Why You Should Care: If you can cook it on a stick, this Irwin Street Market shish kebob-slinger has it. Your veggie friends can anything from squash to rutabaga. But you sir, you will have something that isn't gross like the steak, potatoes, cheddar cheese, bacon, sour cream & chives-based Cowboy Bob, or the Guido Bob w/ Italian Meatballs, Mamma Mia Marinated Mozzarella Balls & roasted red peppers.
Name: Stem Wine Bar
Open Now
Why You Should Care: Easily taking the title of East Cobb's best (um, only?) wine spot, this vino-ry from the crew behind Seed Kitchen and Bar pairs their mammoth selection of red and white stuff with small bites, and even offers classes so you can pretend you know what you're talking about at the company Christmas party.
Name: Le Metro Creperie
Opening: End of December
Why You Should Care: For so many years, we've heard the cry, "I'm in Downtown Atlanta, and I can't find a crepe anywhere". And sure, most people screaming it probably have legitimate psychological problems, but just in case a few of 'em don't, LMC's going to start serving these classic French pancakes stuffed with everything from classic fruit, to things you'd usually find in a Vietnamese bahn mi.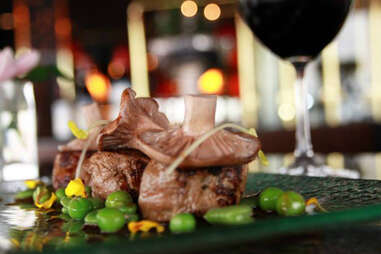 Name: Nikolai's Roof
Opening: Early January 2014
Why You Should Care: Thanks to million dollar renovation, and an overhauled menu from Chef Stephanie Alderete, this Downtown tourist staple will soon be a restaurant locals will actually want to go to for authentic-ish Russian eats given a slightly modern American makeover. And because it'll still be the only place in town to get a decent piroshki.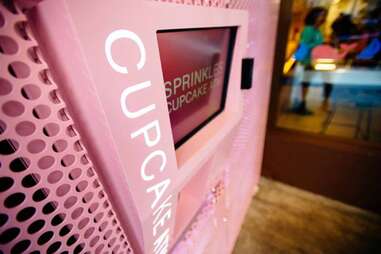 Name: Sprinkles Ice Cream and Cupcakes
Open Now
Why You Should Care: Yes, it's a chain, but it's Atlanta's first, and it's giving your inner fat kid round-the-clock frosting access in Buckhead, thanks to a freaking 24/7 cupcake ATM stocked with things like a dark Belgian chocolate number w/ marshmallow cream & chocolate ganache, or Atlanta's own Red Velvet. Seriously!