People's Food Truck: If you eat this donut chicken sandwich, you will save the world
If you've ever wondered what the best thing you can do to help local families in need is... it's eat a piece of fried chicken sandwiched between two grilled donuts! Seriously. The super-chef behind King + Duke, The Optimist, et al. has teamed up with City of Refuge to raise money for charity by selling these delicious monstrosities (and other eats) from the back of a mobile food operation called People's Food Truck.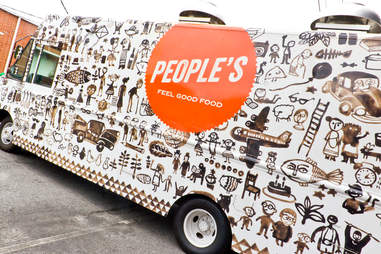 People's "feel good food" is a creative mix of Mississippi-/Mexican-inspired eats, so it probably won't make you feel that way about your waistline, but since every dollar you spend will help feed needy families, you can still feel that way about yourself.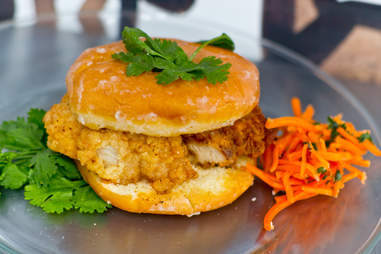 The gut-busting fried chicken & donut combination is called "The Sublime", though you'll probably end up like the lead singer of Sublime if you eat too many of them.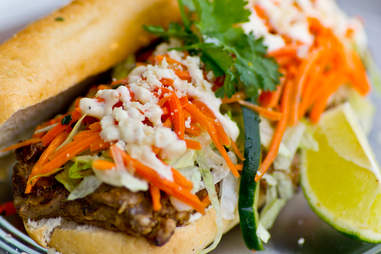 If for some reason you decided to order something that doesn't come on a donut, there's an "El Rancho" po' boy that somehow manages to fit mounds of wood-grilled steak, smoky onion, pickled carrot & avocado on a toasted baguette, so the least you can do is try to fit it in your mouth.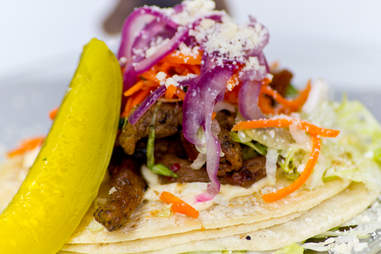 The "Pig 'n Pickle" comes in taco format w/ wood-grilled pork shoulder, house mayo, pickles & herbs, or if you'd prefer to... um, "drink" for charity, you can get catfish brined in PBR.
Don't want protein? There are sides like this wood-roasted corn on the cob w/ mayonnaise, Cotija, chile + lime, and fries you can dress up in a signature sauce they've presumably named for the sound you made when you realized you could eat a donut chicken sandwich for charity: OOOEEE!!!