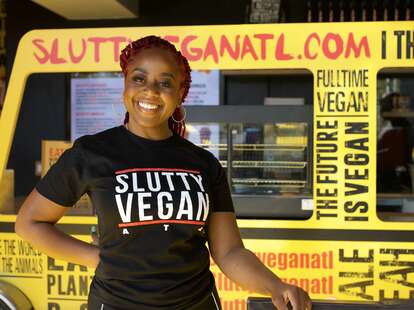 Aisha "Pinky" Cole, owner of Slutty Vegan

| Photo courtesy of Slutty Vegan
Aisha "Pinky" Cole, owner of Slutty Vegan

| Photo courtesy of Slutty Vegan
A voice booms over the loudspeaker: "We have another viiiiirgin in the house!" People cheer, music thumps with exuberance, and the mood is light thanks to every staff member pulling double duty as cheerleaders—even with masks on. You could easily forget it's a rainy Thursday afternoon outside of Slutty Vegan in the Westview neighborhood of Atlanta, where a huge line snakes down the street. Everyone is waiting to order one of the hottest burgers in town made by Pinky Cole.

Lines form early at the first location of Slutty Vegan, which opened two years ago. Coming here is as much about standing in line as it is about the burgers made with Impossible plant-based protein. The Westview and Old Fourth Ward locations are takeout-only (the one in Jonesboro is takeout-only for now, but has seating), and people have reported waiting in line for hours. That's why, Cole says, it's so important for the experience to be fun.
"I want it to feel like a family reunion," she says. "I want you to like the most important person when you walk in the building. And when you walk in the building and you get such an amazing experience, by the time you eat the food, you don't even realize that you just had a vegan burger and no animal was compromised."

The patty is thin with a crisp exterior, and the bun is a fluffy, slightly sweet Hawaiian roll. But what really sells the package are the toppings. This version had American "cheese," caramelized onions, jalapeños, and "slutty" sauce (think spicy mayo).
"We have a saying as vegans that 'the secret's in the sauce,'" Cole says with a laugh. She played around with a couple different combinations with a vegan mayo base before she found the ideal flavor—and her businesses' namesake. "People went crazy. So every single burger has a special sauce on it. We call it a secret sauce."
The 33-year-old entrepreneur with a larger-than-life personality has seemingly gone from zero to 60 in under five seconds. But, in reality, success was hard earned for the first-generation American born to Jamaican immigrants in Maryland. The day Cole was born was the same day that her father was sentenced to life in prison. Her mother had to juggle three jobs in order to take care of Cole and her siblings.

But Cole inherited her father's penchant for entrepreneurship—kind of. "I realized growing up that I really like business," she says. "My father was an illegal businessman, but nonetheless, he was a businessman, and once he went to prison for 22 years, I adopted his business style, but the legal way."
As a child, she sold everything from frozen cups to candy. It wasn't until she moved to New York City after graduating from HBCU Clark Atlanta University that Cole fused her love of food and business when she opened Pinky's Jamaican and American Restaurant in Harlem.
"I didn't know the first thing about a restaurant," she remembers. "So I went on Google and YouTube and just started learning everything that I could about business, and the next thing I know, here I am. I'm a restaurateur by mistake, and I'm selling jerk chicken and Jamaican oxtails in the heart of Harlem. And it was actually pretty successful, surprisingly."
But a grease fire two years later forced her to close it down. Her day job as a television producer took her back to Los Angeles where she fell in love with vegan cuisine (it didn't hurt that there's a chic vegan cafe on every corner). When Cole moved back to Atlanta, she realized she couldn't find the vegan food she craved.
"So I was sitting in the house one day, and being the idea machine that I am, it hit me like a lightbulb," she says. "I'm like, 'Oh my goodness, I need to do a vegan concept.' And Slutty Vegan just came out of nowhere."

She started by renting space in a shared kitchen and launched her food truck, which got popular really quickly. Now Slutty Vegan's first location is in a historically Black neighborhood about two miles from her alma mater. All of Slutty Vegan's outposts are intentionally located in food deserts, but this location is particularly special for Cole. The building's vacancy was shared with her through a tip on Instagram, but the landlord was a hard sell.
"He was very skeptical about giving me a chance because at the time my business was only about three months old," says Cole. "But he realized how long my lines were and how many people were coming to my establishment. And I'm happy he gave me an opportunity when nobody else in the city was willing to retail me any space."
The space itself is only 650 square feet with just enough room for the kitchen and a takeout counter. There are no dine-in tables and if you're a customer who needs to use the bathroom, tough. "But it's so special because now it's a staple in the community," she says. "Slutty Vegan's location is going to be there until my last breath, because it has brought so many people together."

Cole loves hearing that her burgers have inspired people to embrace a vegan lifestyle—or at least consider it—and it's a big part of why she opens her shops in underserved communities. "I know that veganism is fresh. It's trendy right now, but I want veganism to be something that becomes a staple in inner-city communities, especially," says Cole. What she's selling goes beyond just an Insta-famous burger. "I'm helping people open up their consciousness, I'm helping people change their mind about vegan food. Because what's going to happen is, when they leave Slutty Vegan and they go to another restaurant, they're going to say, 'Let me see what kind of vegan options they got here."

While Cole is leading the pack in Black-owned vegan concepts, she acknowledges that plant-based cuisine has long been a staple of the Black community.
"There have been pockets of community in Atlanta where there's nothing but vegan food, so I'm not the first to do it—I want to pay homage to the people who have done it before me," she says, referencing Soul Vegetarian, which has been around since 1979. "What I've been able to do is just tie in an experience to the vegan movement and welcome people, especially Black people, to something that they probably weren't really interested in or maybe didn't have enough information or access to."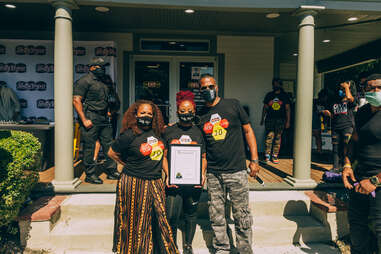 In addition to her burgeoning empire, Cole created the Pinky Cole Foundation, a nonprofit that seeks to close the generational wealth gap. She describes herself as a giver, a trait inherited from her mother who would "bring people off the street so they'd have a place to stay." A short list of what the foundation has accomplished in a short time includes: Partnering with Jermaine Dupri and Impossible Foods for the Zoom to the Polls initiative ("I like to think we turned Georgia blue," she says), feeding teachers during the pandemic, helping businesses pay their rent, and paying life insurance to Rayshard Brooks's family, as well as partnering with Clark Atlanta University to provide scholarships to his children.
As if that wasn't enough, she is currently working on opening Bar Vegan in Ponce City Market, adding more locations of Slutty Vegan, and developing a vegan cookbook—things that she only once dreamed about.
"You want to know something real?" Cole says. "Let me tell you something real. I'm most proud of the fact that my mother and my father are alive to see their daughter make it." With emotion in her voice, she says that many of her friends don't have their parents around to see their successes, and she doesn't take it for granted. "Obviously, I still got a long way to go, but they've never seen anything like this in their lifetime."
Lia Picard is an Atlanta-based freelance writer whose work appears in the
New York Times
,
Washington Post
,
Wine Enthusiast
, and more. You can keep up with her daily adventures and projects on Instagram.