Bask in opulence at this Roswell speakeasy-style nosh spot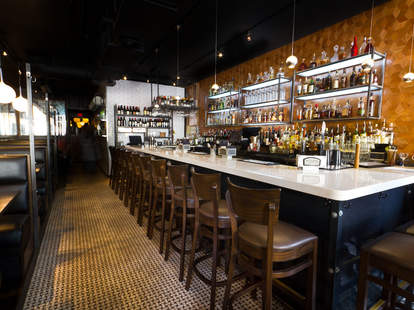 Break out your monocle and top hat... or at least, like, iron your pants, 'cause you're going to Opulent: a swanked-out speakeasy-style spot in historic Roswell by the folks behind Salt Factory Pub and Little Alley Steak.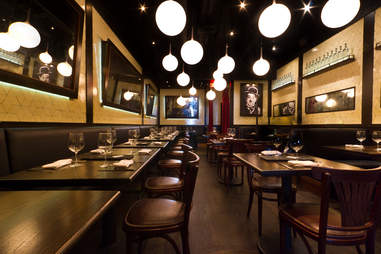 Inside this Roaring Twenties-inspired boozer, there's booze that's actually legal, and...
... this "Amazing" Burger (yes... they literally named it that), which is packed w/ Kobe beef from the only ranch in America with certified 10+ grade meat, and topped w/ melted Gruyere, roasted shiitakes & garlic aioli.
You don't need the aforementioned monocle to see that this 8oz fire-grilled bistro steak on a bed of leek bread pudding w/ French beans & sauce verte is pretty badass.
Other hefty portions include low-country snapper w/ slow-roasted grits, and this spicy orecchiette pasta w/ Pine Street pork sausage, broccoli raab & Calabrian chiles.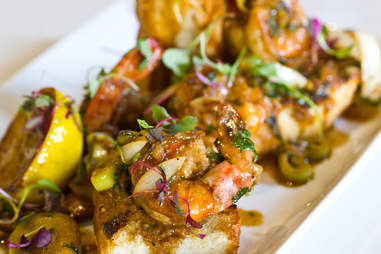 Smaller plates mean pork belly in a sorghum-barbecue glaze w/ apple fennel slaw, and N'awlins BBQ Shrimp w/ sweet garlic & charred lemon on a grilled baguette.
For sipping, there's the lavish Smoked Rose w/ Four Roses bourbon, mint & pineapple made using roasted applewood, and a Lion's Pride whiskey-based version of the Old Fashioned, a cocktail that -- just like how you'd look if you'd IRON YOUR DAMN PANTS ALREADY(!) -- never goes out of style.