Hand-shucked oysters and fried mac 'n cheese in Roswell
The folks behind fine dining fish house C&S Seafood and Oyster Bar are now offering Roswellians a casual haunt in which to take in their favorite sports games, and dine on fried/grilled/raw denizens of the oceans... AND jam out to live jazz from New Orleans?! All that makes it pretty... um, easy to see why Hugo's Oyster Bar is gonna be big.
The OTP spot is channeling Bourbon Street via hand-painted wall art, New Orleans-style gas lanterns, vintage tin ceiling tiles, and a bright glowing marquee that says Hugo's, which is meant to be helpful but could just make you feel Lost.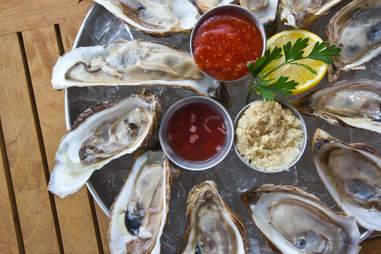 Ocean-flavored oyster from the raw bar not cutting it? They've also got 'em chargrilled like in the photo above, Rockefeller-style, and deep fried.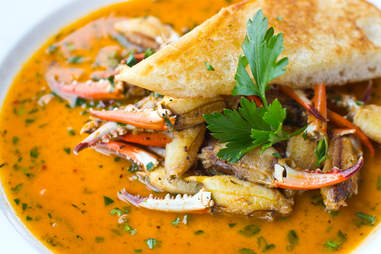 The only time it's appropriate to share crabs with someone else is when they're from this massive plate of Georgia blue crab fingers in "the original" hot garlic sauce.
Tired of sharing? Hugo's got heftily proportioned mains like this blackened swordfish w/ crawfish etouffee...
... or a plate of grilled rainbow trout beside which they've laid a brick of oozing fried mac 'n cheese... and some sauteed radish greens you were probably too busy salivating over all that cheesy goodness to even notice.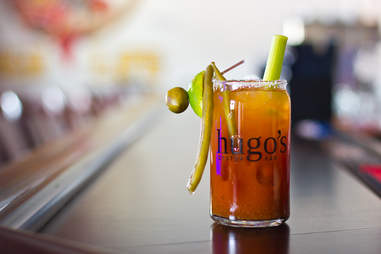 'Tails are mostly classics like Bourbon Smashes, Sazeracs, and this Bloody Mary made using The Bay seasoned vodka, and a mix from Charleston, which sounds like it would just be a lot of Hootie and the Blowfish and Rob Thomas, but is actually made for drinks like this.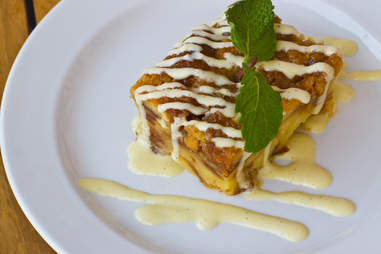 If you really want to make getting big easy... consider another helping of fried mac 'n cheese, or try this brioche bread pudding topped w/ Jim Beam anglaise for dessert.