The ATL's 8 best secret foods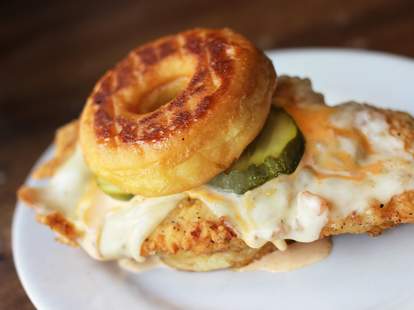 50/50 Burger, Seven Lamps
Buckhead
You won't find this stunning wood-grilled burger listed anywhere on the bar's menu, but you will find this half-brisket/half-top round behemoth topped w/ Thousand Island, caramelized onions, B & B pickles & grilled cheese gratin particularly awesome if you're in-the-know enough to order it.
Sublime Chick, Cypress Street Pint & Plate
Midtown
So you thought the Midtown watering hole's Sublime Burger sandwiched between two custom-made glazed doughnuts was sweet? Wait 'til you try the Sublime Chick, a glorious beauty that wraps the same proprietary "buns" around a crispy fried chicken breast, American cheese, dill pickles & Sriracha ranch.
Sublime Breakfast, Cypress Street Pint & Plate
Midtown
Oh, and if the above awesomeness isn't enough, they've also got this only-available-during-weekend-brunch breakfast sandwich w/ two fried eggs, applewood-smoked bacon, cheddar cheese & garlic aioli.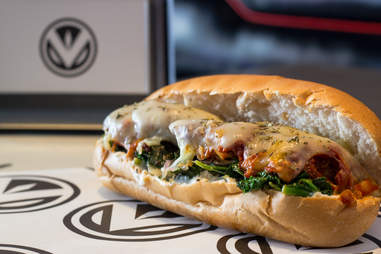 Johnny "Sack" Sacramoni, Villains Wicked Heroes
Midtown
You won't see the hit this Italian mobster-inspired sub is trying to put on you, 'cause all the fried chicken, marinara, Provolone & ricotta the dastardly crew at this Midtown sandwich shop put on it will take some time to kill you via heart disease, or whatever, but it's still totally worth it.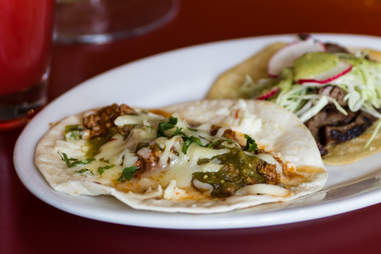 Low Rider Taco, Cantina
Buckhead
Your ride doesn't need hydraulics and you don't need a menu to get this street-legal taco that pairs stone-ground grits w/ ground beef, salsa verde & pepper Jack cheese.
Panko Fried Lobster Bites, Strip
Atlantic Station
There's more to this Atlantic Station spot than slabs of perfectly grilled meat and the pretty people that go there to eat it. They've also got a sweet sushi bar serving things like this little-known appetizer w/ succulent panko-battered lobster that's been deep-fried & drizzled w/ honey mustard.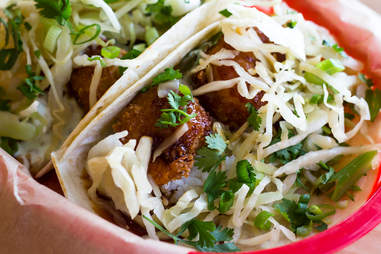 Panko Shrimp Taco, Tin Drum
Multiple locations
More panko-breaded glory comes in the form of Tin Drum's crispy panko-fried shrimp taco w/ spicy teriyaki sauce that now only you and... uh, about a bajillion other Atlantans know about.
Irwin M. Fletcher sandwich, Park Bar
Downtown
Last, but definitely not least, Park yourself (Ha! Get it?!) at this Downtown spot and dig into an off-menu meat monstrosity made w/ a grilled NY strip from Buckhead Beef, crispy onion rings & Swiss, all served on a toasted brioche roll.