Short rib tortas & Mile High Clubs: The 5 sandwiches to eat right now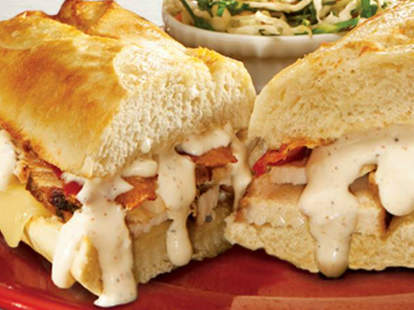 Any idiot can slap bread, meat, cheese, and... ugh, vegetables together, and sure, it may even still be good, but it probably won't be one of the greatest sandwiches of all time, and it definitely won't be one Atlanta's five best sammies, 'cause it takes Val Kilmer a real genius to engineer foodstuffs as idiotically good as the ones below:
Sublime Chick, Cypress Street Pint and Plate
Midtown
Shhhh, it's a secret! As in, you won't see this sandwich on the menu, not even if you put it under a black light. Pound and fry a chicken breast, smother it in cheese, pickles, and their Sriracha-ranch sauce, stuff it between Atlanta's best donut from Sublime, and then... well, then you hurry up and eat it already!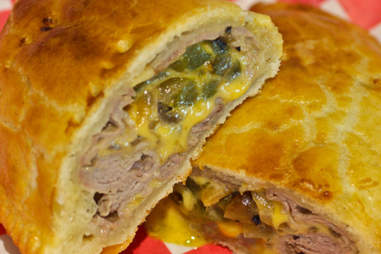 The Philly, That Pie Place
Sandy Springs
This sucker takes thinly sliced, slow-roasted top round, mixes it w/ sautéed onions & green peppers, covers it in cheddar cheese sauce, wraps it in bread dough, then bakes it, so it's basically the greatest Hot Pocket, like, ever.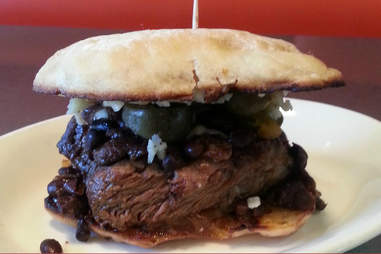 Short Rib Torta, Holy Taco
East Atlanta
Besides this place's name, there's another two-word phrase that starts with "holy" you'll probably utter when you try this torta ("sandwich" en español) that starts w/ the most falling-aparty piece of short rib you've ever had, then adds onion marmalade, Jack cheese, a little pickled jalapeno & black beans.
Yolo, Slideways
Hapeville
This thing is technically a slider, so feel free to order a few of these chili-/ pimento cheese-/ bacon-/ egg-/ onion ring-topped burgers, but be careful 'cause You'll Only Live A Short Time if you eat too many, plus that name's not as catchy.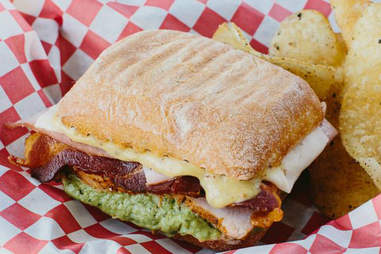 The Mile High Club, Victory Sandwich Bar
Decatur
Keeping this simple is always a winning idea. Case in point: a smoked turkey, bacon, and ham sammich topped w/ Fontina, avocado & Dijon. Oh, and it's only four bucks. You'd be an idiot not to get one.