More celebrities than ever are living/working in the ATL, and while they may have more money and fame than we do, they're really just like us! Which means they enjoy washing down well-roasted animals and carbohydrates with mind-bending drinks at some of Atlanta's sweetest bars & restaurants. Need proof? Here are the 13 spots you're most likely to find 'em...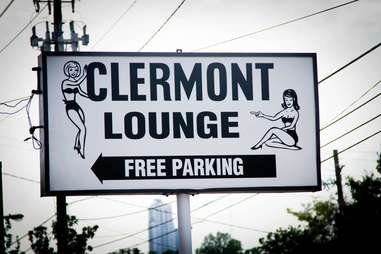 Poncey-Highland
You knew this was coming. At this point, it doesn't even matter who walks in the door. There are no bigger celebrities in ATL's weirdest place than Blondie and the gang.
Who you might see there: Anthony Bourdain, Robert De Niro, Morgan Freeman, Lady Gaga... pretty much every celebrity who visits Atlanta, but not Mumford & Sons since they got kicked out of there last year.

Home Park
Antico Pizza was Giovanni Di Palma's first foray into the GA Tech neighborhood. The pies were good enough to attract pretty much everybody, then came Gio's Chicken Amalfitano, Bar Amalfi, Caffe Antico for gelato and panini, and Bottega Luisa, an Old World grocery. Celebrities like Italy.
Who you might see there: Drew Barrymore, Chris Rock, Conan O'Brien, Paul Rudd, Will Ferrell, Gabrielle Union
Midtown
Hollywood is moving to ATL not just because of the tax breaks; the South also has way better shrimp and grits than you can find in Beverly Hills.
Who you might see there: Kanye West, Kim Kardashian, Charles Barkley, Tom Hanks, Ben Affleck, Wanda Sykes, Melissa McCarthy

West Midtown
One of the weirdest places in town and home to what may be ATL's best smoked wings (at least top three), Bone Lick has old-school arcade games, skee-ball, chalk for bathroom graffiti, constant strange events, and infused moonshine.
Who you might see there: Jack Black, Questlove, Jon Hamm, Zach Galifianakis, Ashton Kutcher, Mila Kunis, David Cross (also a Bone Lick investor, so don't be surprised if you see him there often)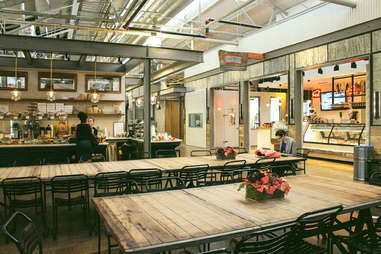 Inman Park
KSM's vibe can be quickly described as food court-plus-alcohol-minus-mall-lameness. Sure it's a little strange that stars can be found hanging out in Inman Park. But then again, Gu's Dumplings, Grand Champion BBQ, The Cockentrice, Fred's Meat & Bread, and Hop City all in one place? Plus free sparkling water?
Who you might see there: Sacha Baron Cohen, Big Boi, The Walking Dead's cast, The Vampire Diaries' cast, Chris Evans

Midtown
Though not born in ATL (like pretty much everybody else here), the flashy, NY-spawned steakhouse brought a starry attitude to Midtown that fits right in with our recent efforts to straight jack all the sweetest stuff, like the entertainment industry, from other cities.
Who you might see there: Vince Vaughn, Denzel Washington, Selena Gomez, Zac Efron, Jessica Alba, Chris Evans, Scarlett Johansson, Owen Wilson, Charles Barkley, John Mellencamp, Meg Ryan, Kevin Bacon, Kurt Russell, Dakota Fanning, Keri Hilson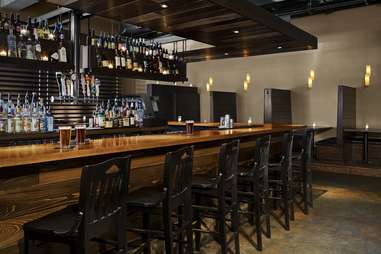 Midtown
It's centrally located with a great patio, yet still has a hidden quality. The menu is short but solid with good fries, fried chicken, lamb chili, and other bar chow, plus with the exception of Sunday nights it's open until 2:45am.
Who you might see there: Tina Fey, Amy Poehler, Terrence Howard, Kiefer Sutherland, Kristen Wiig, Maya Rudolph, Justin Timberlake, Sam Worthington, Joe Manganiello

Buckhead
Consistently strong margaritas, quality tacos, and more Mexican mouth-work is always on the menu at Red Pepper, but it's the location's less Buckhead-ish vibe, which it somehow achieves even though it's basically in the heart of ATL's Hollywood-iest 'hood, that probably pulls the stars inside.
Who you might see there: Jason Statham, Jamie Foxx, Tony Jaa, Ron White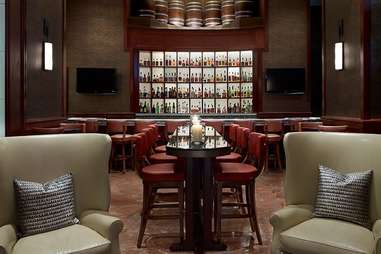 Buckhead
Given that it's located inside the InterContinental Buckhead Atlanta, Southern Art gets a great deal of famous foot traffic just for being there. It also helps that chef/owner Art Smith was Oprah's personal chef before he came to ATL.
Who you might see there: Oprah, Kenny Smith, Charlie Sheen

Buckhead
It's not the only sushi spot near Lenox Mall and Phipps Plaza, but it's reliably delicious and is like two restos in one, meaning along with raw fish there's a side where you can get teppanyaki (hibachi preparation for grilled foods, without the corniness). The minimalist dining room decor also features a mosaic-tiled, sword-brandishing manga girl on the wall. Celebrities are also nerds.
Who you might see there: Linkin Park, DeMarre Carroll (when the Raptors are in town, presumably), Selena Gomez, Waka Flocka Flame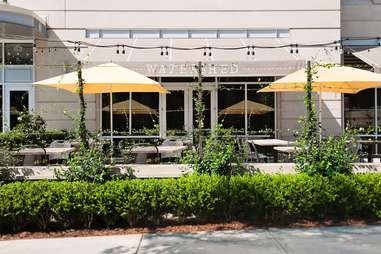 Buckhead
Everyone knows this spot is owned by a member of Blue Women's Group (Indigo Girls), but everyone also knows it's got sweet fried chicken and other Southern comfort food. And since celebrities have greater access to liposuction and diet supplements, they can handle a little extra lard in their lives.
Who you might see there: Jane Fonda, Jennifer Lawrence, Colin Firth, Reese Witherspoon (possibly on the next pre-arrest ATL date night?)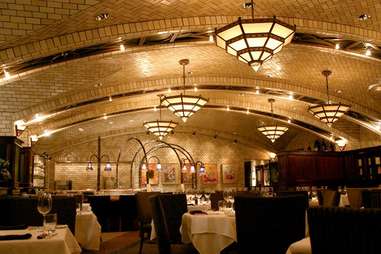 Buckhead
You know what celebrities really love? Eating crazy-expensive cuts of steak! Because this tends to cut the fat of society (meaning the rest of us), who'd struggle to afford a slice of beef jerky, or a slice of bread for that matter, from this super-elite eatery.
Who you might see there: Larry David, Russell Crowe, Justin Bieber, Billy Bob Thornton, Vin Diesel, Dennis Quaid, Kate Bosworth, Ryan Gosling

Buckhead
It may look like a nondescript corporate office outside, but this place slings a combination of really great South African meals (the curry is crazy) and wine, which is not to be missed.
Who you might see there: Usher, Jon Hamm, Matt Ryan
Sign up here for our daily Atlanta email and be the first to get all the food/drink/fun the ATL has to offer.