With an announcement from Mayor Keisha Lance Bottoms coming late Monday evening, Atlanta officially joined other major cities implementing a stay-at-home order, due to the still-spreading COVID-19 pandemic.
For those of us who love the city, and all its amazing restaurants and bars, it's been one bittersweet development after another -- a week of rapidly changing information that's been hard to track but undeniably heartbreaking. You knew it was real with the closure of Ponce City Market and other previously unthinkable developments, but we are doing what we must. Of course, we're in danger of losing something that's very important to Atlanta's culture: our flair for enjoying fancy food and free-flowing adult beverages in each other's company.
One moment, restaurants are saying they're still open and would love our support. A few hours later, they are cutting hours for employees, then actual staff, then in some cases the lights and electricity, while they wait it out like the rest of us. Yes, this too shall pass, but will our favorite places to eat and drink make it through these tough times?
There are very real, very tough stories to digest. Take for instance Chef Maximillian Hines, who's worked under a star-studded list of A-list chefs in Atlanta and beyond (Richard Blais, Sean Brock, Patrick O'Connell), and was just recently named executive chef at The Lawrence in Midtown. He turned 40 years old on March 18, the same day he had to lay off almost his entire kitchen staff. The Lawrence remains open on a to-go basis, and the limited menu is below.
Or there's Kevin Clark, chef and owner at Homegrown, which is one of the city's most popular breakfast restaurants, who was very open on Instagram about deciding what to do with his business. Clark went from enthusiastically announcing that it would remain open on March 22, to asking the public for their advice and sharing that it was closing Mondays and Tuesdays on March 23, to finally announcing that it wouldn't be opening again "until this gets figured out."
That said, there are also signs of support and resilience from not only some of Atlanta's most beloved restaurants, but also their customers. The #ATLRestaurantsUnite hashtag has lots of information for anyone looking for more ways to help, and places like King of Pops, Banner Butter, and ASW Distillery are doing their part to donate products while keeping their businesses alive. Plus, former Atlanta resident Adam Darby set up a searchable database called Relief Atlanta, which lists restaurant fundraisers and includes links to donation pages.
So yes, there are plenty of things you can do from the comfort of your own home. But, if you aren't feeling sick and are responsible about keeping a social distance, there are places you can support while you're out getting the essentials. Here are a few places in the city that have sworn to survive and are offering noteworthy only-in-Atlanta specials to make sure you still know you live in the greatest city in the South, and quite possibly the world.
MORE:Order these Atlanta takeout and delivery dishes right now.
Chef Maximilian Hines may have had to dramatically cut the number of workers at the Midtown cocktail-centric restaurant, but it's still offering quality carryout meals. This includes starters like pepperoni rolls, two options for sides (fried citrus vin brussels, garlic frites), and four entrees -- all of which are between buns. For dessert, there's buttermilk cheesecake, and thanks to Mayor Bottoms' 60-day allowance of to-go adult drinks, you can order from a list of seven beers (Atlanta Hard Cider, Creature Comforts Tropicalia, Three Taverns A Night on Ponce IPA). Or purchase pre-made cocktail mixers, whether you prefer a lavender-mint mule, a cardamon paloma, or a quite literal "house" old fashioned. Bottles of wine are also available.
One of Atlanta's longest-serving gentlemen's clubs is still in operation, although for now it's offering virtual lap dances. For $20 a month (this may be long overdue, BTW), you can access live and pre-recorded videos of your favorite dancers, ranging from red-headed Rain to blondie Blitz. And because you also love The Magic City Kitchen, you can pick up takeout orders from 3pm to midnight, including chicken and shrimp alfredo -- which has apparently been selling out -- and its famous wings, whether you like the popular lemon pepper or you want one of the "secret" flavors like honey jerk.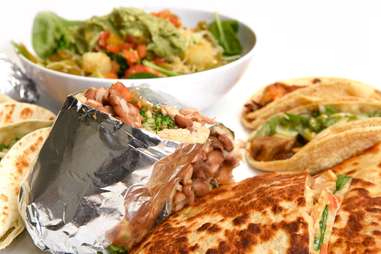 For years, BSB has been making some of Atlanta's best burritos. Now, in a pandemic, owner Matt Hinton has decided to continue his innate understanding of his customers' needs by offering a free roll of individually packaged toilet paper (while supplies last) with any web-based delivery, pickup, or curbside order of $20 or more from our website. Just select "Order Online," from the website, and use FREETP20 as the discount code.
You can learn a lot about Atlantans' priorities by checking what's missing from the shelves at grocery stores in a crisis. Along with TP, rubbing alcohol, butchered meats, and bottled water, it's clear that ATL loves cookies like we love life itself. Metrotainment understands, so it has started to offer a free cookie from Metrotainment Bakery for any takeout/to-go order from the entire restaurant group, which includes Joe's on Juniper, Einstein's, and Hudson Grille.
It's not even open yet, but Chef Pasquale "Pat" Pascarella's soon-coming Italian restaurant decided to go ahead and promote the restaurant by making select food offerings from the menu -- which is subject to change before they (hopefully!) open for normal business -- available now. Call the restaurant between 11:30am and 8pm, and it will prepare pick-up stuffings, with seven options for pizza, several pastas (butternut squash and brown butter tortellini, bolognese lasagna), four sandwiches including a meatball parm, two entrees (try the roasted rosemary and lemon chicken), and more. It's a sneak preview that includes a side of optimism that we'll be back to visiting new restaurants as soon as this thing shakes out.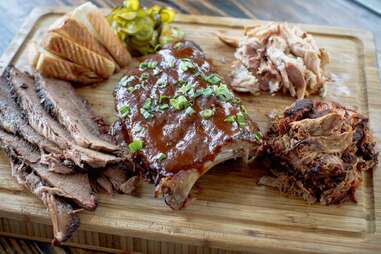 Sweet Auburn Barbecue is pushing "stay-at-home comfort meals," which means all the slow-cooked meats that would make you sit your ass down even without a global virus outbreak. Order cashless with your credit card, and -- along with sides by the pint and quart -- you can have smoked proteins by the pound, with half-pounds available if you just don't understand that you're going to want more soon (so go on and hoard the barbecue, friends). They're also selling portable coffee mugs and all proceeds from those sales go to support the restaurants' staff.
If it's your first time using this meal kit service -- which delivers locally grown produce, products, and recipes from chefs like Kevin Gillespie of Gunshow and Steven Satterfield of Miller Union -- you're in luck: your order comes with a free dessert. No membership is required to get G&G meals, so you can order them as you want without long-term obligation. Plus, if you've noticed that your trash can is filling up faster and fatter than normal these days, just know that the company takes steps toward sustainability so that there's minimal waste in shipping and packaging. So you'll feel twice as good upon finishing that beurre blanc salmon, Indian chicken curry, BBQ brisket arepas, or whichever meal plan suits your needs.
Sign up here for our daily Atlanta email and be the first to get all the food/drink/fun the ATL has to offer.
Mike Jordan has been furiously cooking since this all began and is now ready for something he doesn't have to fry/grill/boil/sear/bake/Instant Pot. But he's concerned about Atlanta restaurants, so he'll be fattening up over the next few days on his favorite carryout foods. Catch him on Twitter at @michaelbjordan or on Instagram at @mikejordanatl.