One of the absolute worst decisions you can make in Atlanta is... well, not reading this article about the 24 worst decisions you can make in Atlanta. It's also a bad move to think of Atlanta as just another American city in Georgia. The truth is ATL is as international as it gets, and this means you can find excellent global cuisine and flavors in almost every neighborhood. Naturally, we picked out the best ones so you can start stamping your dinner passport even more quickly.
Recommended Video
Art of the Meal: Chloe Rose Makes Super Mario Bros Art With Hot Sauces
Buckhead
The food and service at Bistro Niko are consistently excellent. French food tends to be synonymous with upscale, and although that is the case here, they manage to pull if off without a speck of pretense. No meal is complete without an order of profiteroles -- a sumptuously soft pastry jammed with creamy vanilla ice cream and topped with shaved almonds and an Oprah-rich chocolate sauce.
Morningside/Lenox Park
An OG in the Atlanta food scene, this unassuming, pint-sized hole-in-the-wall cranks out authentic, in-your-face curries, and much more. It's easy to be indecisive when examining the menu because everything sounds so good, but we can't get enough of the chicken larb. Deliciously seasoned with mint leaves, chili, onion, and lime, this spicy ground chicken dish is the play here.
Westside
A charming, hidden gem, Nuevo Laredo Cantina doesn't disappoint in any category. Drinks? Stiff, and reasonably priced. Eats? Expertly executed, incredibly delicious, and the sizes are only slightly smaller than the country they're inspired by. Service? Friendly and quick. What more could you ask for?
Virginia Highland
When a restaurant's name literally means "The Table" in Italian, you know you're in for some cozy and inviting deliciousness. La Tavola delivers on that promise with a killer menu loaded up with meat and cheese-filled dishes. Pretty much anything you order is going to tip the scales, so come hungry. And don't forget to take advantage of their expertly curated wine menu.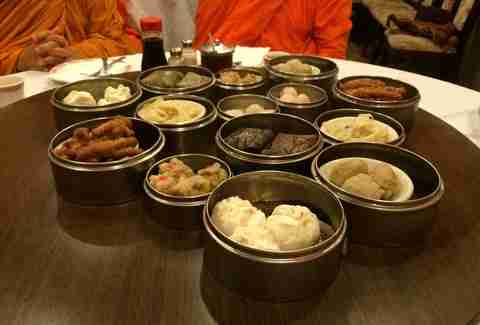 Chamblee
With generous portions and even bigger flavors, Oriental Pearl Seafood Restaurant does the near-impossible: they take humble Chinese fare to the next level, while still remaining casual, wallet-friendly, simple, and incredibly delicious. Take a group on Sunday for dim sum and see what Chinese cuisine is really all about.
Little 5 Points
Serving up delectable traditional American comfort food in a welcoming environment that makes you want to be a regular, Folk Art has a simple and satisfying menu. They not only crank out great carnivorous eats like burgers and fried chicken, they also offer equally flavorful veg options. Whether you're jonesing for breakfast, lunch, brunch, or dinner -- Folk Art has what you need.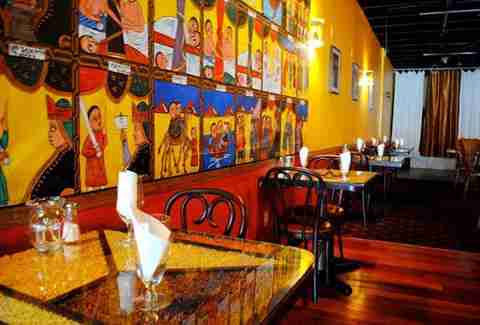 North Druid Hills
Eating should always be this much fun. Head into Queen of Sheba and you'll agree. With a laid back and homey atmosphere, huge portions, and deep, rich flavors that aren't too spicy, we especially like it on Thursdays when they have live jazz. Don't forget to try some of their signature honey wine -- or afterwards, meander into their hookah room.
Old Fourth Ward
Essentially the Japanese version of tapas, "izakaya" is great for sharing with friends or for indulging in solo gluttony. Miso Izakaya's menu has Japanese standards, including rockin' ramen, fresher-than-fresh sushi, and some of the city's most inventive cocktails. And at the end of the meal, expect artfully presented frozen grapes on skewers -- an unexpected, delightful end to a damn fine meal.
Buford Highway
Ridiculously-long-list-of-expletives-here good and wallet-friendly don't always coincide -- but they do at Com. In addition to legit meat-tastic fare, it also has a great variety of vegetarian options, delicious & spicy soups, and everything is served with zingy, flavor-rich fresh herbs. Well known for their friendly service, the more often you dine there, the more the staff likes you and treats you like family. And unlike your family, they give you free dessert at the end of your meal!
Downtown
If you're searching for somewhere delicious to hangout in Downtown, hit Aviva by Kameel. It's in the Peachtree Center food court and fills an unfortunate cuisine gap with fast-casual Mediterranean food. Portions are enormous and delicious -- plus, they have so many specialities, you could eat here for years without ever repeating your order. Honestly, though, after tasting the falafel and rosemary chicken, you'll have to force yourself to try something different.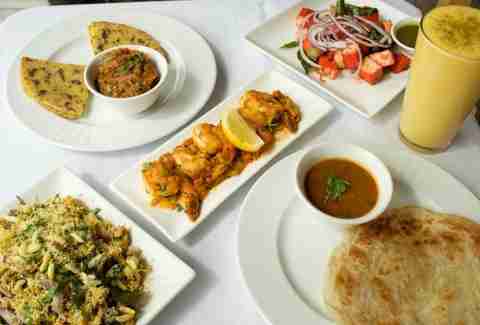 Decatur
Hankering for Indian? Bhojanic is where you'll get the best. They serve authentic Northern Indian food and the dishes are prepared from recipes that have been passed down for a whopping four generations. Everything here is rich, complex, and perfectly spiced -- particularly their chicken tikka masala, saag paneer, thali, and pakora platter (just a few of their most popular dishes).
Sign up here for our daily Atlanta email and be the first to get all the food/drink/fun the ATL has to offer.
   
Brook Bolen would write a more clever bio, but she's too busy eating her way through this list. Follow her on Instagram at @redvelvetfemme for lots of juicy food porn pics.