You already know dating in Atlanta is different than any other city, but regardless of whether you're a player or you just crush a lot, you gotta start somewhere: the dreaded first date. So, to help you get off on the right foot, or just avoid taking her/him someplace epically wack, we rounded up the A's best spots for a first date. You're welcome!
Cypress wins major points for doing everything it can to keep first date awkwardness to a minimum. It has fantastic food, terrific craft cocktails, and a truly legit selection of local beers on tap, as well as one of the city's most gorgeous, cozy outdoor patios. Don't miss it on Thursdays, when it has half-off bottles of wine, and Fridays, when it has half-off appetizers like the sweet potato "nachos" (sweet potato waffle fries, blue and cheddar cheeses, bacon, and sriracha ranch), so regardless of how your date goes, you are sure to find love.
Cozier than Apres Diem, less trendy than Tapa Tapa, and owned by the same folks behind them, this eclectic bistro tucked away on Carroll St is where it's at for ambience, consistently inventive food (including delicious tapas and entrees), and great drinks, all alongside coffee (and fresh-baked pastries and cakes) if you're keeping things super casual. The cool, colorful local art on the walls, flickering candles, and deeply soothing music all make for great icebreakers. Pro tip: if you wanna get extra cozy, grab a spot on its plush couch.
For a super-delicious sushi date that won't break the bank, head to this lively spot adjacent to Ponce City Market. Here, the sushi rolls, sake, and Sapporo flow like water (without the annoying frat boy sake bombs), and the casually romantic lighting acts like a real-life Instagram filter and makes you look your best. Plus, there are plenty of private corners, intimate seats, and people to watch so your conversation won't suffer. As a bonus, if you're not ready to say goodnight, you can always stroll over to Ponce City Market and keep the date going.
A little dark, a little divey, and a whole lot of delicious (and cheap!), Jack's Pizza cranks out consistently good pies, wings, and drinks -- and on top of that, it has some of the city's best trivia nights, too, so you can tell how smart your date is. Best of all, there's no shortage of cozy spots perfect for those awkward first date convos/make-out sessions that often come after a night of (sorta embarrassing) fun and beer.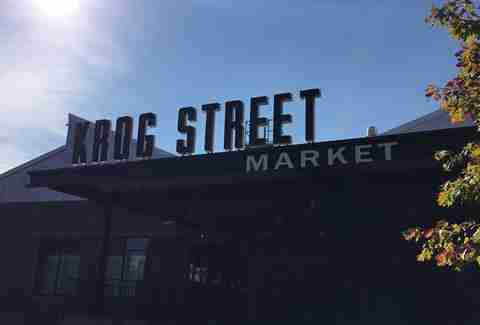 The new Krog Street Market has gotten a lot of hype for the delicious culinary diversity it brings to the neighborhood, but it's also a great first date spot. Enjoy its food court/food hall concept by mixing and matching nosh from different vendors and take advantage of the ample amount of "get to know you time" as you stroll about taking in all of the cool little shops, which offer everything from artisanal soaps and dog clothes, to fresh meats and more.
H Harper Station boasts a massive and impressive menu of drinks that manages to be both classic and contemporary, making it a great spot for some deliciously executed liquid courage to help get you over your jitters. And the menu -- featuring gourmet Southern treats like smoked pimento cheese, deviled eggs, a killer cheese and meat plate -- makes it easy to soak up any excess alcohol so you don't get sloppy. Oh, and the dark and dramatic interior makes for some seriously romantic ambience.
This newcomer blends comic books, craft beer, and creative bar food (a grilled Kimcheese sandwich?!) with style. There's comic art on the walls, a free arcade cabinet with an emulator boasting a ton of games from old-school systems like Playstation, Sega, NES, and the like, as well as cornhole on the patio, board games, and more. Even if you're not into comic books, there's no shortage of things to discuss or fun to be had here, plus it's named after where you probably had your literal first date.
This simple, unassuming bar/restaurant is home to the Octopus Bar at night and is never too crowded, but also never awkwardly quiet. Situated on a quiet street right off the main drag in East Atlanta Village, it's a cozy little house with a friendly neighborhood vibe, minimalist, yet cozy red decor, and what many argue is the best pho this side of Buford Hwy. Enjoy cocktails from its full bar and classically simple Vietnamese fare in a space that feels all at once intimate and lively. In other words, it makes for an incredibly easy, no-stress date.
The fact that its NY-style pizza has received rave reviews from… well, everyone means this place merits a visit, but the fact that it has a friendly, laid-back vibe and bottomless wine on Tuesday nights makes it a truly terrific first date spot. Grab a spot on its dog-friendly patio, let the vino flow, split an excellent pizza, or just Lady and the Tramp one of its pasta options while getting cozy. And whatever you do, save room for those Italian donuts stuffed with Nutella.
If you're not sure what combination of vegan, gluten-free, or Paleo diets your date subscribes to, R. Thomas is a safe and delicious bet. Serving organic, free-range, locally grown and healthy eats that are as delicious to carnivores as anyone else, R. Thomas will help you avoid that awkward moment when your date can't eat anything on the menu. Plus, its quirky decor and smattering of colorful, talkative birds caged outside the entrance make for interesting conversation. And it gets bonus points for being open 24 hours -- but there's no alcohol, so pack a flask just in case.
In the mood for something a little less traditional than your average restaurant? Head to Cafe Istanbul, where there's a bounty of award-winning Mediterranean food, belly dancers, a fantastically lit full bar, a variety of hookah flavors, and a DJ -- oh, and optional pillow seating on the floor (which you want). The vibe is somehow both energetic and downtempo, which helps give the evening that kind of fluid and spontaneous feel that all great dates should have, but not all achieve.
Sign up here for our daily Atlanta email and be the first to get all the food/drink/fun the ATL has to offer.
Brook Bolen is an Atlanta-based writer who is so good at dating that she's… wait, she's married? She's probably documenting her 1,578th date on Instagram @redvelvetfemme right now.