It's widely known that ATLiens love a good brunch. Seriously, we have no problem waiting over an hour for a table or being the 30th person in line for a biscuit. But do you know what we love even more? A good new brunch, which is why we've rounded up the seven best in the city.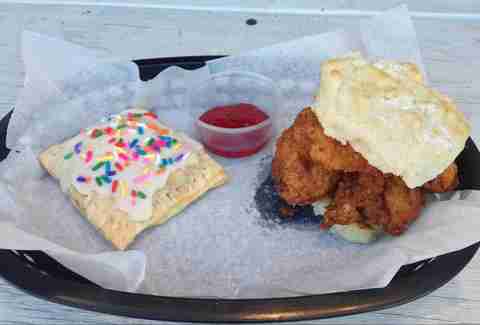 Decatur
So brand spanking new they don't even have a website yet, this pop-up brunch spot operating out of Decatur's Doggy Dogg is fresher than an infant -- with food to match. Operated by a husband and wife team, everything on their small and simple menu is made from scratch (including the lemon-thyme infused strawberry jam that goes with their incredible fried chicken biscuit) and explosively delicious. Pro tip: be prepared to take your food to go -- there's no seating inside and only a handful of tables outside -- oh, and if not the aforementioned biscuit, said food should be the Pop-Tart of the Day.
Old Fourth Ward
Bacon, egg, and cheese sandwiches are always amazing, but they become straight-up next level when they're crammed in between two pieces of buttery, crispy Texas Toast smeared with rich strawberry jam. For optimal enjoyment, nab a place at this spot's pet-friendly patio, and don't forget about their cocktail menu, because you know that you're there for those just as much as you are for the food.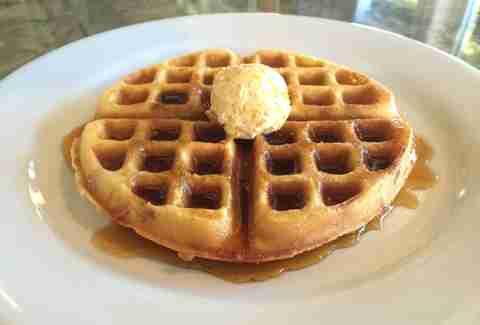 Westside
This Westside standout has all the standards, but the one signature item you need to consume is the Belgian waffle: the crisp, yet tender slab of ridged batter, topped with your choice of house-made fruit infused-butter (peach, mango, or blueberry) and syrup (jalapeño-vanilla infused maple, mixed berry, or classic maple) is a perfect and booze-absorbing way to start your day. Especially if you're also going for the build-your-own Bloody Mary bar.
East Atlanta
Just one of the Global Grub Collective's vendors to set up shop in the former Urban Cannibals space, this "bagels and biscuits" boutique is former Miller Union pastry chef Lauren Raymond's newest venture. The bagels bring chewy New York authenticity to the A, and the buttery biscuits are waiting to be stuffed with any combination of fluffy eggs, meats, and cheeses you want -- with a cup of local Joe's coffee, it's certain to pry those tired little eyes wide open.
Kirkwood
If you've made some dubious decisions the night before, Elmyriachi is there to welcome you with open arms, $15 bottomless mimosas, and heaping plates of spicy and savory Mexican-inspired eats, the best of which is their insanely delicious, gargantuan smoked pork belly bacon omelette with creamy Monterey Jack cheese. It's probably the only meal you'll need all day, especially if you manage to get through all those perfectly seasoned home fries.
Kirkwood
With its glaring lack of bacon, a vegan spot may not be the first place you think of when you think of brunch, but after gorging on steak, fried foods, and booze all week, you oughta keep it clean for at least one meal. And with creamy grits topped with smoky tomato gravy, rotating seasonal veggies like leeks, mushroom, and lush avocado, Dulce Vegan's spectacular grit bowl is the ideal way to do it. It's healthy, but it tastes anything but.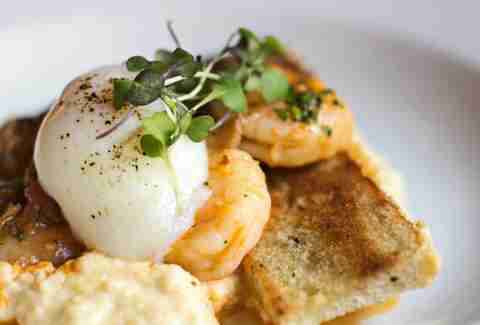 Buckhead
One of Atlanta's premier, upscale Italian dinner spots will begin offering Italian-inspired brunch options every second Sunday of the month (until further notice) starting early next month. Expect rich Italian takes on classics like ciabatta French toast alongside a build-your-own Bloody Mary bar with seasonal fixings and Prosecco cocktails such as fresh peach Bellinis. The fettuccine carbonara has everything you need to greet the day: carbs, meat, lush egg yolks, and cheese.
Sign up here for our daily Atlanta email and be the first to get all the food/drink/fun the ATL has to offer.
Brook Bolen is an Atlanta-based writer who's too busy plowing through the Grit Bowl at Dulce Vegan to do much else. Follow her at @brookbolen.