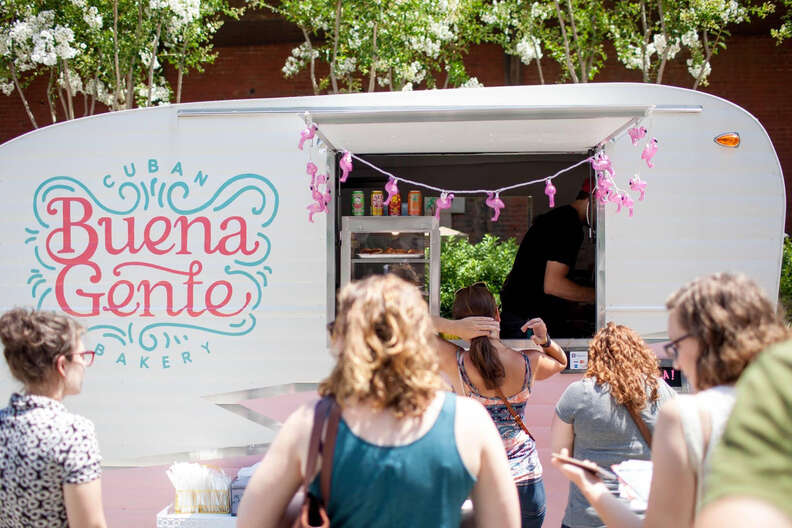 Buena Gente

| Bonnie Heath Photography
Buena Gente

| Bonnie Heath Photography
It's been almost a decade since Atlanta first allowed kitchens to take their destinies by the steering wheel and drive straight into the heart of this always-hungry town of ours. With time have come successes -- lots of trucks now have their own brick-and-mortar locations and are a foundational part of Atlanta's food scene -- and some definite failures, but those that have survived and thrived have done so because they make food so good you don't even notice you're ordering from a motor vehicle. So who's got the goods out here in these Atlanta streets? Look no further than the providers of fine movable feasts below.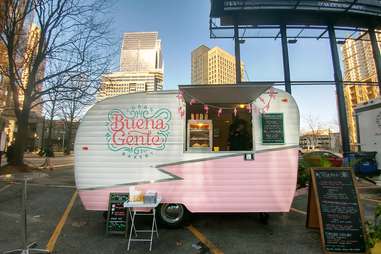 Midtown
If you haven't noticed, pastry has become a major thing in Atlanta's restaurants, with some of the best brick-and-mortars hiring serious heat-science-minded sweets chefs to put the finishing touch on fancy meals. But you might be surprised at how aggressively this cute little Cuban pastry trailer is competing. If you prefer sweets, get the deliciously drippy tres leches sponge cake, or the dark caramel flan. If you're in the mood for savory, they have beautifully pressed mojo-marinated Cuban pork sandwiches. But maybe the most addictive bite on the menu is the empanada: At $4 each, savor every bite and thank yourself later for buying several more than you can eat just to bring home later. Don't worry if you're a little slower after wolfing down two -- that's what the sweet, triple-shot colada espresso is for.
Where is it? Piedmont Park Green Market on Saturdays; 12th & Peachtree on Thursdays
Midtown
$14 sounds like a bit much to pay for a bowl of anything coming off a food truck, at least until you see and nibble from the spicy tuna bowl from the blue sushi and hibachi truck. One bowl can easily be split into two servings (maybe don't wait too long to finish what's leftover), and the freshness of the tuna will tear down any fear you may still have about a truck's ability to have a cold-enough cooler to serve raw fish. They've also got that poke in salmon and sometimes eel, and the hibachi (chicken, steak, shrimp or veggie) is excellent. But if you need to go handheld, grab the two-fished sushi burrito, and ask for a side of crispy wontons.
Where is it? 14th & Peachtree (Colony Square); 12th & Peachtree on Thursdays
Roswell
If you ever happen to see a vintage 1953 Chevy truck pull up with a brick oven on the back instead of a bed, run towards it and order yourself a Calabrese, margherita, or fig & prosciutto pie. You've actually discovered Southern Crust, which is not just a pizza truck, but a really good pizza truck that's mostly about catering but occasionally pops up at places like the Cumming Fairgrounds, Roswell's Riverside Park, and other places where crowds gather (they were even at The Masters this past spring). Call them to cater and your options can include other goodies, from charcuterie boards to braised pork meatballs, pasta salad, and more.
Where is it? Family Food Truck Fridays at Riverside Park (5040 Riverside Park Drive)
Westview
Now that Slutty Vegan has a permanent physical location in Westview, people sometimes forget that the truck, aka "Big Ol' Slut," is still slutting it up all around the city. They don't do Sundays or Mondays, but most any other day you can check the day's menu on social media to find out where the bus will be, and when. You can find them regularly at the Atlanta Food Truck Park & Market, but they've also been spotted around the perimeter, from the Riverside EpiCenter in Austell to lots on Cleveland Avenue and as far out as Doraville. If you've still not been "sluttified" by the "Sloppy Toppy" (Impossible Burger on a vegan Hawaiian bun with jalapeños, vegan cheese, caramelized onions, and the now-famous creamy orange "Slutty" sauce), or the vegan shrimp, vegan bacon and vegan cheese "Ménage à Trois," the truck still gives you a great option if you're on top of your Instagram game.
Where is it? 1542 Ralph David Abernathy Boulevard; get the daily truck location from Instagram at 3pm
West End
A veteran of Atlanta's music industry, Zachary "Big Zak" Wallace began Local Green after noticing that options for healthier food that people actually want to eat are less-plentiful in underserved neighborhoods, particularly the rapidly gentrifying westside. LG's inventive menu takes food truck standards (burgers, tacos, etc.) and gives them less-problematic proteins and hip-hop-inspired names -- like the "Rappers Delight" salmon Philly with grilled veggies, melted vegan cheese, and barbecue sauce on brioche. In other items like the "Bubba Sparxxx" pulled BBQ sandwich, they fully replace traditional animal proteins with plant-based versions, so here you're getting jackfruit instead of pork.
Where is it? 19 Joseph E. Lowery Boulevard NW permanently; around Atlanta otherwise (call them and they'll come)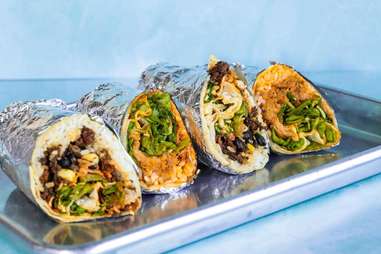 Midtown
If there's a food truck almost everybody in Atlanta can agree on, it's probably Korean-Mexican mashup Yumbii. Having been around for years (it was literally the city's first truck rolling when Atlanta legalized mobile kitchens), they built a solid-enough rep to go permanent in 2017, but it's still a joyous thing to find them in the wild and get a fix of those expertly crisped sesame fries, pulled pork sandwiches, mainstay tacos like the panko-crusted tilapia or Asian rib-eye, or those same options in burrito form, topped with Korean chili sauce. Sure, the logo is a little sleeker and they'll probably keep expanding physical locations, but it'll always be our first love.
Where is it? 1927 Peachtree Road always; 12th St & Peachtree Road on Thursdays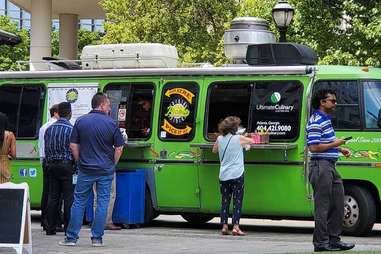 Smyrna
Claiming the title "Atlanta's original gourmet food truck," The Pickle sounds bougie but serves non-pretentious but quite-delicious southern, Tex-Mex, and Creole street cuisine, and of course has "The Pickle" for a name. And whereas some food trucks seem down-to-earth but charge Tesla-in-space prices for not-huge portions, you get decent-sized eats at reasonable prices here. That includes crawfish, chicken & andouille sausage etouffee for $8.50, their popular chicken and green chili quesadilla for $9, and a whole crab cake sandwich for $11, so you're enjoying some good chews and not putting your pockets into a proverbial pickle. And besides, don't you just love ordering food from a funky green camper van?
Where is it? Smyrna Food Truck Tuesdays (Taylor-Brawner Park)
West End
The folks behind food trucks frequently have amazing stories, but it's not often that you have someone profiled by Time handling your hamburger. But Malik Rhasaan, the hip-hop activist behind the "Che Butter Jonez" brand and persona, is also a cofounder of the Occupy The Hood movement, and when he's not focused on getting African-Americans out to join protests, he's preparing and serving the stellar "Who Let Mookie Make the Pasta?" shrimp/tomato/garlic linguine dish from his playfully menacing black food truck with "Farm to Block" painted on the side. He uses lamb in great bites like the smashed "Slamb" burger and the Morocco mole nachos (seasoned lamb over pita chips topped with Mediterranean salsa and feta), and balances healthy with hell-yeah in sides like the flash-fried Brussels sprouts. It's a revolutionary way to eat well on the go.
Where is it? The MET (680 Murphy Avenue)
Midtown
Down here in Georgia we do love a good biscuit, especially if it's big and fluffy, but we don't always have proper options out and about, other than breakfast restaurants. DSBC has the rounded bread and heavy butter we deserve, and there's nothing on the menu that's interested in lowering your calories. This is decadent comfort food in the form of biscuit sandwiches like The Ricky Bobby (buttermilk-fried chicken breast with peppered and applewood-smoked bacon, sharp cheddar and sage sausage gravy). Some even include Big-Green-Egg-smoked meats topped with cherry cola barbecue sauce, like nine-hour brisket in the Texas Smokehouse biscuit, or 14-hour pork butt in The Watson. Side salad? No. Try fried okra, pickles, or cheese curds. Or go food-coma with the wildly indulgent deluxe mac & cheese: Cavatappi topped with a creamy blend of parm, smoked gouda, sharp cheddar, and Swiss, plus a white truffle oil drizzle, a helping of chorizo, and crunchy salt and vinegar potato chips for the finishing touch.
Where is it? 14th & Peachtree (Colony Square), all over the place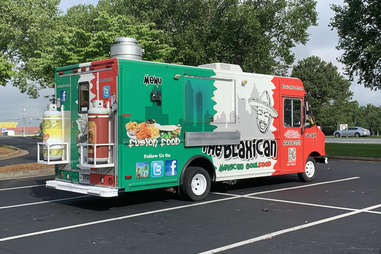 Peachtree Corners, Smyrna
The Blaxican combines the cuisines of two great cultures into one unexpectedly perfect combo on a Mexican-flag-colored truck with propane tanks painted to replicate hot sauce bottles. There's now a Peachtree Corners location, but since nobody is trying to drive that way unless they live nearby, you should check the calendar and find your next opportunity to chomp down a collard green quesadilla, fusion tacos like blackened Cajun fish topped with mayo-based "MexSoul" sauce, or pineapple-marinated al pastor pork, and sides like baked mac & cheese with jalapenos.
Where is it? 5260 Peachtree Industrial Boulevard; Smyrna Food Truck Tuesdays (Taylor-Brawner Park)
Sign up here for our daily Atlanta email and be the first to get all the food/drink/fun the ATL has to offer.
Mike Jordan
immediately went out and found Buena Gente after writing this story because hot damn those are some good-ass chicken empanadas. Follow him on Twitter at
@michaelbjordan
and link with him on Instagram at
@mikejordanatl
.