Where to Find Atlanta's Best Biscuits
A lot of food crazes have hit Atlanta over the past 10 years. And yet, most of them were about eating things that weren't quite native Southeastern delicacies. Now, as you rise and shine each morning, more and more local restaurants are making biscuits of all sorts, and they all want you to believe that theirs are "just like Mama used to make." However, even Mama can't compete with some of ATL's best biscuit-making establishments. Feast your eyes on the greatest biscuits our fair city has to offer in 2016.
Mike Jordan/Thrillist
Buckhead
If chef Art Smith's biscuits were good enough for Oprah, they're good enough for you. Indeed, Art told us that the menu item customers say keeps them coming back is his biscuit. You have to be careful spreading the whipped honey butter topping over the unbelievably soft biscuit, which is almost wedding-cake-like in its density and lack of need for chewing. You can tell there's probably sour cream in the mix, but it works, forming a delicate balance with the dusted flour and sugary sweetness of the butter. If you can't stand crumbs on your shirt, you'll probably want to nibble at this biscuit from the plate, because it's easily one of the softest and greatest biscuits in town.
Mike Jordan/Thrillist
Ponce City Market
You had to assume that the PCM biscuit shack (brought to us by the family that owns H&F Bread Company) would represent with a whole-fat buttermilk, egg-washed, super buttered, golden-brown biscuit in an attempt to rule them all. Indeed, the chicken biscuits at Hop's, which are available from 8am until 10 or 11pm every day, are fluffy, yet sturdy, in a way that a biscuit warrior -- or any fan of homemade biscuits -- will respect. You can top them with your choice of sauce (ranch, honey mustard, BBQ... ) or black pepper gravy, and the chicken between the biscuit's buns can be cooked "Nashville Hot"-style, which, if you didn't know, is definitely an ATL thing these days.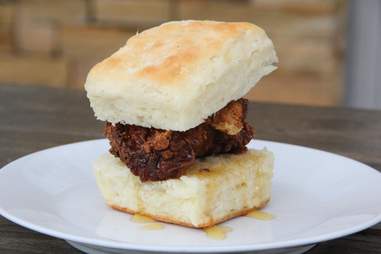 Mike Jordan/Thrillist
Kirkwood
Recently, after realizing R&D's "drop biscuit" (a biscuit baked in a muffin pan instead of on a cookie sheet) was too doughy, partner Caitlin Crawford decided it was time to remix the restaurant's biscuit. She recreated her grandmother's version, using White Lily flour, buttermilk, and butter, mixing and folding it into layers gently by hand (because the more your biscuit dough mixes, the more dense, and less good, your biscuits will be, home-biscuiteers). The result is what you see above -- a fluffy, yet fortified, bread-layered treat for the Southern-fried soul. Eat several.
Mableton (& other locations)
If you've never been to one of the 15 OTP locations of this ATL-area biscuit business, you need to get your head checked. Having begun in 1962 as an Austell restaurant called "Martin The Burger Boy," Martin's turns freshly made dough into magnificent mouth marvels every day, and they do it so well that many customers have no idea they also serve lunch. They're closed Sundays -- which is kinda crazy, because Sunday is Biscuit Day in America -- and they shut the doors at 3pm every day, which may not be convenient if you live in Midtown. But it's well worth a morning trip to your nearest location to put the light, fluffy, super buttery steak & egg biscuit between your teeth.
 
Virginia-Highland
The new kid in town has been in the southeast longer than some folks may realize. Carrie Morey, who runs Callie's Hot Little Biscuit, is spreading her mother Callie's name and rich, chompy biscuit recipe from Charleston, SC, to Atlanta, offering a wide range of country puff pastries that run savory to sweet. The idea here isn't whether or not Callie's biscuit is good; it's which pair of biscuits you like most: the shortcakes, the peach-filled joints, the ones covering both sides of a crab cake, or the shrimp-'n'-grits-topped special.
Reynoldstown
The puffy, billowing mounds of morning bread are a big reason why Home grown is on everyone's short list of best ATL breakfasts. It serves 12 biscuit varieties, but you should order the best biscuit in the house -- the Comfy Chicken. It arrives invisibly, buried in a monument of buttermilk-brined fried chicken, open-faced sandwich-style, on your plate. It's also smothered in white sausage gravy. Home grown sells 400+ every week. Oh, and on Valentine's Day, it makes heart-shaped biscuits, because love is biscuits.
 
Midtown
There is a famous 40-year-old biscuit still being served every day off 14th St, and it's never gotten stale. Media companies almost as big as Thrillist, such as ABC, have made trips to Atlanta just to get the making of this biscuit on camera. The recipe is deceptively simple: unbleached, self-rising flour, baking soda, salt, buttermilk and unsalted butter. But somehow it creates a biscuit that reigns at (or near) the top of our city's historical biscuit canon.
Courtesy of Buttermilk Kitchen
Buckhead
Don't let the BK initials fool you into thinking your biscuit came off the back of a refrigerated burger truck -- it doesn't get much more local than Buttermilk's biscuit. Aside from King Arthur Flour, the ingredients of its signature chicken biscuit all come from Georgia, including fried bird sourced from Springer Mountain Farms, eggs from White Oak Pastures, milk from Southern Swiss Dairy, and buttermilk from Decatur-based Banner Butter. The result is a moist, heavenly Player's Ball in your mouth.
 
West Midtown
This permanent pop-up takes the breakfast/lunch credo of West Egg and turns it into a pick-your-breading fried chicken pick-up parlor. Get one of its four to-go biscuit types, which are all made using butter and lard... because even though lard sounds awful and murders your heart, it tastes so damn good. If you just can't, it'll make you one of its rotating butter biscuits, which right now is a rosemary/goat cheese creation.
 
Tucker (& other locations)
On the chicken side, Bojangle's main competition is probably Popeye's. But on the biscuit side, it beats Popeye's easily for the fact that the biscuit's breading is way less greasy. Bo's biscuits are cylindrical, with a bumpy, almost flat top that's well-buttered and has a decent kick of salt. Unless you catch it on a bad day, the crust is never any crustier than the inside of the biscuit. Depending on who you ask, it's either the best biscuit for your buck, or at least giving Chick-fil-A a serious run for its money (and flour).
Bradley Foster/Thrillist
Everywhere
You've heard of them, yes? And don't even feign indignation; Chick-fil-A is the fastest-growing fast-food franchise in the world for a reason, and that reason begins with chicken biscuits that are sort of the standard we should all expect. How many times have you told somebody about some good-ass biscuit you just ate, and the first thing they asked you was, "But is it better than Chick-fil-A, though?" Don't front on the Chick-n-Minis either; they're the little honey biscuits that could.
 
Old 4th Ward
The earthy color and texture of what seems to be Highland's most popular biscuit lets you know it's nothing usual. And do you really need to question whether or not a sweet potato biscuit is good or not? Have you had either? You don't think all those folks outside in the breakfast/brunch line every morning have tried them? You haven't? Girl, bye.
Sign up here for our daily Atlanta email and be the first to get all the food/drink/fun the ATL has to offer.
Mike Jordan ate soooooooooooo many biscuits in reporting this story, all for you, ATL. All for you. He's going to post some of the extra biscuit photos we didn't publish here on Twitter; follow @michaelbjordan to see them and salivate.