These are the ATL's 5 best burgers
Garnish Photography
Garnish Photography
A new burger place opens in Atlanta about as frequently as you want to eat a burger: everyday. But the sheer number of legitimately sweet meat-wiches can make it hard to know which's best, so we scoured the city for the most delicious, juicy, and grilled-up pieces of meat between two buns, and created this power ranking of the ATL's best burgers for you. You're welcome!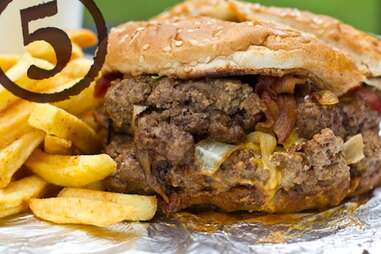 No. 5: The Ghetto Burger
Miss Ann's Snack Bar
1615 Memorial Dr; Kirkwood; 404.687.9207
Even its name is gangster, and that's exactly how "Miss Ann" will act if you cross any of her eight rules for ordering one of these double-patty delights. Its full of all things awesome that the body needs: bacon, chili, cheese, onions, lettuce, and tomato.
No. 4: The Cowboy Style
Grindhouse Killer Burgers
1842 Piedmont Ave NE; Buckhead; 404.254.2273
The Sweet Auburn Curb Market burger house is turning out a pile of greasy goodness called the Cowboy Style, which is topped w/ thick cut bacon, cheddar cheese, BBQ sauce, a crispy Vidalia onion ring, and presumably chaps... or maybe a 10-gallon hat.
No. 3: The Hank
Illegal Food
427 Edgewood Ave SE; O4W; 404.525.3002
Although this O4W burger stop nestled inside Joystick Gamebar might be new to the game, they're veterans when it comes to covering their proprietary grass-fed beef blend w/ melty American, pickles, lettuce, sweet onion & "special sauce" on an H&F bun.
No. 2: Bocado Burger Stack
Bocado
887 Howell Mill Rd NW; West Atlanta; 404.815.1399
This accolade-heavy burger is all about simplicity: another proprietary beef blend w/ more American & house-made B&B pickles on an H&F bun.
No. 1: The Holeman & Finch Burger
Holeman & Finch Public House
2277 Peachtree Rd NE; Buckhead; 404.948.1175
You've probably already seen this one coming... Holeman & Finch's double-patty'd thing of beauty has been celebrated throughout the country for its undeniable awesomeness, at least part of which is probably due to the fact there're only 24 available each night at 10p on the dot. Pro Tip: you can get unlimited stacks during brunch on Sundays.

Was your favorite double patty left out of the mix? Well, then tell us what we missed in the comments below!