The Best Dim Sum Restaurants in Atlanta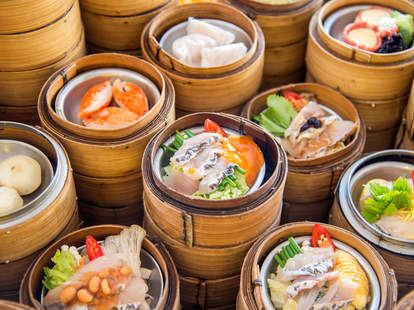 martinho Smart/Shutterstock
Dim sum is a style of Chinese Canton cuisine, where bite-sized food (aka dumplings, aka the good stuff) are whisked around in a cart and served in small containers. Many people don't know this, but it's actually an extremely popular option for breakfast/brunch. If you haven't given them a shot, it's about time you do... starting with any one of these six excellent places around ATL.
Chamblee
Canton House is a favorite among Atlanta's Chinese community, so you know it's good. The menu is expansive, and has everything from shrimp dumplings to vegetable sides and barbecue-stuffed sweet rolls. Don't miss the pork shu mai and lotus leaf rice. Come hungry and early, as the parking lot fills up fast.
Atlanta
Hong Kong Harbour is near the city, off Cheshire Bridge RD, and is a good stop for any dim sum novice in the area. The staff aims to make everyone feel comfortable and is happy to explain any and all of the choices featured in the menu. Some can't-miss options include the fried sesame balls and crab claws.
Duluth
East Pearl Seafood is an anomaly. In an unassuming corner of a Home Depot parking lot, EPS boasts some of the best dim sum in the city, but looks like every other Chinese restaurant you'd likely never pay attention to. Yes, it's outside of the perimeter, but its large variety of dumplings, side dishes, and buns make it worth the drive. Bring your crew and sit at one of the lazy Susan-equipped tables. Order one of everything, including the baked BBQ pork buns, pork shu mai, egg custards, and vegetable sides.
Duluth
While its dumplings are steamed to perfection, Golden House shines with its whole Peking duck -- although the sesame balls are not to be missed, either. While it's outside the perimeter, it's 100% worth the trek.
Chamblee
While its dim sum menu is available all day, its carts (half the fun) are only available until 3pm. It's located in the Atlanta Chinatown Mall and has been a local favorite for more than 25 years... plus, its shrimp dumplings are top notch. If you're feeling adventurous, grab a basket of chicken feet. They may look strange, but they pack a ton of flavor.
Chamblee
Royal China is a staple in Atlanta and boasts one of its best dim sums. Arrive around 10:30am to get a table early, as the weekends are slammed. Pick from the steaming baskets filled with dumplings, hot soups, barbecue pork-stuffed sweet buns, or rice noodles, and more -- Royal China has over 30 items during its dim sum. Then pair your feast with hot tea and you're all set.
Sign up here for our daily Atlanta email and be the first to get all the food/drink/fun the ATL has to offer.
Muriel Vega wishes she could eat dim sum every morning. Follow her dumpling obsession at @murielvega.