Every Atlanta Opening We're Excited About in 2016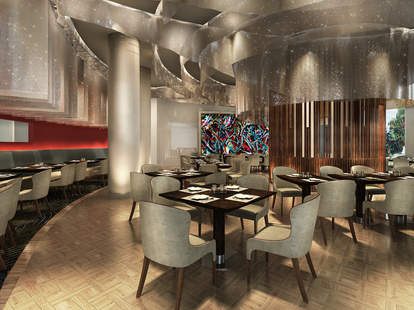 <strong>JP Atlanta |&nbsp;</strong><a href="http://www.portman230.com/jp-atlanta/" target="_blank">Courtesy of John Portman &amp; Associates</a>
We -- meaning the collected citizens of Atlanta -- are looking forward to several openings in the near future. Two of them are sports venues that will completely screw us, traffic-wise. Many more are job opportunities that will let us tell our incompetent bosses how we really feel about them, and their kids, whom we also do not care for. In the meantime there is comfort in knowing that the gods are giving us a gaggle of new places to drink and eat our pain away. Here they come!
 
Downtown
Having started his big ATL architectural legacy with the creation of towering Downtown Atlanta buildings like the Hyatt Regency, John C. Portman is opening a restaurant inside his remodeled take on another building he built in 1965, 230 Peachtree, which also hosts the new Hotel Indigo Atlanta Downtown. It's expected to be visually futuristic (there's a spaceship-ish round staircase near the dining room, among other funky eye candy), with super-fine dining from Chef Julio Delgado, who cut his teeth at several local Ritz-Carlton properties, as well as Château Élan Winery & Resort.
Courtesy of Noble Fin
Peachtree Corners
The ride out to damn-near Norcross will probably be more than worth it since this contemporary American-Mediterranean restaurant and bar is from 4th & Swift owner/chef Jay Swift. Once they get open around springtime, they'll feature hand-cut pasta, top-shelf seafood and steak, and other dishes made using local veggies, plus cocktails and beers.
 
Inman Park
Wanting you to consider them "your second home," though without your habit of throwing your underwear wherever the hell you want and leaving the toilet seat up, this community bar, from Jenn and Billy Streck of GRAIN and Cypress Street, will bet on locally sourced pub food, and will have a sweet patio for you outdoor beer and cocktail swillers.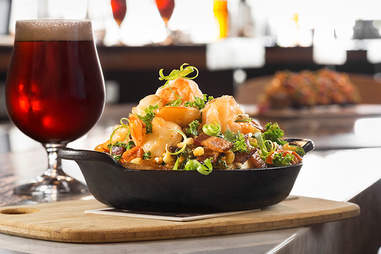 PSontap
Public School 404
Westside
Arriving (allegedly) in summer and promising "An Education in the Art of Food & Beer" (making it essentially your college experience), PS404 is the ATL location of a gastropub franchise already settled in LA, Dallas, Vegas, and other cities. It's known for using farmer's market foods for menu items, pouring craft-only beer, sommelier-chosen wine, and seasonal cocktails.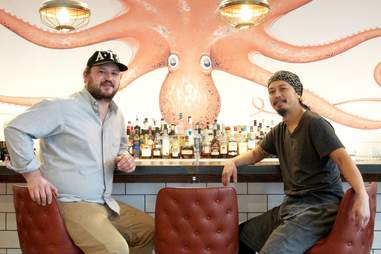 Sarah Dodge
Ama
Poncey-Highland
GQ, the James Beard Foundation, and everybody who lived near Lusca loved that seafood restaurant. This, being Atlanta, naturally means that it's closing. But don't despair; the duo behind it -- Octopus Bar's Angus Brown and Nhan Le -- are (probably wisely) leaving Buckhead and headed to the BeltLine inside Paris on Ponce. There they say you'll get lower-brow eats from burgers to wood-grilled seafood, in a smaller, quick-paced, more-Octopus-Bar-like setting.
 
Decatur
Creating authentic Japanese food with local and regional ingredients is Brush, which isn't able to give your hairstyle those amazing 360 waves, but is from a former Craft Izakaya chef who plans to use fish from the Gulf and local produce to create spiffy omakase offerings (chef-picked multi-course meals), buns, ramen, and robata-grilled seafood cooked over Japanese white charcoal.
Virginia Highland
Charleston's nationally famous biscuits are coming to an in-town brick-and-mortar, bringing with it the hand-made biscuit recipe that made owner Carrie White's mother, Callie, a sought-after caterer around the southeast. In addition to biscuit and grit bowls, a biscuit of the day special and a frozen selection of take-home items found at the Charleston flagship, ATL's location will feature a special peach biscuit, dessert-y Nutella biscuits on weekends, fried chicken biscuits on Fridays, and country ham hand pies.
Westside
Currently working on a stout, some IPAs, and a few other beers from fermented strains found here in Georgia, Scofflaw is a new brewery currently under construction and set to open early 2016. We... don't know much else for now. But it's between Downtown and the Westside, there'll be a taproom, the beer is local, and the name is cool, so yeah, anticipate that shit!
 
Branch & Barrel
Alpharetta
Creeping closer to Real Atlanta from his Cumming steakhouse called Branchwater, Food Network-starring chef Todd Hogan is opening a craft kitchen establishment in Avalon, where the food will include a somehow-bacon-marinated bistro steak, a corn-fried lobster sandwich, and other fancy meaty meals to keep the drinks in your gut company.
Courtesy of The Mercury
Ponce City Market
The team behind this mid-century-modern-inspired American eatery -- the guys who gave us The Pinewood in Decatur -- say The Merc will look and feel like the classic '60s era, with a raw bar, a menu of hearty meat chops and steaks, and sturdy whiskey cocktails. Hey, any restaurant/bar willing to name itself after poison is obviously in on the joke and confident enough to make you crunk about its impending arrival.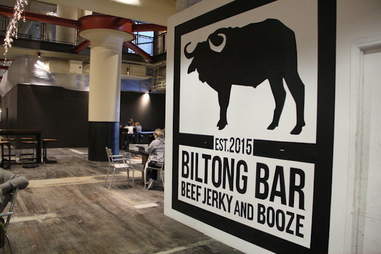 Mike Jordan/Thrillist
Ponce City Market
We told you in that Ponce City Market roundup that Justin Anthony and his crew, who are well known for 10 Degrees South, Yebo, and Cape Dutch, are going to sling all-natural organic South African biltong (beef jerky) and other meat jerkies from a restaurant counter in the Central Food Hall. It'll also offer savory hand pies, charcuterie, craft cocktails, and Pinotage wine, and there'll be a retail shop for you to purchase their cured, air-dried meats on the takeout.
 
Char Korean Bar & Grill
Inman Park
Another Craft Izakaya alum (Richard Tang) is moving into Inman Quarter in the first quarter of 2016 if all goes well, with a Korean barbecue establishment where there'll be the expected pork belly dishes (fried rice, bossam w/ kimchi), and some stuff that's traditional over there but exotic here, such as sea snails with spicy noodles. Eat them slooooowwwwwly.
Courtesy of Amer
Inman Park
The Bocado team will soon launch a new '70s-Italy-themed bar called... um, Amer. The intimate, under-50-seat space will offer snacks (chips, fried artichoke hearts, etc.), but that's not the point. There'll be 25 rotating cocktails, which will be categorized in one of four groups: "Shaken," "Built," "Stirred," and "Sodas." Italian Amari (think digestives like Fernet Branca) and bitters are mainstays of most drinks, and only 10 bottled beers will be available so that you stay focused, or blurry, on the mixed concoctions. One of them will be called "Electric Feel." Insert your own outdated MGMT joke here.
Midtown
This carefully expanding chain has already conquered Charlotte, much like the Falcons surprisingly did in that game a few days ago (seriously), so why not set up shop in ATL? That's what seems to be happening with this well-loved resto-bar that's named after a street corner in the North Carolina capital, but is keeping its name for its midtown location, presumably because that's where our own 5th street is found. Food? 40-day-aged strip steaks, lamb burgers, and that kind of thing. Drinks? More than 200 wines chosen by an in-house sommelier. Maybe we're not regional rivals after all.
 
Marietta
Doug Turbush is a kitchen gangster. He used to run Bluepointe, which nobody could afford, but then he brought us Seed (not literally, unless you're his baby mama), and he gave us the wine bar Stem (OK, it is starting to sound a little sexy), but now he's bringing the clams, oysters, and other seafood to East Cobb. You need to be excited. But not sexually. Unless you're his baby mama.
Sign up here for our daily Atlanta email and be the first to get all the food/drink/fun the ATL has to offer.
Mike Jordan is an Atlanta-based journalist who once helped his family open a restaurant, and has since decided to say eff that ish, but salutes anybody crazy enough to open one and help him eat and drink himself silly. Open up to him on Twitter at @michaelbjordan.