When people think about Atlanta's food, they probably think it's all just BBQ joints around here, but the food scene is as varied and exciting as any in the country, with a ton of seriously good places to dine. So many, in fact, that it can actually be hard to pick the best ones. That's why we've assembled a list of the best restaurants in Atlanta right now, including spots run by celebrity chefs, not-so-authentic Asian eateries, and yes, a couple BBQ spots. How could there not be, after all?
Recommended Video
Meat Flowers Are Here to Give You The Best Valentine's Day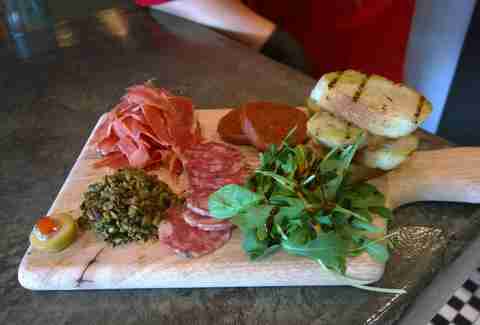 The newest addition to the downtown Decatur dining scene, Rezagarse offers a fusion of homemade, traditional Spanish tapas made with local ingredients. Named for a Spanish verb meaning "to linger," the restaurant and menu are inspired by the chef's adventures to Spain, particularly Barcelona, and the flavors, combined with the atmosphere on the huge open-air patio, make it feel that much more authentic. Said patio is also the best place to down things like fried puntillitas (aka, squid) that are perfectly crisp yet tender and served with spicy tomato sauce, grilled lemon, and piquant Pecorino, or flatbread with ahi tuna, olives, and manchego cheese.
With the motto "Overindulgent Yumminess", Oy! delivers with enormous portions and colossal flavors, which is great, since reading the menu will make you hungry as eff. While their huge burgers and farm-sized omelettes are incredible, the french toast casserole is where it's at. Perfectly crisp yet fluffy and doused in caramel sauce and powdered sugar, it's even better than it sounds.
Helmed by Raffaele Crispino, a Naples native, whose previous experience includes Maggiano's, Darden Restaurants, and numerous family businesses in Capri, Crispina is a truly authentic (and delicious) Italian restaurant and pizzeria. The pastas and dough are made fresh daily, and the dishes are simple, straightforward, and explosively good. Just remember to save room for the Gelato San Crispino -- local honeysuckle gelato drizzled with 25-year-old balsamic vinegar.
Located across from the Georgia Aquarium, Atlanta Breakfast Club rocks killer breakfasts and then some in a colorful, homey, retro-style diner. Its location attracts a lot of tourists, but the food brings a lot of locals, especially the aptly named manager's special, an ample collection of eggs, meat, pancakes, and potatoes or grits that's totally bawse. Oh, and they're open for 24 hours on Friday and Saturday nights so you can easily stumble in for sustenance when you're out on the town.
The sister restaurant of Decatur's Cakes & Ale, PROOF Bakeshop inhabits the space formerly occupied by Dough Bakery, where from sweet to savory, it's also turning out baked goods -- you can even pick up loaves of fresh bread to take home. Can't-miss-options include the ham and Gruyère melt with rosemary pork, nutty gruyere, and a fluffy baked egg on a toasted English muffin. Pair it with a freshly made Counter Culture coffee drink and you will feel invincible. Or at least happily stuffed.
Don't get it twisted: this hidden gem in Decatur cranks out some of the city's most delectable Southern-inspired eats in a decidedly sophisticated way. From small plates, to entrees, to custom cocktails (some of which use moonshine!), Twisted Soul is about to be your new favorite place -- especially once you try the otherworldly sweet tea marinated ribs. Pro tip: if the weather is nice, definitely nab a spot on their hidden but lush patio.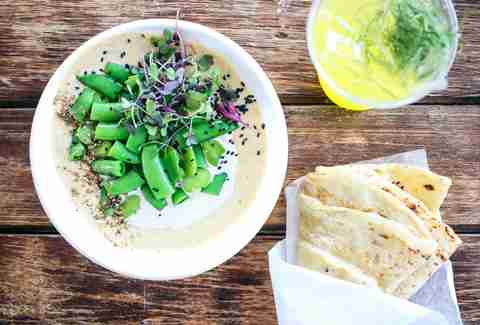 Nestled inside the Krog Street Market, this modern Middle Eastern food stall has quickly become one of the market's most popular spots, mostly thanks to things like a nearly football-sized shawarma crammed with tender spit-roasted chicken, zesty sauce, pickled veggies, and more that's so good it won't matter that you... um, don't really know what a shawarma is?
Arguably one of Atlanta's most buzzed-about brasseries, Le Fat lives up to the hype with its modern, oftentimes Southern, interpretation of classic Vietnamese dishes. Your best bet is to bookend your meal with the not-to-be-missed soft shell BLT bun and hazelnut chocolate cake, while downin' as much spicy chili prawns and salt & pepper calamari you can in-between.
Charming and surprisingly devoid of pretension, this delicious addition to the swanky The Shops Buckhead has a relaxed atmosphere that's balanced with sophisticated French eats. Score a seat their gorgeous bar, admire the solariums on either side of the dining room that flood it with beautiful natural light, select a wine off the menu that suits your tastes, and complement it with their signature cajun chicken laced with creamy beurre blanc and some truly legit French Fries.
Featuring changing menus full of local farm-to-table eats (like the chicken liver tart, muscadine, okra, and crisp chicken skin pictured above), Staplehouse directly supports the Giving Kitchen, a nonprofit that provides emergency assistance to those in need in the Atlanta restaurant community. With a casual first come, first served porch out back, and a gorgeously renovated dining room where you're served an $85 prefix menu that changes almost daily, Staplehouse is essentially two incredible restaurants in one. And until they get their liquor license, you can take your own wine to enjoy with dinner. Pro tip: all reservations for the main dining room are essentially tickets you pay for in advance online using Tock ticketing and reservations system.
Not one, but three awesome spots now share the space where Urban Cannibals used to reside, the star of which is Poco Pomodoro thanks to handcrafted food that is simple and delicious and is all freshly made using local and seasonal ingredients. That's right, lasagnas, raviolis, pastas, paninis, soups, and desserts, all served up in a homey (albeit sometimes cramped) atmosphere. Oh, and top 'em however you like, but if you don't opt for the turkey meatballs, we're not sure we can be friends.
Chef Kevin Gillespie has a devoted following in Atlanta, and it's only grown more fervent since the opening of Revival. Inspired by traditional Southern suppers, dinner is served family style, meaning you choose an entree -- we recommend the fried chicken, which is perfectly crisp and flavorful without being greasy -- and your server loads your table down with sides sized to fit the number of folks in your party. The setting is sprinkled with kitsch and sepia photos, making it homey and warm. And don't even think about leaving without trying the luscious lemon icebox pie.
Before they set up shop in Ponce City Market and became one of the city's best places for Korean eats, Simply Seoul was Atlanta's supreme slinger of kimchi, with wares sold at Whole Foods and local farmers markets. They still make what some call the city's best kimchi, but earn major points for having great, fast, and reasonably priced Korean fare. The buns are soft and supple and crammed with warm, fresh flavorful meat making them a tender, flavor-packed masterpiece.
If your idea of fun is stuffing your face with large portions of ridiculously fresh Indian street food, head to MASTI, NOW. MASTI rocks Indian/American fusion with expert, delicious precision. No wonder their menu boasts such unexpected delights as paneer hot dogs, masala fries, the sublime butter chicken tacos: served on supple Indian pancakes made of lentils and rice, they're stuffed with chicken chunks, diced tomato, some sort of slaw, shredded cheese, and a spicy dipping sauce, they can't be missed.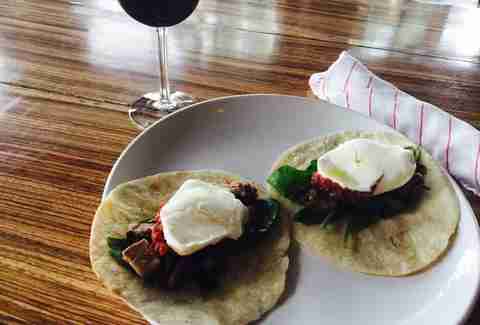 Yes, they have some of the city's best 'cue, but Smoke Ring DOES have other incredible creations, including the grilled cheese, an unbelievable blend of fontina, smoked Gouda, Gruyere, and Parmesan with spicy fire roasted poblanos and sweet Vidalia onion marmalade. By the way, did we mention it comes with a bacon-wrapped pickle?!
Some folks might not consider a craft ice cream parlour with killer coffee a "real" restaurant, but screw that: Atlanta's newest purveyors of ice cream now have a lovely and hip storefront where folks can come get their fix of creamy, made-from-scratch ice cream and ice cream-based treats like sundaes and sandwiches. They also offer solid coffee creations, including a kicking cold brew. And because they're just a hop off the BeltLine, there's no excuse not to indulge in any of their flavors like brown butter whiskey and spicy chocolate chunk.
You really can't go wrong with anything from their menu of award-winning tapas, fantastic brunch, and expansive selection of custom cocktails. But there's a reason the chicken and waffles won honors on the Travel Channel's Chow Masters episode: think fried chicken pieces on a stick, wrapped with bacon then dipped in waffle batter and deep fried. Served up with the sorghum syrup, powdered sugar, and hot sauce on the side, you need to order this.
D
Maybe it's their fresh bread and toppings. Maybe it's the fact that they tenderize their local, hormone-free chicken by beating it like it owed 'em money, before they bread and fry said poultry until it's crispy on the outside and impossibly juicy on the inside. Whatever it is, Seven Hens is doing something right. Their staple item, the chicken schnitzel, is a build your own masterpiece that, when you add the spicy Buffalo fries, is... um, a build-your-own masterpiece with fries, presumably.
e
The little sister to the upscale Bacchanalia occupies the cozy, intimate space below its sibling and churns out classic Continental cuisine on mostly small plates with a few larger dishes thrown in. The menu is designed to be shared "family style," so take along a date or, you know, don't. Either way, you'll want to wolf down their 14oz, 28 day dry-aged New York strip.
This relatively new dinner-only restaurant located at the luxurious St. Regis hotel, is as swanky as it sounds and boasts utterly outstanding food (and service) that is kinda like what your grandmother might make if she were a haute chef who blended Southern and international flavors, each artful plate almost too beautiful to eat. But only almost. Regardless of what you do, nab a plate of perfectly panko-breaded-and-fried Crispy Wianno Oysters, which come with pickled and shishito peppers, pepper jelly, and avocado bacon mousse, which is so good it could almost be a meal on its own.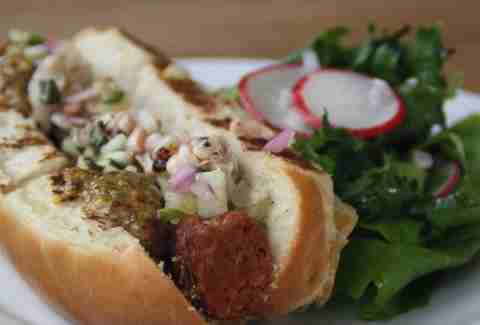 While they make some of the city's most solid small plates, entrees, drinks, etc., Ration & Dram's brunch is truly the jam, especially the bone marrow breakfast, which comes with soft, buttery biscuits, eggs, a touch of broccoli rabe, and a hefty hunk of decadent bone marrow. It might be the most sophisticated hangover cure ever. Don't worry, though, signature breakfast cocktails like the Rise 'N' Shine with white whiskey, Italian liqueur averna, vanilla syrup, and nitro coffee mean you can get started on your next one right away.
Sign up here for our daily Atlanta email and be the first to get all the food/drink/fun the ATL has to offer.
Brook Bolen is a freelance writer from Atlanta who may, or may not be, eating chicken and waffles on a stick from one of the city's best restaurants right now. Follow her on Instagram @redvelvetfemme to find out.
Stuff You'll Like