Courtesy of BLTRestaurants.com
Downtown dining used to be so bad that all the popular restaurants were crummy franchises named after other geographical places like Planet Hollywood, Fire of Brazil, and Emotions of Canada -- which people used to call "Hooters on Peachtree," until Drake ruined it by getting dissed by some waitress named Courtney, and now Nothing Was The Same. But times have changed, and things are better now. Believe it or not, Downtown actually has a gang of great places to eat. To wit:
Laurent Tourondel's Downtown-W-set steakery arrived in a recession and survived because, simply put, the man knows just what the hell he's doing. Combining French bistro with American steakhouse, it's certainly not cheap, but neither is going to France to have a chef make a steak for you, so take what you can get and be happy you're still in the south, surrounded by lots of other things that include the word "strip."
Since Todd Richards left The Shed at Glenwood, there's been an all-new buzz around the window-walled, bourbon-barrel-designed, naturally lit dwelling for lunch, dinner, and drinks. There are apps like beef cheeks w/ horseradish foam, a double-patty burger that pays tribute to Ms. Ann's Snack Bar, venison pastrami sandwiches, and full plates of catfish w/ country ham hushpuppies.

The restaurant's name tells you the basic story behind the consistency of Max's charred crust conquest of downtown -- they have the only coal-burning pizza oven in the state, which makes the crispy bottom of the single-sized pies worthy of the San Marzano tomato sauce and whatever else you place on top.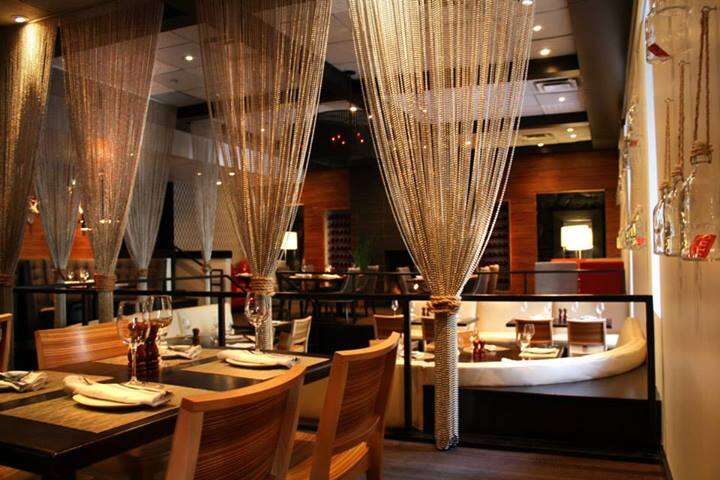 This steak-centric Southern comfort food restaurant provides premium bovine plates from 8oz center-cut filets to 22oz cowboy ribeyes, as well as roasted hickory pork ribs, southern-fried lobster tails, and surf like charred pecan-butter salmon. Find it just below Peachtree on the Eastside.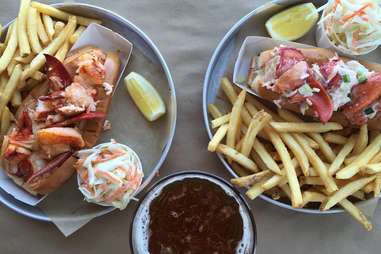 With a solid mollusk selection at the Oyster Bar, prime location on the rim of Centennial Park, an outdoor patio with a spectacular view, and constant events and dining specials, it almost doesn't feel legal to dine so well on oceanic fare. Or maybe that's just the seaweed making you paranoid.
Before Alma, there wasn't much in the way of respectable Mexican food in the vicinity of Five Points. With Alma, south-of-the-border snacks and suppers are taken soulfully upscale via wood-beamed decor, sexy dimmed lighting, and meals from a chef who staged food at two Michelin-starred French Riviera restos. That's why the roasted chicken mole Oaxaca, the Mexican white shrimp huarache, and all the other dishes look as good as they taste. The mango-habanero margaritas and black-pepper-infused Rosemary's Baby cocktails don't hurt either.
Ask around; people who know what's up at Sweet Auburn Curb Market will tell you Afrodish is where you want to be for lunch. Here you'll find flavor-saturated Afro-Caribbean favorites like oxtail, curried goat, and jerk chicken, upon whose bones hopefully you won't choke. Sorry.
You know you didn't come all the way to Tourist Hell ATL to eat healthy food, so go to Twin Smokers and order smoked meats southern or Texas-style, such as the "Dinosaur" beef rib, half or whole pounds of brisket, pulled Springer Mountain chicken (from GA), sausage links, combo plates w/ collards, pinto beans or other sides, and finish with a "Double Trouble" milkshake, made with local High Road craft ice cream and Bulleit Bourbon.
Just northeast of the congested tourist area in the pre-Midtown food desert is a place that fuses East and West flavors for something that's slightly Thai, kinda country, and completely ATL-friendly in its lack of singular identity. Even if you're just visiting, know that not every restaurant here -- especially not downtown -- will have chicken and sweet potato waffles for brunch (looking at you, Gladys &amp; Ron's), lobster fried rice for lunch, a Thai-curry New Zealand lamb rack, <em>and</em> Hennessy Sazeracs at the bar.
The cuisine is French-Russian, there are more than 900 sommelier-picked wines, and you definitely won't miss the spectacular skyline view of the city and everything around it. Nikolai's is a perennial ATL favorite, and not just because it's fancy; you can get a great $39 three-course dinner special if you're there from 5:30-6:30pm, and the rotating menu features dishes like linguine w/ iberico jamon and poached egg, depending on seasonal availability and chef's preferences.<br />
<br />
<em><a class="vortex-open" data-campaign="2827" href="https://signup.thrillist.com/&quot; target="_blank">Sign up here</a> for our daily Atlanta email and be the first to get all the food/drink/fun the ATL has to offer.</em><br />
<br />
<em><a href="https://www.thrillist.com/authors/mike-jordan&quot; target="_blank">Mike Jordan</a> has been eating Downtown since before there was a brick-oven pizzeria next to Planet Hollywood. He's on Twitter at <a href="https://twitter.com/MichaelBJordan&quot; target="_blank">@michaelbjordan</a>, but probably can't help you with last-minute reservations, so just say "what up" instead of asking for hookups.</em>