Event of the Week The 11th Annual Downtown Restaurant Week returns July 27th featuring $15, $25, or $35 prix-fixe menus from some of the city's best without breaking the bank. So grab a date and treat them to the likes of White Oak Kitchen & Cocktails, Sway, Game-X, and all these other sweet spots.
Thursday, July 25th VaHi mainstay Atkins Park is celebrating Christmas... in the Summer? Expect plenty of holiday-centric drink specials, Christmas cookies, and a naughty gift giveaway at the Holly, Jolly Christmas in July Party. Click for all the deets!
Iconic rooftop restaurant, Nikolai's Roof is celebrating Summer with an epic four-courser featuring Quebec draft house Unibroue for Brews With A View. Details on the rooftop hop dinner are right here
Saturday, July 27th Drink your way through VaHi Walking Dead-style at the 4th Annual Zombie Bar Crawl. Event host Diesel Filling Station will be providing complimentary zombie makeovers to get you ready to crawl, limp, and stagger your way through stops at Dark Horse Tavern, Limerick Junction and Hand In Hand. It's Thriller night in VaHi, get more details and tickets here
Atlanta's only sushi food truck Genki-To-Go is debuting all of its deep-fried tempura eats at Atlanta Food Truck Park, and lacing you w/ comp sake and sushi tastes, fake sumo wrestling, and sushi-rolling demos. Warning, clicking here will make you hungry...
Creative Loafing's Rock 'n' Soul BBQ is serving you homegrown 'cue from Bone Lick and Royal Smoke, while Algebra, DJ Kemit, and Delta Moon keeping you rockin' into the night. Score your tickets to the BBQ concert, right here
O4W gamebar Joystick is rolling out the plaid blanket for their Indoor Picnic benefiting Peachtree N.O.R.M.L. Enjoy free play on all the old-school games while you nosh on bites from Illegal Food, and swill a specialty Frozen Pints root beer float. See if you can beat the high score for a good cause right here
The 3rd Annual Atlanta Ice Cream Festival descends upon Piedmont Park for a day of fun, games, and plenty of lactose-tolerated goodness. Get more details here
Edgewood Corner Tavern is introducing their new Heavy Metal Pig for a barbecue on the patio with cornhole, a limbo contest, and bourbon marshmallow s'mores. Squeal like a pig, then eat one right here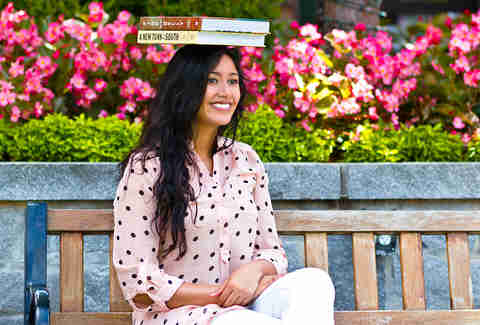 Local Lady We Love, and Where to Find Her
Meet Sonia Chopra, lifetime OTP'er on a mission to convince people that East Cobb is much cooler than you think.

A vegetarian with a carnivorous appetite for knowledge, she sinks her mental teeth into giving you daily food-related news as editor of Eater Atlanta, and is also in the process of writing her first novel... which, um, we guess explains why we caught her balancing cookbooks on her head. You can find her frequenting Dr. Bombay's Underwater Tea Party for soothing tea, Paper Plane for well-crafted 'tails, The General Muir for incredible ice cream sammies, and she's been known to drive long distances across town in rush hour traffic just to track down King of Pops.