Remember everything that happened this year? Some stuff kind of sucked, but then again, a lot of it wasn't all that bad. And just in case the really great stuff faded from your overly vaped memory, we've put together a thoughtful and thorough list, because it's just that time of year. Behold the best of the many things we were given in 2015...
Best new overall restaurant
Staplehouse
Address and Info
Old Fourth Ward
You should be a major fan of Staplehouse for two reasons. First, it's delicious, thanks to a constantly shifting, five-course chef's tasting menu or seasonal a la cart eats that really are local, and not just meaning the bread came from Murder Kroger. Second, it gives every dollar of earned after-tax profit to The Giving Kitchen, which provides emergency charitable assistance to restaurant industry workers. So it's not just delicious, it's sustainable times-infinity.
Best new steakhouse
Marcel
Address and Info
Westside
It may or may not be the city's most expensive steakhouse, if you like counting that kind of thing. Regardless, it's easy to fall in love with both the premium cuts of cow, the banquet ambiance, and the story of the restaurant's namesake, Marcel Cerdan, who was a French boxer that whooped lots of ass in the ring and dated a famous singer in his time before dying in a plane crash on his way to see his girl. Sexy! Oh, and his record: 113 wins, four losses, and 66 wins by knockout. So if you're a real man, you'll put the $165 Porterhouse on your eye before you eat it.
Best new brunch
The General Muir
Address and Info
Emory Point
Sure, you think your neighborhood spot is undefeated because you can walk there and back from your apartment on weekends, and those spritzy little bellinis you and the homies order by the bottomless make your feelings that much more valid. But the truth is that true-NY-style Emory-area deli TGM murders with the Maven lox plate, matzo, mimosas, and much more.
Best new burger
H&F Burger
Address and Info
Ponce City Market
It's not just because it's sooooo good; there's also the fact that a gang of ATL burger joints use H&F buns on their own burgers, just because you can't front on the truth. There's also the fact that a lot of folks never got lucky enough to get one of the limited number of nightly special burgers at Holeman + Finch. Now that they've opened at Ponce, everyone has access. You can even get them without the cheese! Why you'd do that is unclear, but it's now possible!
Best new tacos
Bone Garden Cantina
Address and Info
Blandtown
The house-made tortillas are damn-near perfect -- even if you normally like flour over corn, trust us and do the maize version around the peanut-sauced al pastor marinated pork taco, chicken-based curry-citrus pollo al limon, or the awesomely spicy chile picante, the shrimp verde in house-made green mole, or the brisket-laid birria.
Best new lounge
Little Trouble
Address and Info
Westside
We told you about the opening, as well as barkeep Jess Crisler and her fabulous drinks. But the Blade Runner-inspired ramen bar, which might seem deceptively shitty to the average ramen nerd who got lost on her way to Buford Highway, ran away with the award for this year's funkiest fun den. Don't ask how many boxes of matches we stole from the bathrooms, or how many times we asked Jess Crisler "Who made this playlist?" Caleb, Ian, and the rest of the gang from Vic Brands did it again.
Best new strip club
Follies (address and info)
Buckhead
The consensus is that Follies has the prettiest ladies who sport the least amount of wear-and-tear. This must be true, considering how long it takes to get to Follies, and the fact that it's not at all near downtown. Nobody drives that far for the average lap-dance, but the perfect twerk will make men and women drive an unlimited amount of miles.
Best new pizza
Pizzeria Vesuvius
Address and Info
Sweet Auburn
What's wack is that it recently closed. So it was the best new. But those who went know that it was not quite as bourgeoisie as Antico, not as ballerific as (the admittedly delicious) Ammazza and Varasano's, and not as new-frou-frou as Varuni Napoli or Thirteen Pies, which are also no-joke-status. It was just good-ass pizza with well-charred crust, San Marzano tomato sauce and fresh toppings on Edgewood Ave. We will cry for it like Jodeci in memorandum. And then go somewhere else to eat pizza until we get over it.
Best new street art
Hebru Brantley's "Flyboy" mural
Edgewood
The sweetest thing the Old 4th Ward may ever know is still displayed on the side of The Sound Table right now. Hate as hard as you can; there's no way to peep the painted bricks featuring the two cloud-lost kids piloting their way through the clouds in an imagined aeroplane and not remember the days when creativity and puppy love were all that mattered.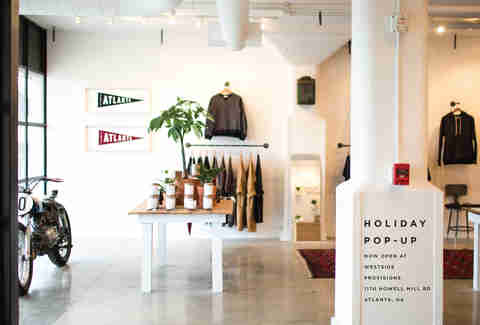 Best new clothing store
Chrome Yellow Trading Co. (address and info)
Old Fourth Ward
Here you can find Raleigh, Rogue, 3Sixteen, and other denim brands for that ass, along with high-quality socks, belts, button-downs, bags, ATL-themed pennant flags, grooming products (from soap to beard oil), handy gentlemanly tools like compressed towel tablets for your travel bag (they expand when soaked in warm water), and other things. Cop a cup of Portland-based Stumptown Coffee from the attached 1,100sqft coffee shop before you buy -- best to have the mental clarity of caffeine before you fill that shopping cart.
Best place for live music
Venkman's
Address and Info
Old Fourth Ward
The $5-per-person added surcharge for live entertainment is highly justified. This is the house that Yacht Rock Revue built, and if they're not playing special shows themselves, they're curating nightly lineups that include brass bands, small orchestras, and other jam crews that fit perfectly with Chef Nick Melvin's playfully home-styled menu.
Best new barbecue
Grand Champion BBQ
Address and Info
Krog
You might think they're new just because a lot of ITP-ers would have never made that long-ass ride up to Milton or Roswell just for meat plates, but GC actually can claim champ-status, having won a shload of 'cue competitions. Now that they're in Krog, you can get to them much easier, but do it early -- they constantly sell out of ribs, which is your problem, not theirs.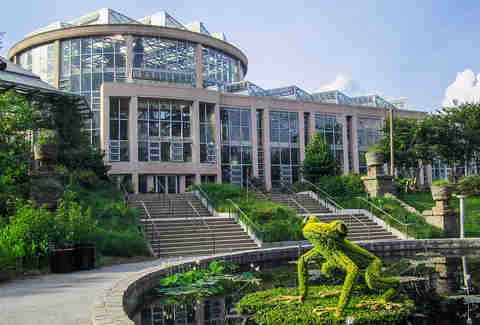 Best new date spot
Atlanta Botanical Garden (address and info)
Midtown
There's no beating ATL's most beautiful conservation grounds. Where else can you admire all sorts of flora, eat at a cafe run by a James Beard-winning chef, visit gardens of roses, Japanese flowers, and carnivorous plants, walk through treetops on a canopy tour, and admire various living creatures from birds to butterflies and wood turtles? Well, the wood turtle part is probably something you see in the shower daily, but aside from that, there's no place more romantic in ATL.
Sign up here for our daily Atlanta email and be the first to get all the food/drink/fun the ATL has to offer.
Mike Jordan is one of the best human beings that ever lived in 2015, at least in his own mind. Remind him that Eric Roberts is really the Best of the Best by tweeting him at @michaelbjordan.