10 New Atlanta Restaurants You've Got to Try Right Now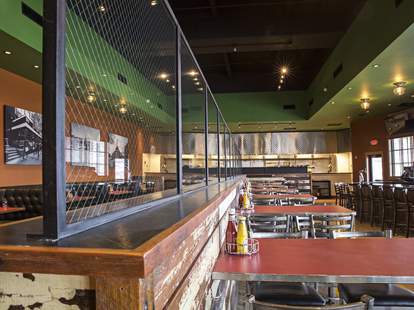 There's nothing better than going to a great restaurant... except maybe going to a great new restaurant, which is why we've rounded up 10 recent Atlanta openings you've got to hit right now. Feast your eyes...
Courtesy of Scales 925
Downtown
Soul Food was Goodie Mob's first album, but it's the cuisine of choice at ATL rapper T.I.'s first restaurant, a 7,000sqft complex with an indoor/outdoor rooftop. The King's feast includes smoked chicken gumbo, fried chicken wings w/ sweet potato waffles, mesquite lamb chops, and GA-peach-glazed salmon. Desserts include red velvet whoopie pie (served w/ a pecan milkshake), and peach cobbler served in a cast-iron skillet.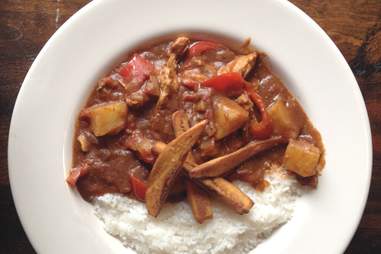 Courtesy of The Whelan
Westside
Quickly and quietly taking over the former Corner Tavern Westside, The Whelan is dealin' an American tavern menu with a slightly South-Africanized twist. For beer, it slings 28 drafts (Terrapin Liquid Bliss, Red Brick Hibiscuwit) and 60+ bottles ranging from Hell or High Watermelon wheat to La Fin Du Monde tripel. For food, there's a hot Black Forest ham 'n' cheese, red curry chicken w/ veggies over jasmine rice, and pan-seared crimson red snapper, which sounds like Blake Sims, except it's worth paying for.
Inman Park
Although it only moved to Decatur, there's nothing like seeing Vic return home (or at least around the corner from where it started), like the prodigal, Ping-Pong-playing, Jack-&-Coke-slushing, slider-sammy-slinging son of Inman, especially after everybody got the sads seeing the OG building get demolished for condos. Victory is ours!
 
Atlantic Station
Rosebud/The Family Dog/Timone's owner Ron Eyester gives us his version, from memories of growing up in NYC, of the all-American... um, diner. There's patio dining, a full bar (perfect for breakfast!) for classic cocktails, lunch, and dinner eats like crispy chicken thighs w/ Tabasco honey and "Shake 'n Bake" Pork Chops w/ whipped sweet potatoes, and all-day breakfast. That includes cornmeal waffles, potato hash w/ house-made sausage, and the fried chicken/scrambled egg/bacon/cheddar/soft bun "Nasty McAlister," a name that proves that when it comes to eating at wack franchise delis, Eyester's off the chain.
West Midtown
Your OTP-phobic fear of driving past Lenox Rd on Buford Hwy has been remedied: Guy Wong of Miso Izakaya has opened this seriously authentic Vietnamese brasserie (Vietnamesserie?) in West Midtown. Lunch and dinner include pho, com (rice dishes), bun (vermicelli), rotisserie half-chickens, and dinner-only specials including flash-fried whole fish and spicy chili prawns. Chase that fire with tableside-brewed Vietnamese tea, a Hemingway Daiquiri, or a bottled Mother Earth Endless River kolsch.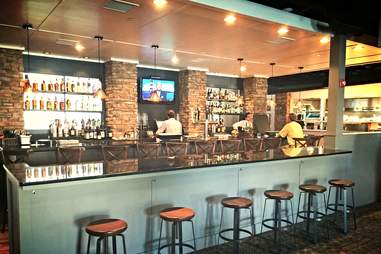 Courtesy of Paper Mill Grill
Marietta
Only the married couple who previously owned PMG know why they shut it down (maybe they, ahem, weren't making enough paper?), but the good news is that it's now cheffed by Eric Ottensmeyer (former exec chef at Leon's Full Service), and has been totally remodeled, resulting in a more modern, less den-like atmosphere. Plates include sharable Panko Fried Brie, Molasses Slab Bacon, Smoked Pork Chop, Double Stack Burger, and Korean ginger chicken wings. Drinks? Bombay Negroni, Tito's vodka Watermelon Fizz, and draft beers such as Creature Comforts Tropicália.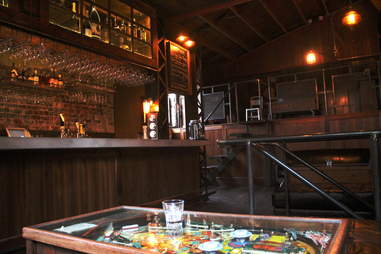 Mike Jordan/Thrillist
East Atlanta
Argosy kept the lid on this back-of-house beer base for months, with private events like Nerd Trivia and cask beer tastings occurring under a big-ass wooden cephalopod (designed by Little Tybee vocalist Brock Scott) hanging from the ceiling. Now that the secret's out, you should get back there for analog parlor games like skeeball, shuffleboard, and obscure joints like "skittles" (an old British game they describe as "tetherball-meets-bowling/chess"), and crokinole (like curling with marbles). It's open Thurs-Sat from 8pm-2:30am, with the bar slinging rare 750ml bottled beers and a few daily rotating drafts, and there'll also be weekly DJ'd parties.
West Midtown
A fried-chicken-focused pop-up operating from 5:30-9pm every Wed-Sat inside West Egg, Oddbird gets crispy with Springer Mountain breasts dredged in a cornmeal/flour mix and hot-boiled in trans fat-free soybean oil. It's got four varieties of both chicken biscuits (topped with spicy honey and sharp cheddar...) and sandwiches on buns from TGM (The General Muir) Bakery, plus pies (sorghum pecan, bourbon chocolate pudding), and beer by the can (Orpheus Atalanta), bottle (Off Color Brewing Scurry) and draft, which are all local and include Wild Heaven, Eventide, Strawn, and Monday Night.
Courtesy of Little Bacch
West Midtown
A 52-seat dining room inside Bacchanalia, LB's the cafe-like afterlife of the formerly super-ritzy, prix fixe-only, almost-$200-per-person Quinones Room. Now you can a la carte it with whole-roasted Green Circle chickens for two (the birds are fed veggie peelings and day-old bread from elite restaurants' kitchens -- think table-to-farm-to-table), a 28-day, dry-aged NY strip, and a fancy 30g Petrossian caviar service, in case you know what that actually is, or just want to drop $140 for admittedly luxurious fish eggs. Snark aside, they're probably beyond worth it.
Inman Park
Originating from bread and dessert production at Cakes & Ale's kitchen, and now operating in partnership with its owners, Proof serves breakfast, lunch, baked goodies, and a variety of Counter Culture Coffee and other hot bevs. Oven-tastic tastiness comes via croissants (chocolate, almond, savory), scones, donuts, bagels, and all kinds of cookies (vegan Mexican, mudslide). Featured b'fasts include rosemary ham and Gruyere melts on English muffins, and lunch sandwiches like smoked sheep's milk grilled cheeses.
Sign up here for our daily Atlanta email and be the first to get all the food/drink/fun the ATL has to offer.