With a history dating back over two-thousand years, steamed buns, or bao, are thought to have been cooked-up as the original MRE for Chinese soldiers during the third century. Fast forward to present day and West Midtown bao house Yum Bunz is slinging a version of this portable dim sum favorite (along with dumplings and rice bowls, etc.) so good it'll seem like there's a million man army between you and the front of the line. Here's five reasons they're worth the wait:
Recommended Video
The Best Pancit Noodles in the Bay Area
1) These badass bunz, come in packs of six, and are only 180 calories...
... despite being stuffed with things like Mongolian beef BBQ, teriyaki chicken, and char siu BBQ pork, as well as dessert varieties like peaches & cream or chocolate.
2) It's FINALLY open! After almost two years of delayed openings, Guy Wong of Miso Izakaya & Mike Blum of The Real Chow Baby are finally letting you into one of the ATL's most highly anticipated spots.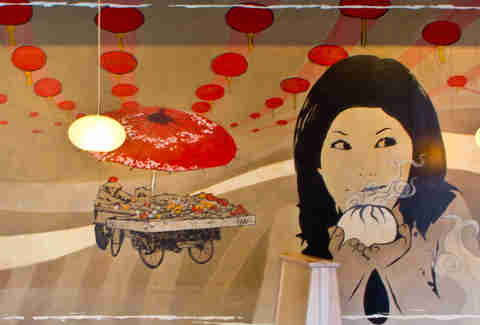 3) The West Midtown space was designed by Mike's mother, who's decked it out in bleached wooden tables, and funky pop art-esque murals hand-drawn by fine art house Struttura.
4) Can't take down a 6-pack of bunz? Wimp! You can always get some dumplings, a rice bowl w/ ginger-spiced chicken, tamari beef & ground tofu...
... or an all-veggie Korean wrap that's basically a dim sum burrito, the last two words of which should be familiar since that's what you order every time you go to Taco Bell at two in the morning.
5) It's fast. Order at the counter, then post up at one of their communal tables and look forward to trying one (or... err, one million) of the mango & kaffir lime margaritas they'll be serving once their liquor license kicks in.