7 of Atlanta's best Mexican meals paired with 7 tequila cocktails
Mexican food's like any other great cuisine: its foundation is strong enough that a skillful chef can modernize it and make it their own without losing what it means to be Mexican food. We tracked down seven mouthwateringly progressive Mexican dishes from joints throughout Atlanta. And to wash them down, we got Tequila Herradura to whip up seven cocktails, each paired to a dish by Thrillist's bartender in residence Nick Bennett.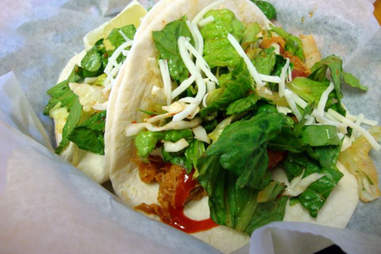 James/Flickr
Korean BBQ Tacos
Hankook Taqueria
Admittedly, Korean BBQ Tacos, while a fusion spin on Mexican cuisine, aren't exactly that new. But these add an extra layer of crazy by whipping up that sweet chile Korean flavor with crispy calamari and a soy sesame vinaigrette.
Courtesy of Herradura
What You're Drinking: The Petróleo
Reposado, lime juice, salt, pepper, Maggi sauce, Worcestershire sauce, Serrano chile
With this Asian-style taco and its soy sesame dressing, the hearty Umami-style Petróleo will fit right in because it brings a deep, similarly savory flavor to the table.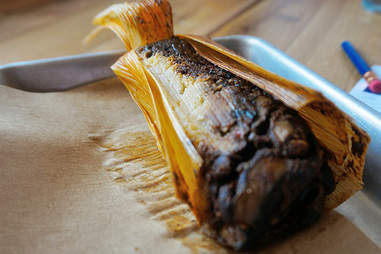 atlfoodsnob/Foodspotting
Mushroom Mole Tamale
Bartaco
Just because this joint puts its tacos front and center doesn't mean you won't be rewarded by checking out the "Not Tacos" menu, too. Case in point, these wild mushroom tamales in mole sauce.
Courtesy of Herradura
What You're Drinking: Herradura Seleccion Seprema Neat
Herradura Seleccion Suprema, straight up
Mole is already a pretty earthy flavor, and when you add in the meatiness of wild mushroom, the earthiness is taken to new depths (get it?). The smooth vanilla flavor inherent in a clean pour of Herradura Seleccion Suprema will round things out really well.
Courtesy of Marbar
Red Watermelon Salad
Marbar Beachside Cantina
This super fresh salad gets a Mexican spin with spiced watermelon, chihauhua cheese crumbles, and red onion, dressed with a crisp cider-honey-black-pepper vinaigrette.
Courtesy of Herradura
What You're Drinking: Agave Seco
Herradura Silver, Cointreau, Campari, orange juice, grapefruit juice, kiwi, strawberries, peppermint
There are two key pairing notes here. First, the crumbled cheese and onion will work well with the bitter Campari. But perhaps more importantly, the fresh fruit in the salad finds its perfect match in the hint of mint that weaves its way through the Seco.
Courtesy of La Urbana
Crepas Poblanas
La Urbana Tequila & Mezcal Bar
Any respectable Mexican joint can wrap flavors up in a soft tortilla. These adventurous chefs throw it inside a crepe. This particular instance calls for corn, poblano peppers, salsa verde, queso Oaxaca au gratin, and parsley.
Courtesy of Herradura
What You're Drinking: Reposado Ramirez
Reposado, Damiana liqueur, fresh lemon juice, simple syrup, fresh ginger, dill, orange
Floral notes in the Damiana liqueur and the dill will pull out the parsley in the crepe, while the ginger will accentuate the slight spice in the salsa verde.
Daniel E./Foursquare
Flor de Jamaica Tacos
Bone Garden Cantina
Definitely the freshest taco found in this search for modern Mexican grub, the Flor de Jamaica serves up hibiscus flowers as the main star, with avocado, cilantro, salsa verde, and fresh jicama-carrot relish as support.
Courtesy of Herradura
What You're Drinking: Margarita
Reposado, Cointreau, agave nectar, fresh lime juice, salted rim
Because the dish is so bright and herby (see: cilantro and carrot relish), you'll want something dry and citrus-y. Ergo, you'll want this margarita.
Scott Long/Courtesy of The Reynolds Group
Georges Bank Scallop Veracruzana
Alma Cocina
Take fresh American scallops and pair them with pickled jalapeños, fried capers, orange, castelvetrano olive granite, and gazpacho water, and you pretty much have the definition of a melting pot dish. Only this one isn't served in a pot; it's served in a taco.
Courtesy of Herradura
What You're Drinking: Paloma
Reposado, lime juice, grapefruit soda, salted rim
The Paloma is a light, straightforward drink, and when you have such commanding flavors as capers, olives, and jalapeños, the best thing your beverage can do is keep you refreshed and stay the hell out of the way. The Paloma is so polite.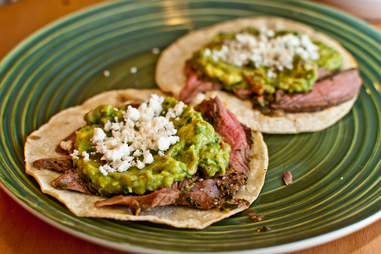 Matthew Mendoza/Flickr
Chimichurri Tacos
Elmyriachi Restaurant & Cantina
The house-made Argentinian classic herb sauce covers a super hearty cut of grilled steak, and then joins classic Mexican flavors like cilantro, radish, and queso fresco for a Latin American fusion frenzy. 
Courtesy of Herradura
What You're Drinking: Herradura Silver Neat
Herradura Silver, straight up
A great cut of meat calls for something simple. You need a drink that can stand up with a punch but is still nice and sippable. Enter Herradura Silver, straight up.